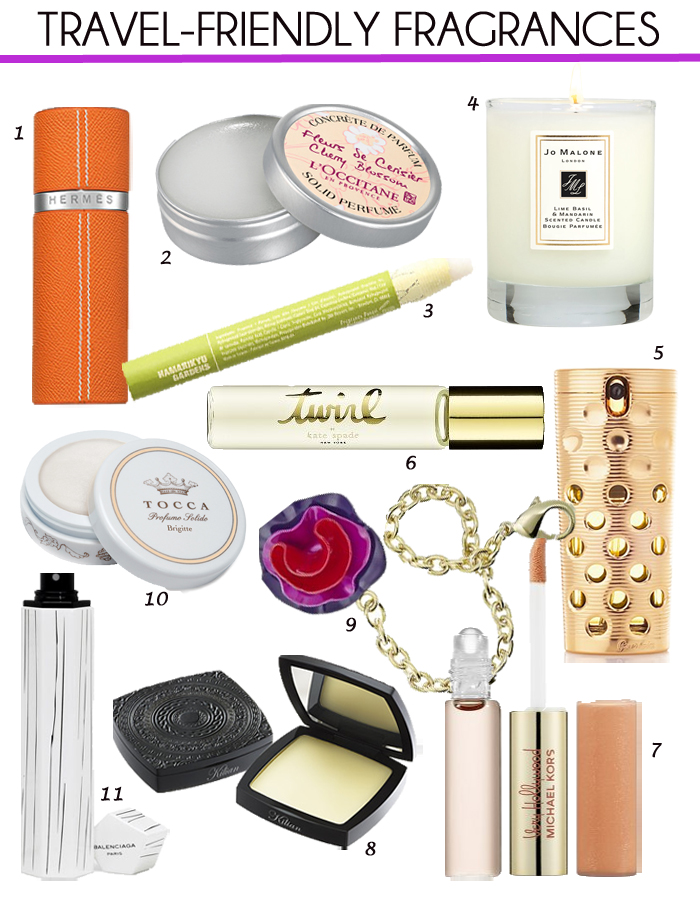 When it comes to toting our beauty essentials one item we can't leave home without is our favourite fragrance. There are always challenges when it comes to packing liquids and with the case of perfume, less is always more, which is why we're always on the lookout for a mini portable, roll-on or even solid perfume to pack on our next trip. We recently found 11 travel-friendly versions we think you'll love too. 
1. Hermès refillable leather fragrance case, $190, hermes.com.
We're ever partial to the refillable atomizer, which is why we love this sleek and stylish version from Hermès. We suggest opting for the classic orange shade, which will never go out of style.
2. L'Occitane cherry blossom solid perfume, $14, ca.loccitane.com.
The best part about a solid perfume is you can throw it in your carry-on without worry, plus there's no chance of spillage. This scent is a subtle and fresh floral, perfect for a spring getaway.
3. Anthropologie A Rather Novel Collection fragrance pencil, $10, anthropologie.com.
A pencil that's scented — we're sold. We love the portability of this fragrance pencil, which comes in six fresh versions including our favourite Hamarikyu Gardens, a green-tea inspired scent that also has notes of lemon and bergamot.
4. Jo Malone lime basil & mandarin scented travel candle, $38, nordstrom.com.
One way to make your hotel room instantly feel more homey is by lighting a candle. Why not try packing a scented candle like this refreshing one from Jo Malone?
5. Guerlain "Shalimar" parfum refillable purse spray, $154, nordstrom.com.
We love the exotic packaging to this purse spray usually reserved for larger bottles. An exotic scent, we also are fans of how easy it is to refill.
6. Kate Spade Twirl rollerball, $18, katespade.com.
Looking for a night out scent? This is it. With touches of pink watermelon, blackberry and red currant, plus a touch of french macaron, it's also perfectly sized to fit in your clutch.
7. Micheal Kors Very Hollywood gloss/rollerball, $18, sephora.com.
We can't think of anything more purse-friendly than a portable scent plus lip gloss, which is why this two-in-one is a total winner.
8. Kilian solid perfume, €65, bykilian.com.
Packaged in a gorgeous black case (mirror included), the limited edition solid perfume comes in all of the 10 scents from the L'Oeurvre Noire Collection. Looking for something a little sweet? Try Sweet Redemption, The End with orange blossom and vanilla absolute.
9. Marc Jacobs Lola solid perfume bracelet, $42, sephora.com.
Half of what makes perfumes so enticing is the packaging and we are huge fans of scents disguised as jewellery. Case in point: this solid perfume bracelet by Marc Jacobs. While you might not want to wear it on your wrist, it certainly will attach nicely to a key chain.
10. Tocca Brigitte solid perfume, $30, tocca.com.
Another pretty and compact solid perfume that's easy to tote, this particular scent is inspired by screen siren Brigitte Bardot. Sultry and musky, it's perfect for a romantic evening for two.
11. Balenciaga eau du parfum purse spray, $95, neimanmarcus.com.
An ideal travel companion, this compact purse spray also comes in an elegantly designed bottle. With notes of airy violet and pepper, it's fragile let lasting fragrance.