For most people $200 is that magic number when it comes to a hotel rate. Accommodations around this number tend to cover all of the basics you want, plus offer a bit more when it comes to things like style, amenities and services. Even better if you're hoping for a more luxurious getaway, you can often find five-star hotels with reasonable rates if you're willing to book during the off-season. Sounds good right? We thought we'd look at a destination we loved exploring (especially through food), and pick five great hotels you can book for $200 a night or less.
1. Hotel Adagio
Rates starting at $150
A boutique hotel in downtown San Francisco, Hotel Adagio recently upgraded their 171 guest rooms in a multi-million dollar renovation. The contemporary rooms include perks like LCD TV's, iHome docking station, Wi-Fi connection (extra charges to use), green-certified toiletries and luxe linens. The hotel itself has some amenities we're fans of too including a 24-hour fitness centre, complimentary luggage storage and room service. Plus there's a cocktail lounge which serves up craft drinks and local brews, and a resto where you can grab breakfast in the morning.

Where to Find:
550 Geary Street
San Francisco, CA 94102
1-(800) 228-8830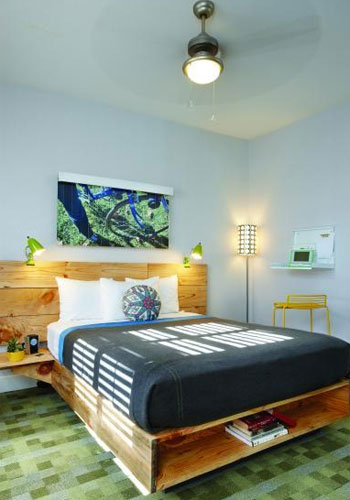 2. The Good Hotel
Rates starting at $139
You'll find The Good Hotel in the SOMA district of San Francisco, which we have to say isn't the nicest area of the city, in fact we recommend you take a cab once it's dark out. That being said, the hotel has plenty of other positives including their eco-friendly touches, like using reclaimed and recycled material in some of the decor and offering recycling bins in the rooms. It's definitely a no-frills type of setting, but there's free Wi-Fi throughout, an iPod docking station and flat screen TV in your room and there's a fun photo booth in the lobby. Other extras? You can use a heated outdoor pool across the street, take out a bicycle and also make free local calls.
Where to Find:
112 Seventh Street,
San Francisco, CA 94103
1-(800) 444-5819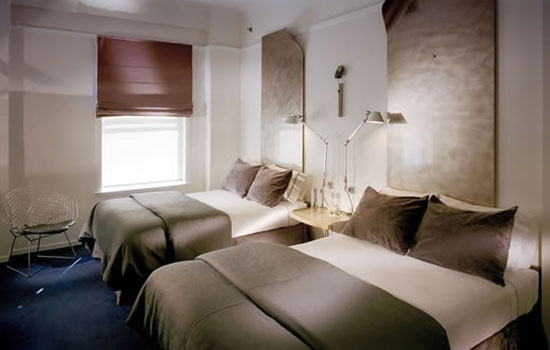 3. Hotel Diva
Rates starting at $149
Another Union Square find, just blocks away from Neiman Marcus and Saks, Hotel Diva has a modern feel to it, with moody hues, stainless steel decor accents and cool graphic artwork. All of the rooms feature plush bedding (400 thread count linens and down comforters), a flat screen TV, a mini fridge, bathrobes, designer bath products and windows you can open! The deluxe rooms aren't huge (they average 250 square feet), but are available in king, queen or 2 double beds. You'll also find a 24-hour fitness centre, complimentary Wi-Fi, a nightly Sake hour and a Starbucks located just off the lobby.
Where to Find:
440 Geary Boulevard
San Francisco, CA 94102
1-(800) 553-1900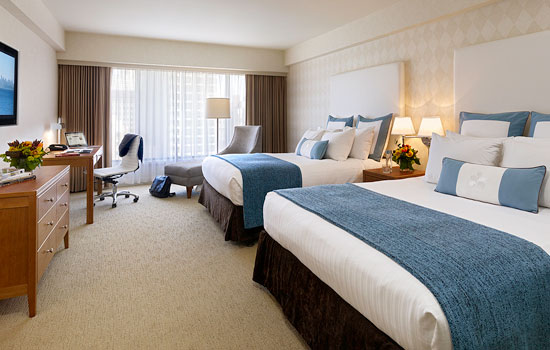 4. Hotel Nikko
Rates starting at $168
With 532 rooms and suites, Hotel Nikko is a downtown luxury find. The rooms offer Subarashee Yume pillow-top mattresses, down comforters, a flat screen TV, a large desk, Internet access and large bathrooms, most with a separate shower and tub. The hotel itself has more than enough amenities too including a 24-hour health club, indoor pool, and extras for the business traveller too (you can even rent a cell phone or computer if need be). The Asian vibe of the hotel continues in the elegant Restaurant ANZU, where meals including breakfast, brunch, dinner and sushi are served. You'll also find regular entertainment in the Rrazz Room — a night club setting where you can sip on cocktails and listen to live music.
Where to Find:
222 Mason Street
San Francisco, CA 94102
(415) 394-1111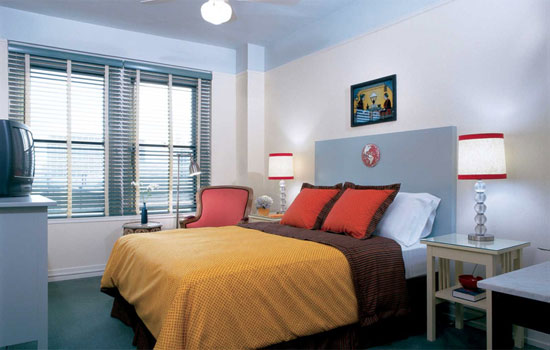 5. Hotel Carlton
Rates starting at $168
A member of the Joie de Vivre hotel chain that includes 11 hotels in San Francisco alone, Hotel Carlton is a stylish Nob Hill find, located out of the hustle and bustle of downtown, but still close enough to the action. The 168-room hotel is modern with subtle Asian touches found in the palette and artwork. All of the guestrooms include complimentary Wi-Fi, MP3 compatible CD player, flat screen TV, marble topped writing desk, coffee maker and you can even bring your fluffy friend along with you, as the hotel is pet-friendly. Another bonus is the view out your window, as most rooms have unobstructed views, so don't be afraid to ask for one. Consider grabbing a bite on-site as well. Their restaurant Saha serves up a fusion menu with dishes like Stuffed Avaocado Salad, North African Couscous and Vegetarian Bastilla.
Where to Find:
1075 Sutter Street
San Francisco, CA 94109
(415) 673-0242