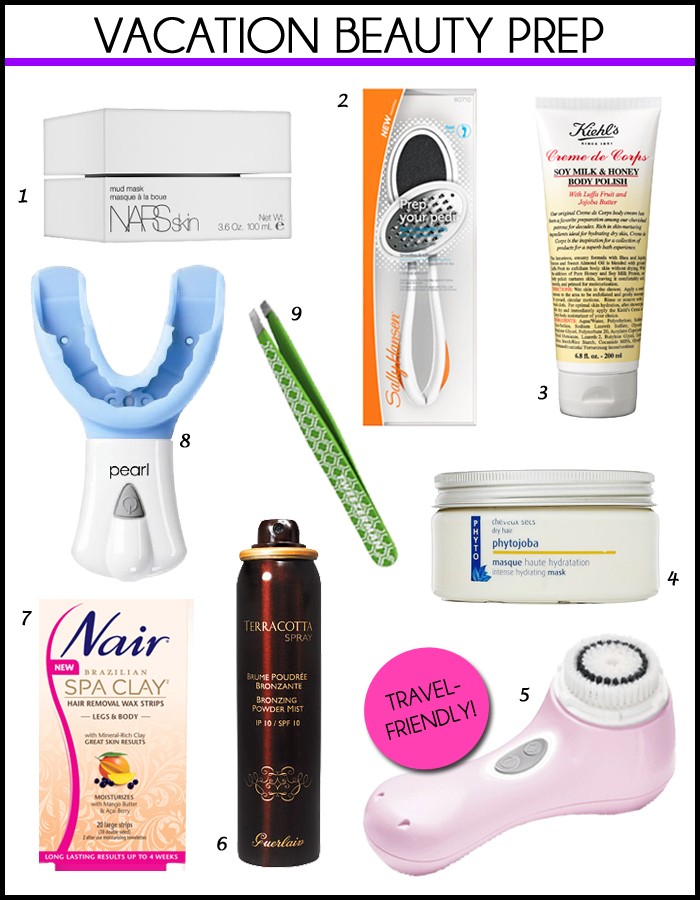 How much effort do put into your beauty routine before you go on vacation? While it's a no-brainer that you probably get a mani/pedi a few days before take-off, there are other grooming tasks you can easily do at home in preparation for your trip. Whether your vacation is an extra special trip, like a honeymoon, or even if it's just a break from your crazy life, we highly suggest incorporating a few of these into your pre-getaway routine.
1. NARS Mud Mask, $45, sephora.com.
If a facial isn't in your pre-vacation budget, don't fret, consider doing a relaxing mask at home. Those with oily or combination skin will appreciate the clarifying results of this mud mask, which contains kaolin and sea silt that helps to purify. Limit yourself to once a week or else you may find it's too drying.
2. Sally Hansen Prep Your Pedi, $10, available at drug stores.
Even if you're not doing your own pedicure, having an on-hand foot buffer is a major beauty must. It's funny how most people forget about their feet until it's time to show them off! Make exfoliating your tootsies part of your daily routine and you'll have soft feet year-round.
3. Kiehl's Crème de Corps Soy Milk and Honey Body Polish, $39, kiehls.ca.
Get your skin silky smooth by exfoliating it with a gentle body polish. We're fans of this luxurious formula by Kiehl's that contains Shea and Jojoba butter, as well as sweet almond oil. Ideal for sensitive skin (you won't find hard granules) and a little goes a long way.
4. Phytojoba Intense Hydrating Mask, $38, sephora.com.
Overprocessed or dry hair? Get your locks smooth and shiny with a hydrating treatment. You won't find any crazy chemicals (no parabens, sulfates or synthetic dyes) and you don't need to use a lot to get great results. The star ingredient in this mask is really the angelica root extract, which has renowned soothing properties.
5. Clarisonic Mia 2 Sonic Skin Cleansing System, $149, clarisonic.com.
You may be ditching your facialist for good after using Clarisonic. A favourite amongst beauty editors, this oscillating brush helps to remove impurities that your facecloth just can't remove, leaving you with super smooth and radiant skin. Plus it's gentle enough to use twice a day. We suggest this model, which is the perfect size to travel with and even comes with an international charger.
6. Guerlain Terracotta Spray SPF 10, $60, sephora.com.
We know we don't have to remind you how bad the sun is for your skin, but the reality is looking pasty white on the beach may not be the shade you had in mind. Forget the fake and bake altogether and opt for a faux glow with a bronzing spray. Spray's are much easier to work with than creams and this particular version not only dries quickly, but has SPF too.
7. Nair Brazilian Spa Clay Hair Removal Wax Strips, $11, available at mass, drug and grocery stores.
While you may not want to do a Brazilian wax on yourself,  you can easily do your bikini line or your legs at home with wax strips. Effective on even short hair, the strips are super easy to use even if you're a novice.
8. Tanda Pearl Iconic Teeth Whitening System, $195, available at The Bay and tanda.com.
Move over whitening strips because there is a new pain-free (and fast) way to get white teeth. While it's not exactly the sexiest contraption, you'll certainly be OK with the results. The system uses ionic technology that helps to prevent irritation while you whiten, it freshens and kills bacteria, and you'll achieve professional results in five treatments.
9. Tweezerman Full-Size Slant Trellis Tweezers, $25, sephora.com.
While there's nothing worse than over-plucking, you'll still want to eliminate those stray hairs plaguing your brow line. A super sharp, slanted tip, like the one on these tweezers makes it easy to get those stubborn hairs.