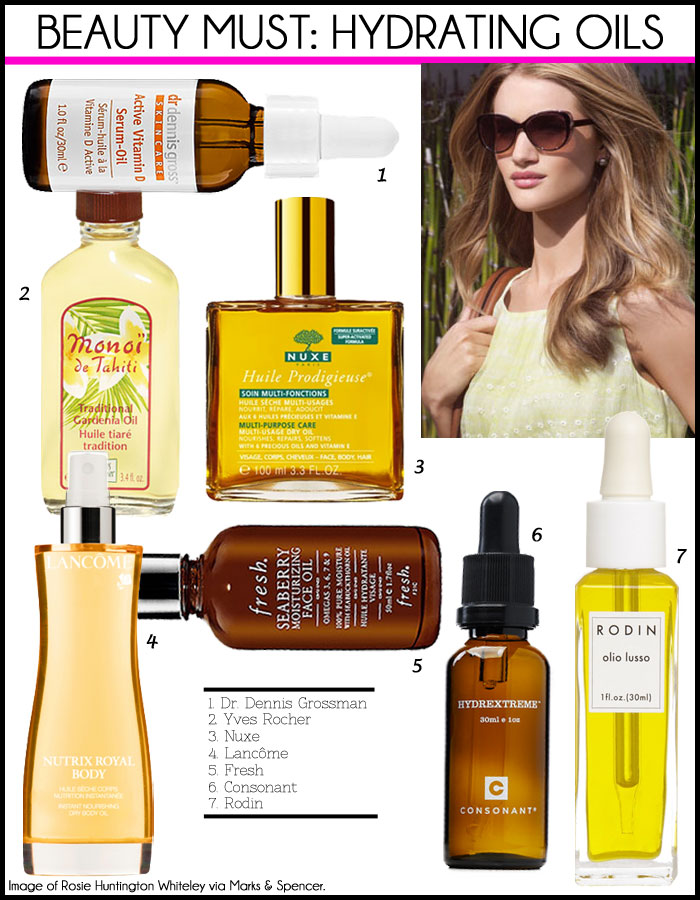 With the first official days of winter creeping into our horizon, dry, flaky skin isn't far behind. When you throw in the dehydrating effects of travel into the mix, you may feel as if your skin is as dry as the Sahara. Our latest go-to? Oils. This beauty remedy has been gaining popularity over the past couple years, though it's a cure that's been around longer than Chanel has been in business.
Like traditional moisturizers and serums, oils work the same way, helping to balance out the natural hydration levels in your skin. You may be thinking, "Why would I put a greasy oil on my face? Won't I just break out?" The amazing thing is, no. Putting oil onto your face or body actually signals your body to stop over-producing its own oil. The funny thing is many people with oily skin actually have very dehydrated skin and their bodies are trying to over-compensate by producing more oil, so adding oil to your face can actually calm oil production down and leave you with balanced skin.
So if your skin is screaming for some moisture, we suggest trying an oil. We use it in our regimes and haven't looked back since. Here are 7 of our favourite.
1. Dr. Dennis Gross Skincare Active Vitamin D Serum-Oil, $65, blissworld.com
Ideal for achieving that "glow," this serum-oil also helps with hydration and even the appearance of fine lines and wrinkles. The star ingredient is Vitamin D, which typically requires sunlight to activate, but because this particular product also contains Ergocalciferol, meaning you don't have to catch any rays for the Vitamin to work its wonders. This is a multi-tasker too! Try using it on cuticles, dry spots on the body or even flyaways!
2. Yves Rocher Traditional Gardenia Oil Monoi, $10, yvesrocher.ca
As we've mentioned before, sometimes all you need to escape is a luxurious scent. Dreaming of a tropical getaway? You'll definitely love this exotic fragrance (it reminds us of Hawaii!), which can be used on the hair and body. Use a pea-sized amount and comb through locks for extra shine, or use it on your body for an extra level of moisture.
3. Nuxe Huile Prodigieuse Multi-Usage Dry Oil, $30 for 50ml, beauty.com
Don't be fooled by the words "dry," as this is definitely an oil. What we love about this cult classic is that is works and works everywhere. Ideal for hydrating dry patches on the face or body, you can also use it on your hair (use sparingly here). It spreads well and absorbs quickly, and while it does have a subtle scent (it's composed of six essential oils) it's not too overwhelming either.
4. Lancôme Nutrix Royal Body Huile, $55, lancome.ca
There's nothing like a relaxing bath to combat jet-leg or to just decompress. Any dermatologist will tell you to swap the high temps for a warm bath, especially in the winter months and if you suffer from dry skin. We realize it's easy to get carried away with the hot water and throw in a jacuzzi session post-ski and you're done. To help restore some of that moisture we are suggesting turning it up a notch with an oil, like this gorgeously moisturizing one that has 10 botanical oils to rehydrate and seriously soften.
5. Fresh Seaberry Moisturizing Face Oil, $58, sephora.com
For those with thirsty skin, this is your solution. A combination of pure deliciously-scented oils, including seaberry, cranberry seed, camellia seed, grapeseed, and sweet almond, this face oil is designed to rehydrate skin and improve elasticity and smoothness. Not to mention it absorbs quickly and is packed full of antioxidants.
6. Consonant HydrExtreme, $149 for 30ml, cosonantbody.com
Recently awarded the grand prize at the Canadian Beauty Innovation Awards, this hydration booster was originally created to help a personal friend of the brand's founder, who was suffering from extremely dry skin to due cancer treatments. Composed of Cassia Angustifolia, an ingredient superior to Hyaluronic Acid, a panel of users instantly saw smoother, more hydrated skin. Free of any scents, we love how easily it absorbed into our skin and would definitely recommend it to anyone suffering from parched skin!
7. Rodin Olio Lusso Luxury Face Oil, $154, ebeauty.ca
Combine 11 luxurious essential oils like jasmine, almond and jojoba, and you get this rich face oil, perfect for fending off aging, improving elasticity and illuminating your complexion. Plus the arnica and evening primrose infused in the salve, actually help to heal acne and reduce redness. Creator Linda Rodin took over a year developing the elixir and it has quickly become of favourite of celebrities like Liv Tyler, Olivia Wilde and Gwyneth Paltrow.