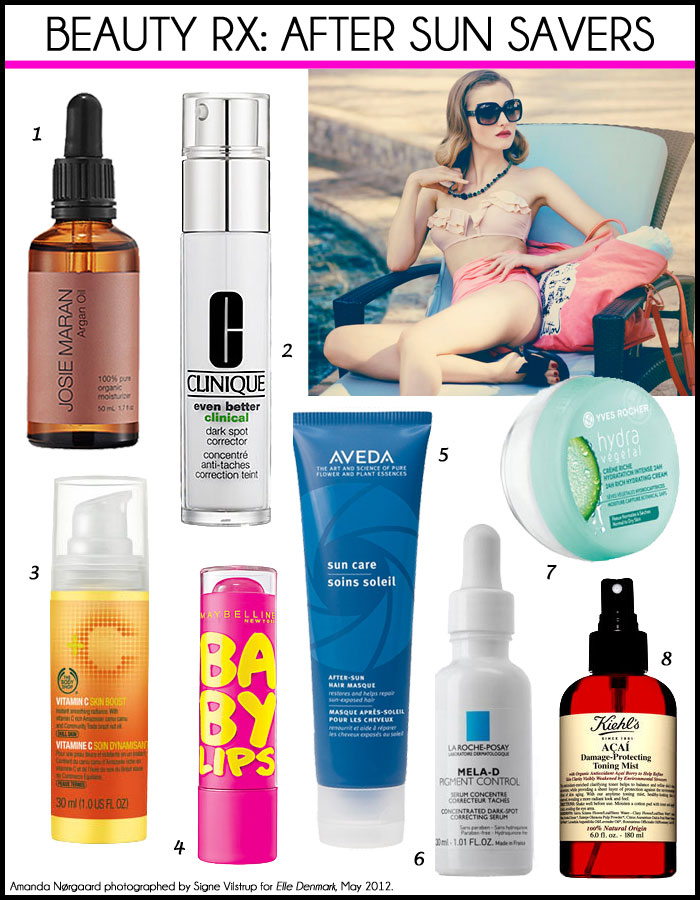 While fall doesn't officially start for a few more weeks, the Labour Day weekend tends to mark the end of summer for most of us — even if the temperature outside doesn't match. We suspect many of you practised safe sun care (hello, sunscreen!) during your summer travels, the reality is even the most diligent of us come away with sun damage we'd like to pretend never happened. Whether it's dried out locks, a dull complexion or even sun spots, we've found 8 after sun savers that will fix any of your sun sins.
1. Josie Maran Argan Oil, 1.7oz, $48, sephora.com
Argan oil is hardly new in the beauty world, but in the last few years has grown in popularity in particular with hair care. Not only do we love it for our locks (Moroccanoil is a travel fave), but have found it's an amazing skin saver too. It's the perfect treatment for dehydrated skin, since it's rich in Vitamin E and essential fatty acids. Though it's great for post-summer hydration, we like using it year-round under our makeup as a natural moisturizer.
2. Clinique Even Better Clinical Dark Spot Corrector, $50, sephora.com
Unfortunately sun spots tell the tale of your summer escapades. Whether you forgot to reapply regularly or are a sun worshiper, it's not fun to have an uneven complexion. A lightweight serum that promises results in as little as four weeks, it's designed to be used on all skin types. We suggest applying once a day during the evening after you've cleansed your skin and remember it may take a month or more before you start seeing results, so be patient!
3. The Body Shop Vitamin C Skin Boost, $26, thebodyshop.ca
Need a topical boost? Vitamin C has been shown to help reverse some of the damaging effects of the sun by reducing free radical damage and also promoting collagen production. We suggest using daily as part of your skin care regime, year-round, to help give your skin a natural glow.
4. Maybelline Baby Lips Moisturizing Lip Balm in Pink Punch, $5, available at drug stores
It doesn't take long for the hot weather to zap the moisture right out of your lips. If you need a long-term solution, we suggest trying Maybelline's Baby Lips, which promises 8-hours of hydration and visibly renewed lips after just 4 weeks. Available in two clear shades and four tinted glosses, the formula also includes SPF 20, which is great to help prevent further sun damage.
5. Aveda Sun Care After-Sun Hair Masque, $26, aveda.com
Between pool hopping and beach lounging, your locks can get pretty brittle by the time summer ends. Add colour-treating and heat-styling and you really need a boost. We suggest trying this weekly masque, which includes moisturizing ingredients including tamanu oil, certified organic shea butter, and coconut oils.
6. La Roche-Posay Mela-D Pigment Control Serum, $55, available at drug stores
This daily serum not only helps with dark spots, but also uneven skin tone and radiance in as little as two weeks. Designed to be applied daily at night, post-cleanse, the serum is intense and causes a bit of tingling when applied, but that's how you know it's working! It contains Kojic Acid and Glycolic Acid and LHA, which all work to help shed dark cells from your skin. We used it religiously for two weeks and noticed our sun spots lightening.
7. Yves Rocher Hydra Vegetal 24H Rich Hydrating Cream, $27, yvesrocher.ca
For some the heat makes you break out, for others you're in need of serious hydration. Those suffering from the later should consider the Hydra Vegetal line from Yves Rocher, including this rich moisturizing cream best for normal to dry skin types. Our favourite part of the product? The botanical ingredients including maple sugar extract, organic agave and organic shea butter.
8. Kiehl's Acai Damage-Protecting Toning Mist, $34, kiehls.ca
After you've slathered yourself in sunscreen, hydrated your skin and reversed some of your sun damage, keep the protection going with an antioxidant enriched toner that also helps to make your pores appear tighter.