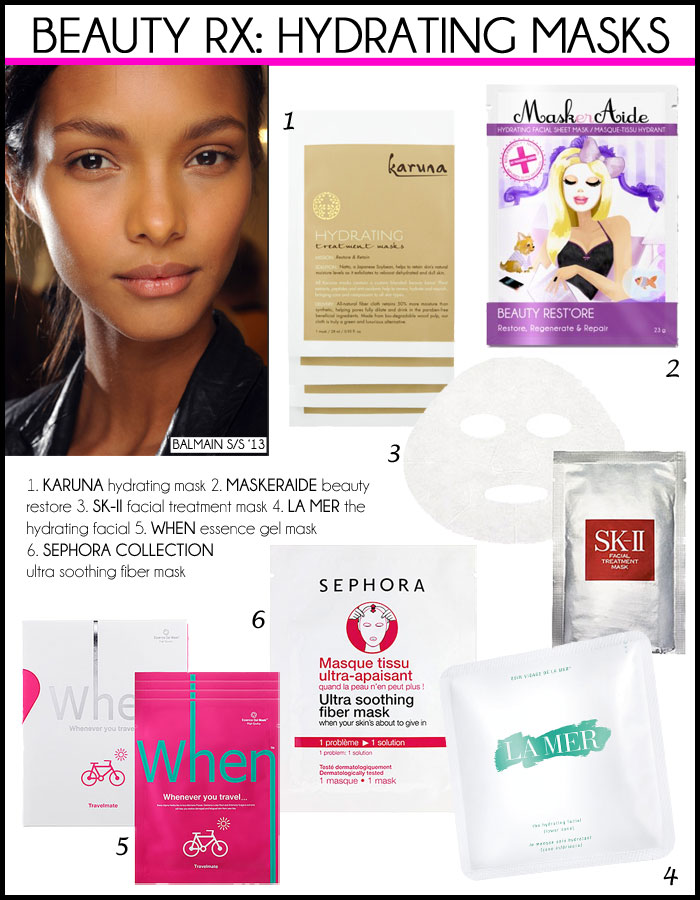 Whenever we travel our skin manages to get a little less luminous (Ok, more like pasty and dry). This is all thanks to the dehydrating effects of air travel. Add a glass or two of wine and you might as well have spent a day in the Sahara without drinking any water. Besides loving our hydrating oils, one of our latest beauty obsessions are hydrating face masks. And unlike your typical slather-on masks, these are convenient face sheet masks, which come individually wrapped with the product already applied onto it, making them extremely travel friendly. Here are 6 of the best out there.
1. Karuna Hydrating Mask, $31 for 4, ebeauty.ca
With celebrity fans including Rachel Zoe and Stacy Keibler, this masks contains a mixture of natural antioxidants designed to nourish and help create a gorgeous glow. There is also no alcohol in the mask, so you can be sure you're just getting the hydrating ingredients infused into your skin. We also love how the sheet is all-natural, which allows your skin to absorb 50% more product.
2. MaskerAide Beauty Rest'ore, $5 each, maskeraide.com
We were instantly drawn to the adorable illustrations on MaskerAide's packaging (I mean, how cute?!), but were just as impressed with what we discovered inside. This particular mask contains hydrating ingredients including argan oil and Vitamin E, to help give back what the environment took out. A great pre-bed mask, there is a touch of lavender oil infused too to help put you in a relaxing state.
3. SK-II "Facial Treatment" Mask, $93 for 6, nordstrom.com
Travelling or not, this is the ultimate moisture mask when you're skin is super parched. The mask itself is made of 100% cotton and will instantly boost the moisture of dehydrated skin, even if you only have 10 minutes. Your skin will feel cool while you apply it, with a soft scent of aloe vera.
4. La Mer The Hydrating Facial, $250 for 6, blissworld.com
Take the spa on the road with you when you pack La Mer's luxurious hydrating facial. A pure cotton mask, you'll find ingredients including marine algae extracts, tourmaline, lipids, and plant extracts (avocado oil and melon). After using it your skin will feel instantly softer.
5. When Essence Gel Mask, $35 for 4, sephora.com
This face sheet mask is literally chalked full of moisturizing ingredients including Swiss Alpine herb extracts to hydrate, and grapefruit seed, bamboo stem, pine leaf, and ginseng to help give you that gorgeous glow. The sheet itself is unique in that it's created from fermenting coconut juice, which helps to transfer the product from the mask to your skin.
6. Sephora Collection Ultra Soothing Fiber Mask, $7 each, sephora.com
All you need is 15 minutes to hydrate your skin post-flight with this nourishing mask from Sephora. It's main hydrating ingredients are mallow extract, which is known for its inflammatory properties, and HydraSenn+, a moisturizer that has been shown to be more hydrating than hyaluronic acid.