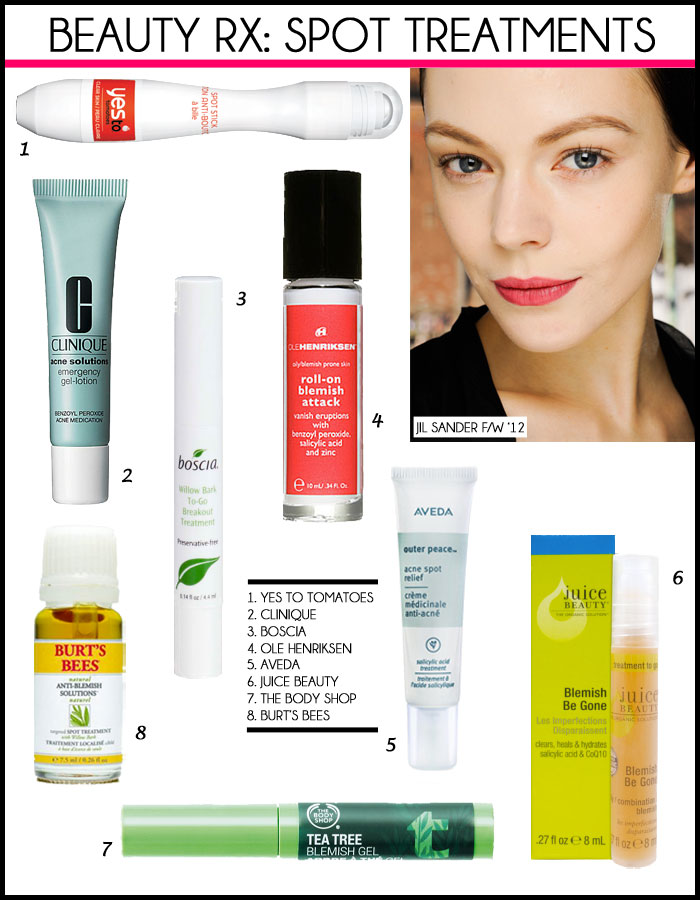 Hormones, stress and pore-clogging cosmetics are just a few of the culprits that can lead to super annoying blemishes. Unfortunately travel can exacerbate break-outs thanks to irregular sleeping (hello, red-eye flight), dehydrating plane air, an increase in alcohol or caffeine consumption, and rich foods (how were you supposed to say no to wine and cheese in Paris!).
There are simple things to keep break-outs at bay, like making sure you're not touching your face (it can inflame skin and increase oil production), cleaning your cellphone regularly, and washing your face before bed (we both swear by our Clarisonic's). Even so, pimples can pop up when you least expect it. One of our favourite on-the-go ways to treat stubborn spots is with a purse-friendly spot treatment. We've found 8 — many of which are natural — which will help accelerate your way to clear skin.
1. Yes To Tomatoes Roller Ball Spot Stick, $11, available at Shoppers Drug Mart
We are seriously sold on this spot stick from Yes To Tomatoes spot stick, which even co-founder Ido Leffler says he takes with him when he travels. It's made with salicylic acid and tomatoes, is 97% natural and is free of parabens, phlthaltes and SLS. Plus we love the cooling roller ball you use to apply the formula. Use it 3-4 times a day on your spot and we promise it will be gone in a day or two.
2. Clinique Acne Solutions Emergency Gel-Lotion, $18, thebay.com
Comprised of acne-fighting benzoyl peroxide, this is great for dealing with one-off stubborn spots. It does require you to use your hands, so be sure to make sure they're clean before applying. A little goes a long way, so a thin layer is all you need, but multiple applications throughout the day are key.
3. Boscia Willow Bark To-Go Breakout Treatment, $18, ebeauty.ca
For those who prefer the all-natural route, this is a good option, as its formulated primarily with Willowherb and jojoba. Besides attacking your spot, its also quite soothing as well, so you're not going to be stinging after applying it. Designed like a pen, it's a finger-free application, which we love.
4. Ole Henriksen Roll-On Blemish Attack, $28, sephora.com
Combining three of the biggest blemish fighting ingredients around — salicylic acid, benzoyl peroxide and tea tree oil — this roll-on stick seriously attacks pimples. Those with sensitive skin may want to try something a little less intense.
5. Aveda Outer Peace Acne Spot Relief, $30, aveda.com
If you have more than just one pimple to deal with, this may be your weapon of choice. Formulated with natural ingredients including tamanu, amla, boswellia and saw palmetto, this treatment not only helps to kill bacteria, but will reduce redness and swelling.
6. Juice Beauty Blemish Be Gone, $15, juicebeauty.com
We love Juice Beauty's natural products including this blemish buster that uses natural ingredients to beat pimples. It unclogs pores with organic fruit acids and derives its salicylic acid from willow bark. Plus it's designed with a roller-ball for easy application.
7. The Body Shop Tea Tree Blemish Gel, $9, thebodyshop.ca
Another natural spot killer, this particular treatment gel uses tea tree as its star ingredient. For those who don't know about tea tree oil, it comes from an Australia shrub and has been shown to have anti-bacterial, anti-fungal and anti-microbial properties — all key to killing pimples and keeping them from coming back. Plus it's less harsh than benzoyl peroxide, yet has been show to be just as effective. Designed in a wand format, this is easy to use too.
8. Burt's Bees Anti-Blemish Targeted Spot Treatment, $15, burtsbees.ca
Willow Bark and tea tree oil join forces in this spot treatment to target those unwanted pimples. It also contains parsley extract, which is a natural astringent and is an anti-septic too. Non-stinging, it also won't dry out your skin either. It does require a cotton pad or Q-tip, so we suggest applying in front of a mirror.