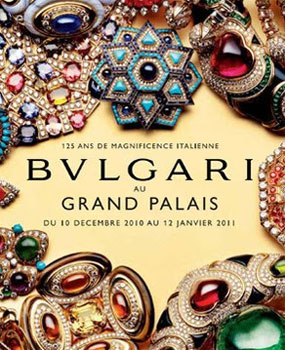 Starting today, December 10, until January 12, Bulgari will be showcasing more than 500 precious items at the Grand Palais in Paris. This special exhibition comes after the highly successful showing in Rome last year. The retrospective highlights key moments in the history of the celebrated jewellery maker and the development of Bulgari design starting with the opening of the first boutique in Rome's Via Sistina in 1884 to the present day. The show is divided into periods starting with the first half of the 20th century, moving into the 1960's when precious stones were used with rarely used original materials, to pop art in the '70s, bold designs in the '80s and '90s, to the designs of the 21st century.
In addition the exhibition will also feature jewellery, drawings, cinema stills and original items from private collections, including items owned by Elizabeth Taylor. Jewellery and art lovers alike should definitely plan to visit this impressive exhibition.
Open daily from 10 a.m. to 8 p.m. Wednesdays, Friday and Saturday open until 10 p.m.
Admission: 12 euros. Free entrance for children under 10 years. Entry valid for 1 hour.
Where to Find:
Nef du Grand Palais
Avenue Winston Churchill
75008 Paris