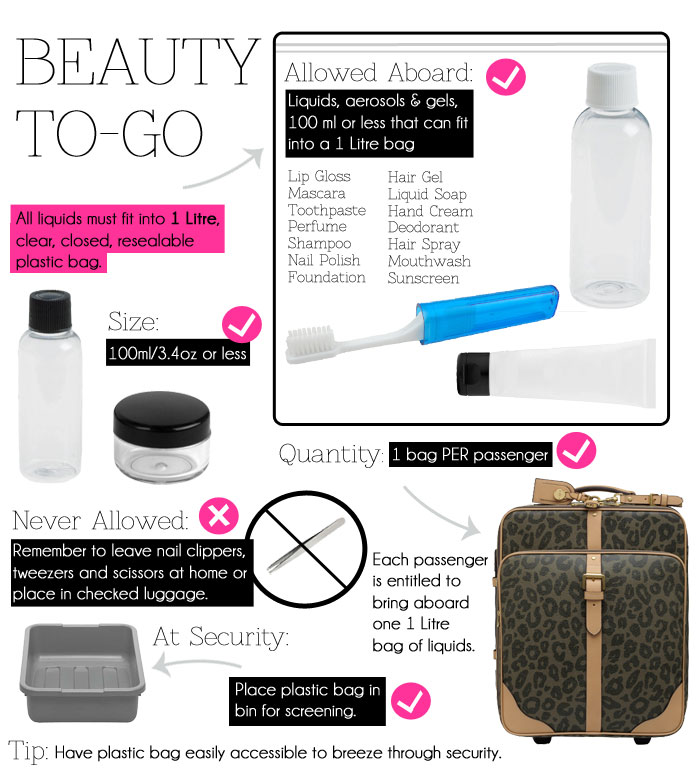 Planning a short getaway or maybe you can't stand waiting at the carousel for your luggage to arrive. Whatever the case, chances are you'll be toting at least a few beauty products in your carry-on — and yes, lip gloss does count. To super simplify the entire process, we've outlined here how to smoothly sail from security to the gate with our easy-to-follow packing strategy that meets both the CATSA and TSA regulations when it comes to bringing liquids, aerosols and gels on board.
1. All passengers are allowed to bring on board containers of liquids, aerosols and gels that are 100ml (3.4 ounces) or less.
2. All of the containers must fit into one 1-litre resealable plastic bag (we personally like a clear tote). Only one 1-litre bag is allowed per passenger.
3. Although nail polish is technically allowed on, NEVER use it on the plane. Besides being a safety hazard, it is also inconsiderate to other passengers.
4. The only exceptions for liquids are if you're travelling with an infant under 24 months. Read more about the exceptions here.
5. Unsure? Don't bring it. Who wants their precious beauty products confiscated at security? Not us.