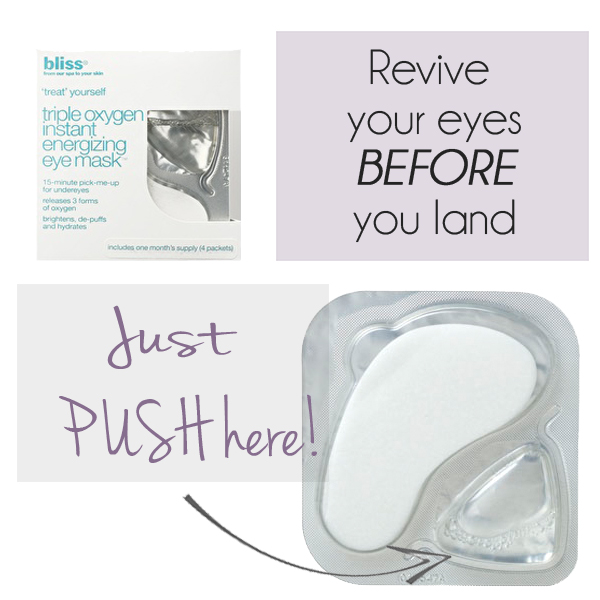 There's no escaping it. Dry, tired and puffy eyes are inevitable on a long-haul or red-eye flight. It doesn't seem to matter how much shuteye you get on the airplane, or even the quality of it, one of the first places to show fatigue is the sensitive and tender skin around your eye. I've tried everything from thick eye creams too soothing serums to plain Argan oil and towelettes to help banish dark circles and puffiness, but I think I found the best option out there. The Bliss Triple Oxygen Instant Energizing Eye Mask is my new tired eye saviour. It cools with the oxygen infused pads, de-puffs thanks to loads of cucumber extract and the high dose of vitamin C instantly brightens those dark circles. Not to mention it's incredibly easy to travel with (slip a couple into your carry-on or purse and whiz through security) and no-fuss (just push the liquid pod and it soaks into the pads on the other side).
Putting on an eye mask mid-flight might look a little odd, so wait until the lights dim, put them on and slip your own sleeping eye mask over for 15 minutes — your eyes will thank you once you land. Make sure you have a couple extra for your trip in case you have a late night or early mornings.
Bliss Triple Oxygen Instant Energizing Eye Mask, $54 for a pack of 4, blissworld.com.