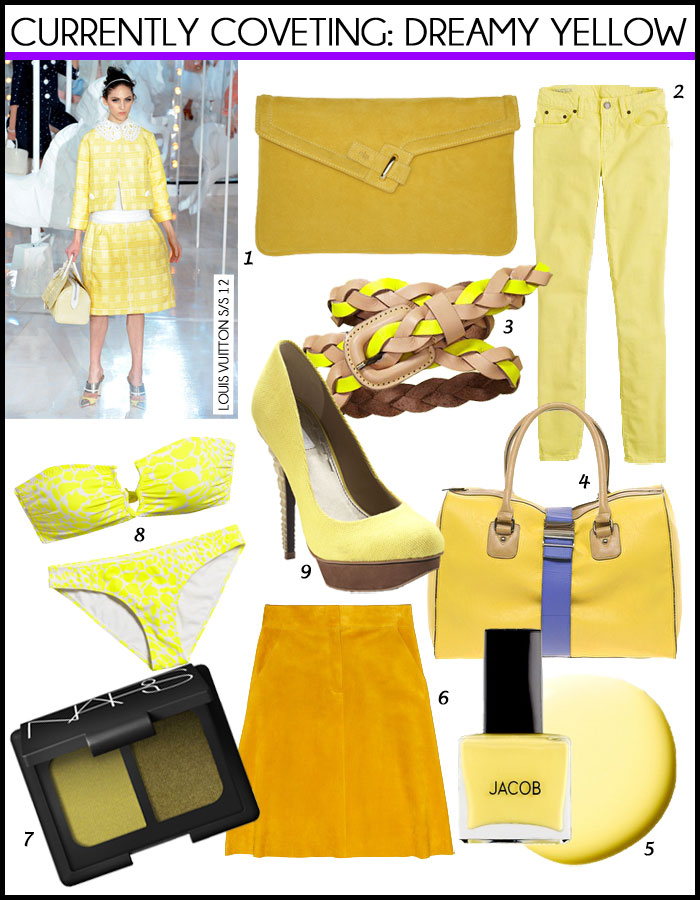 We can't wait for the warmer temps to finally hit. Until then, we have our eyes on some things to help us keep a sunny disposition. These creamy and bright yellow items will not only liven up your spring and summer wardrobes, they're ideal for quick weekend getaways and easy to pack.
1. Ela M.I.L.C.K clutch, $280, elabyela.com
The perfect clutch, which can easily be swapped from afternoon tea to a dinner out with a quick outfit change.
2. J.Crew toothpick jeans, $144, jcrew.com
Easy to roll up and to dress up or down, slim fitting denim is a key essential for a travel wardrobe.
3. Gap neon braided belt, $30, gapcanada.com
For the colour-shy we found a great compromise – a natural woven belt with splashes of vibrant yellow.
4. ASOS Colour Block Front Fasten Bag, $82, asos.com
One of the easiest ways to incorporate colour into an otherwise neutral wardrobe is with a chic bag. This tote will quickly become your fave shopping bag.
5. Jacob Sunny Capri nail polish, $6, jacob.ca
Nails are the fastest way to add a spark of colour to any outfit. Don't be shy of this season's bright hues, like this sunny yellow.
6. Chloe suede midi skit, $759, theoutnet.com
If you love yellow, this rich-hued skirt will become a staple in your wardrobe, easily transitioning from spring into fall.
7. Nars Duo Eyeshadow in Paramaribo, $39, narscosmetics.com
For the beauty adventurous, take the yellow trend to your eyes with a sweep of golden shadow.
8. H&M bandeau and brief, $14.95 and $13, hm.com
Hit the beach in this pretty bikini set that looks great on just about any skin tone (faux tan, of course).
9. Rachel Rachel Roy Keedan heel, $99, rachelroy.com
Not only is it in a dewy shade of yellow, but check out that heel! These show stoppers might take some extra luggage space, but will be well worth it with a LBD.