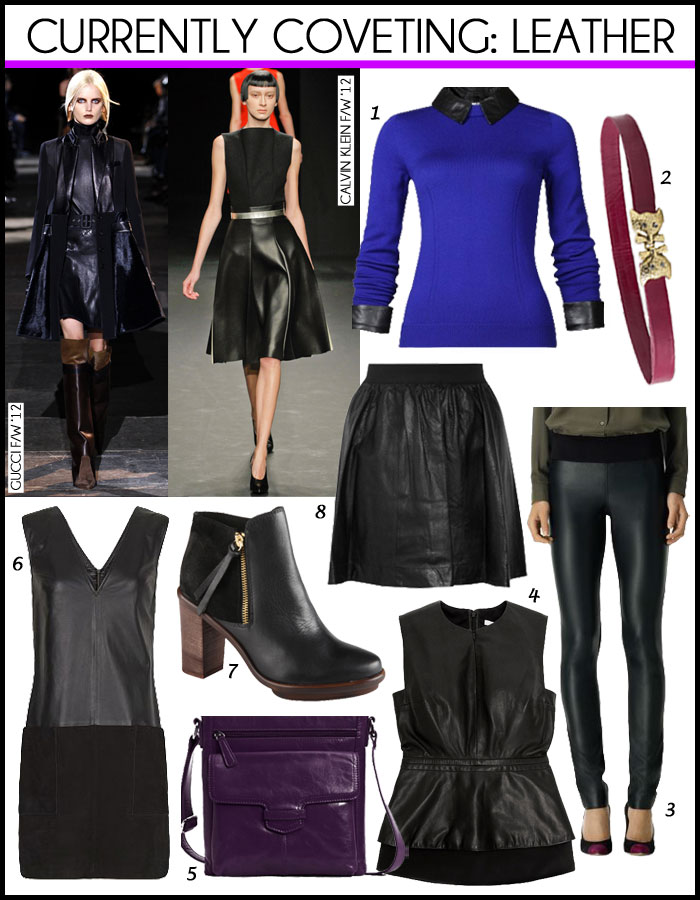 One of the biggest trends on the Fall 2012 runways had to be leather. Seen everywhere from Gucci to Calvin Klein, Lanvin, and YSL,  this tough luxe look has moved beyond outwear to skirts, pants and even dresses. We love leather because it's an easy way to take a basic outfit, to a more edgier look.
You may be thinking, but is leather really a good piece to travel with? In terms of outerwear and accessories, it's a resounding yes. It's an extremely durable choice. When it comes to pants and skirts, we think it's a very chic and versatile option you'll easily be able to transition from day to night. To get you started, we've found 8 items you'll want to consider packing on your next trip.
1. Milly leather collar sweater in Helio, $359, eluxe.ca
You don't have to do 100% leather to incorporate this trend into your look. For those who are a bit intimidated by the trend, but want to give it a try, this is the way. With gorgeous leather details on the cuffs and collar, you can keep in casual in the day with a pair of skinnies, and turn things up a notch at night with a graphic skirt.
2. Kissing Foxes belt, $78, anthropologie.com
We have been on bit of an animal kick lately, in case you haven't seen our animal motif sweater round-up you should take a peek. It's never a bad idea to accessorize with leather, especially when the clasp is an adorable fox. Blouse or dress, you can easily change your entire look with something as simple as a belt.
3. Club Monaco Tasha legging, $140, clubmonaco.ca
Don't think leather is comfortable? These super stretchy, elastic waistband leggings will change your mind in a heartbeat. We get that leather pants are probably one of the most intimidating leather items to wear, but we promise these leggings are not only comfortable, but chic too. Leather only on the front, try pairing them with a loose blouse, a great statement necklace and a faux-fur vest, for a look that is evening-friendly. Day option? Try a cozy cashmere sweater.
4. Diane von Furstenberg Delian leather peplum top, $625, intermixonline.com
Like leather, peplums were still ruling the runways this fall. We love a structured peplum and this leather version is just that. The top features a front zipper allowing you to go from a regular round neck to a sexy V plunge, meaning you can go from day-to-night with a simple zip.
5. Danier cross-body bag in purple, $69, danier.com
We've declared our love for the cross-body bag before and with good reason — hands-free travelling is the best way to travel. This version from Danier comes in 6 colours, and has tons of pockets to fit everything from your cell to your Moleskine notebook.
6. Mango suede and leather dress, $290, shop.mango.com
Leather dresses were all over the runways — from sleek and sexy at Pucci to long-sleeved at Givenchy. If you're on the hunt, but want a more budget-friendly version, consider this chic leather and suede v-neck dress we spotted at Mango. For those escaping for the holiday season, it the perfect evening out dress to pack.
7. Aldo Orawin ankle boots, $150, aldoshoes.com
Booties aren't going anywhere anytime fast. A comfortable walking boot and a great alternative to a riding boot, a stacked square heel will give you more hours on your feet, while leather is durable enough to get you through rainy days.
8. Rebecca Taylor perforated leather mini, $595, net-a-porter.com
Sophisticated enough for work, yet cool enough to wear out, you could easily pack this on a business trip and go from a meeting to after-work cocktails with just a quick swap of your shoes and a statement necklace. Warm enough to get your through the cold-winter months, keep this look out of biker territory by pairing with a chic heel or pair of smoking slippers.