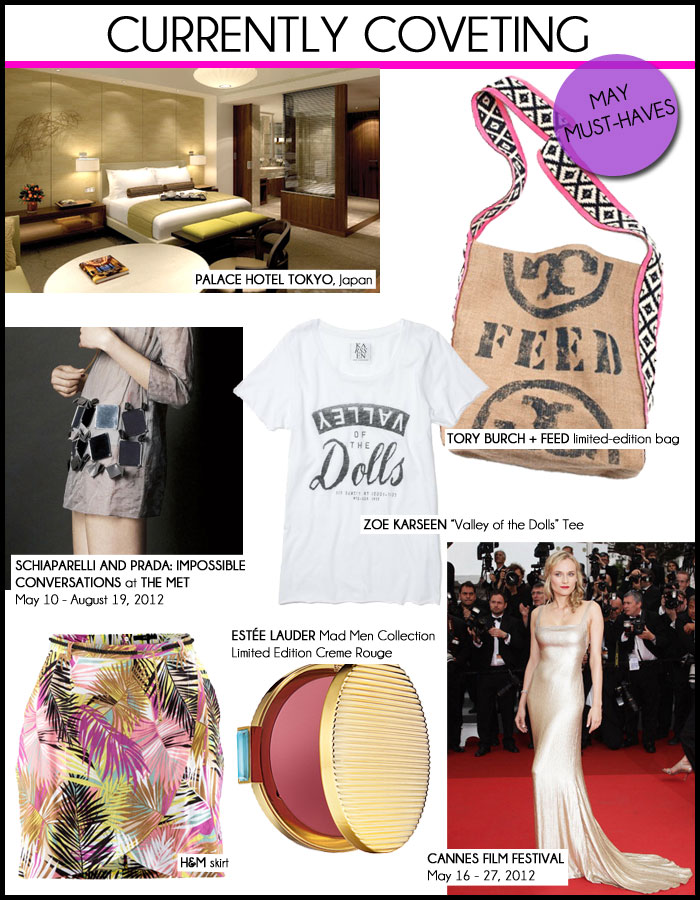 There is plenty to be excited about this May — from the year's most-anticipated red carpet event post-Oscars (we're talking about The MET gala of course) to the Cannes International Film Festival later in the month — there is no shortage of glitz and glamour to be had. Whether you're planning upcoming travels or just need some sweet Mother's Day ideas, there is much to covet this month.
Palace Hotel Tokyo, Japan
Opening its doors May 17, this luxurious hotel is in the heart of Tokyo with a prime position next to the iconic Imperial Palace. In fact, all of the 290 rooms have views of this magnificent site. The hotel also features a basement level retail area, which includes 17 shops, 10 restaurants and bars, a pastry shop and an Evian Spa. The upscale, refined designs of the hotel have been conceived by Terry McGinnity, manager of GA Design International, whose clients have included other premiere hotels like Hotel Bel-Air and the Conrad Hotel in Tokyo. While the rates are steep (starting at $625/night), at the very least consider enjoying a meal at the sushi restaurant Kanesaka or having a legendary martini at the Lounge Bar Privé.
Tory Burch + FEED bag available at Holt Renfrew
Designed exclusively for Holt Renfrew, this limited-edition tote bag was designed by Tory Burch in collaboration with FEED, a non-profit organization started by model and activist Lauren Bush, dedicated to supporting programs and organizations working to fight hunger and eliminate malnutrition around the world. The goal is to raise $100,000 for both the FEED Foundation and the Tory Burch Foundation, and at $50 a pop, we think it's an easy way to support a good cause. Available in 3 colour combos, you can pre-purchase online now or buy in-stores starting May 10, 2012.
Zoe Karseen Tee at Club Monaco, $98, clubmonaco.ca.
We were thrilled when Club Monaco opened it's online shopping portal just last month — although it hasn't stopped us from popping into the store non-stop. We spotted this graphic tee during one of our online browsing sessions and have it on our must list. Considering we've read Valley of the Dolls at least a dozen times, it only makes sense to have a tee to support our love of the novel. Plus it's so vintage cool and easy to pair with jeans, skinnies or even a cute skirt.
Schiaparella and Prada: Impossible Conversations at The Metropolitan Museum of Art
For those of us fashion followers, every year The Met throws an impossibly chic gala with a guest list that makes the Oscars look dull — from A-list stars to fashion moguls and top magazine editors — it's the ultimate fashion show. The gala happens May 7, and for those who need to see it has it happens, you can watch it live between 6:30-8:30 p.m. for all of the red carpet action. The gala will celebrate the opening of Schiaparella and Prada: Impossible Conversations, which "explores the striking affinities between Elsa Schiaparelli and Miuccia Prada two Italian designers from different eras." Plan a summer trip to NYC, as this exhibit runs only from May 10 – August 19, 2012.
Estée Lauder Mad Men Color Collection Limited Editon Creme Rouge, $40, esteelauder.com
We were wondering when a Mad Men beauty collection would hit the shelves and are more than excited to see Estée Lauder taking the reins. Packaged in gorgeous vintage designs inspired from Estée Lauder's '60s collection, this limited-edition collection contains a creme rouge and lipstick, both of which are beautiful to tote and apply. Mother's Day gift perhaps?
H&M skirt, $15, hm.com
Brights and patterns are definitely on our radar right now and this easy-to-wear fun skirt from H&M is the perfect addition to your summer wardrobe and if the weather's right, there's no harm in pulling it out of the closet now!
Cannes Film Festival, France, May 16-27, 2012
This marks the 65th anniversary of the Cannes Film Festival, an exclusive festival held every year in France showcasing everything from feature films to shorts. This year's Official Selection includes films from Wes Anderson and David Cronenberg, with actors such as Brad Pitt, Robert Pattinson and Diane Kruger, likely to make red carpet appearances. While this film festival is not as open to patrons, as say TIFF or SXSW, you can buy tickets to the Director's Fortnight screenings or to the Critic's Week films if you can manage to locate the ticket tent for free tickets. Your best bet may to be catch a free flick at the Cinema de la Plage on the beach across from the Majestic where "Out of Competition" and "Cannes Classic" films are shown nightly.