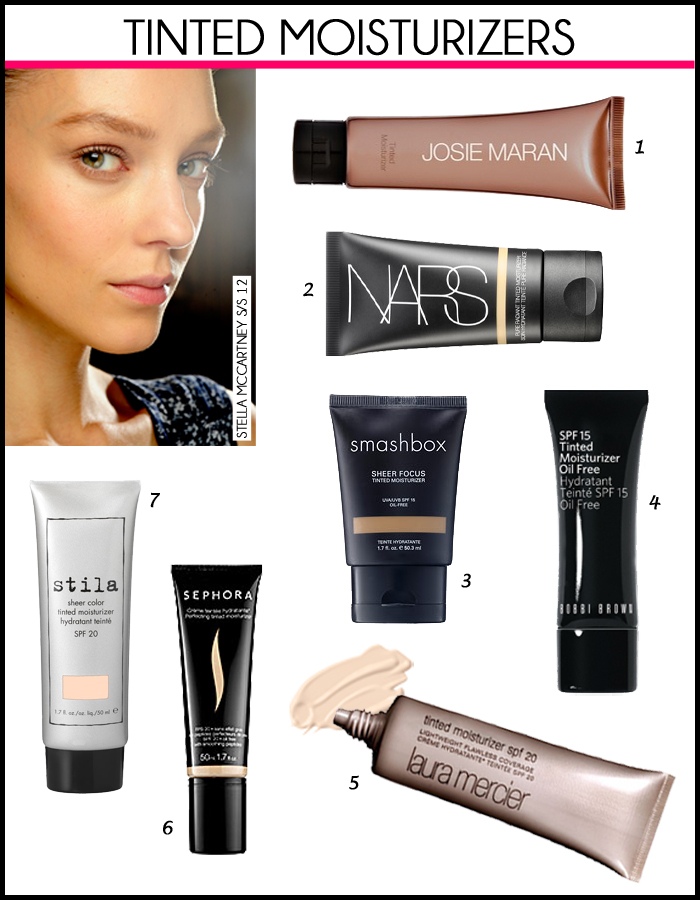 New to our spring makeup bag: Tinted moisturizers. We love these handy makeup-musts that offer a hint of coverage and moisture all in one for a fresh glow. If there's one thing we crave while travelling, it's moisturized skin. Airplanes, airports, air conditioning, and hot temps all lend a hand in stressed skin when we're on the road. Thankfully with these tinted moisturizers, our skin will stay hydrated and look flawless no matter where we jet to next.
1. Josie Maran Argan Tinted Moisturizer, $38, josiemarancosmetics.com.
The ethical beauty connoisseur in us comes out with Josie Maran's super hydrating tinted moisturizer. Those looking for a more natural option will love this product that contains organic ingredients, is paraben-free, fragrance-free and the packaging is recyclable.
2. Nars Pure Radiant Tinted Moisturizer in Finland, $48, narscosmetics.com.
With just a wash of colour, this new tinted moisturizer also deeply hydrates your skin with mineral rich seawater. The formula is designed to help reduce hyper pigmentation over time, so your skin will just get better and better.

3. Smashbox Sheer Focus Tinted Moisturizer SPF 15, $30, sephora.com.
Not only does this moisturizer/foundation come with a great SPF level and provide a sheer veil of colour, it's also rich in vitamins A and E.
4. Bobbi Brown SPF 15 Tinted Moisturizer Oil Free, $40, bobbibrowncosmetcis.com.
Calling all those with oil-prone skin. This gel-based moisturizer comes with remarkable coverage that feels soft and smooth – making it a treat for your skin.
5. Laura Mercier Tinted Moisturizer, $42, lauramercier.com.
With the added bonus of SPF 20, this tinted moisturizer would easily become a mainstay in our travel beauty bag.
6. Sephora Perfecting Tinted Moisturizer SPF 20 Oil-Free, $21, sephora.com.
Easy on your budget this tinted moisturizer doesn't certainly skimp on quality. The smooth consistency glides easily over skin offering just the right amount of coverage, and the oil-free formula is ideal for problem-prone skin.
7. Stila sheer color tinted moisturizer SPF 20, $34, stilacosmetcis.com.
Stila's tinted moisturizer has topped many beauty lists over the years, and their revamped top-seller with antioxidants is now water-resistant. Beach, anyone?