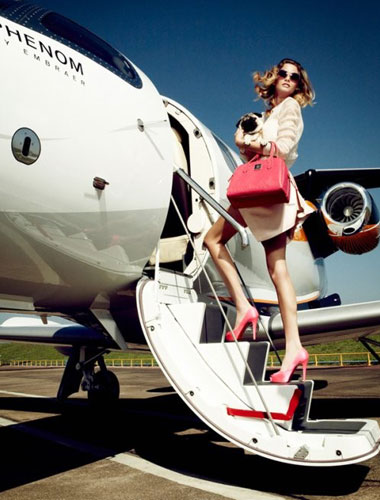 December is practically a blink away and for those of you who haven't got any plans to get away, we have found a few deals we think might entice you to consider otherwise. Whether you want to hit the beach, the slopes or even the shops, we've found three specials that will satisfy your travel urges.
1. Low Rates at Hotel Le Village in St. Barth
The charming Hotel Le Village found tucked away in a tropical garden above St. Jean Bay is extending summer. Offering summer rates for their Superior Suites (starting from $422/night, based on Euro rates), the special room rates also includes continental breakfast. To receive the rate, guests must stay a minimum of four nights and pre-pay (no refunds).
Not only that but guests who book a room between December 10 – 20, 2012 will also receive a Category A Hertz car rental at no extra cost (gas and insurance extra). The Superior Suites in the 28-room hotel include kitchens, Italian rain showers, flat-screen TVs and iPod docks. The resort also offers additional complementary amenities such as free Internet access, workout room, and beach essentials you can borrow to tote to the beach (just a short walk away).
Call 011-590-590-27-61-39 to make reservations or visit villagestjeanhotel.com.
2. Early Bird Rates at Big Sky Resort in Montana
There's a reason why they say the early bird gets the worm, because planning ahead can definitely get you some great travel discounts. For those of you craving some slope time, select accommodations at Big Sky Resort in Montana are offering 50% off!
Stay three nights or more between November 21 – December 21, 2012 and you can get 50% in a Big Horn condo, a three or four-bedroom condo at Powder Ridge or Beaverhead, as well as a two queen hotel room at Whitewater Inn.
There are also 50% off savings between December 6-21, 2012, for a three night stay or longer in a one bedroom condo at Shoshone, a hotel room at Huntley Lodge and studios at the Village Center.
Call 1-800-548-4486 to make reservations.
3. Round-Trip Toronto to Newark starting at $224.42 Taxes Included
Anytime we see a round-trip flight to New York under $300 with taxes, it makes it practically a no-brainer for us to escape to the Big Apple for a little getaway. If you're thinking about doing a pre-Christmas trip to the city, you can get a serious good deal if you select off-peak flights.
Currently Air Canada is offering $59 (pre-tax) fare one-way to Newark from Toronto, meaning you could potentially travel round-trip for $224.42 all in. Honestly it really doesn't get better than that. For example, we selected a 6:30 a.m. departure on Friday, December 14, with a return departure time of 6:20 a.m. on Sunday, December 16 and got $224.42 round-trip price. If you don't mind sacrificing a little bit of time, it's really worth it.
Happy Travels!