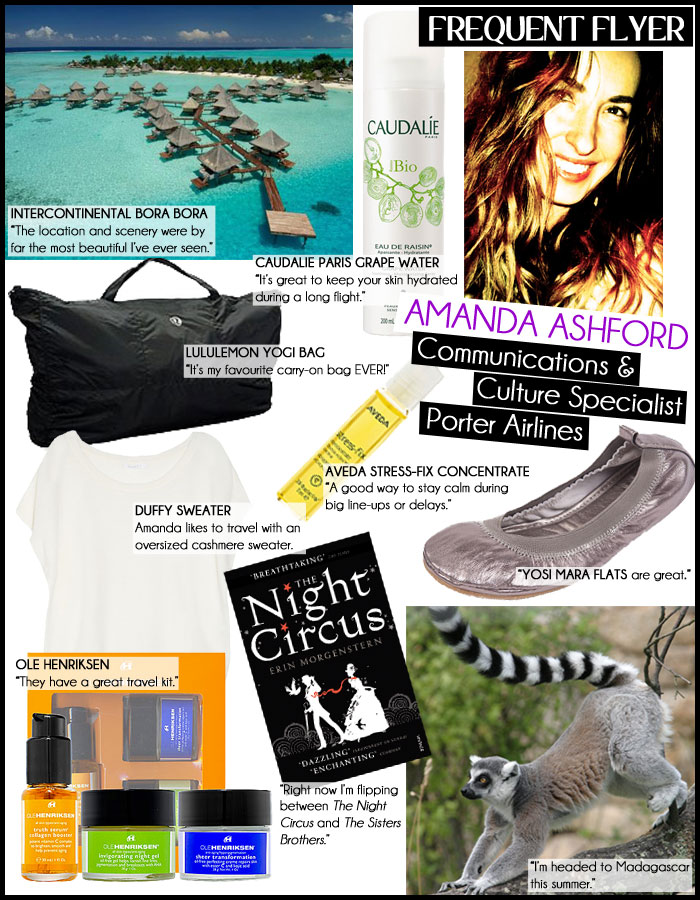 Have we told you how much we love Porter Airlines? If you've flown with them, you know what we mean. Porter is our go-to airline (especially for those New York City weekends) so we are thrilled to be able to feature their Communications & Culture Specialist, Amanda Ashford. Amanda is always in the know about what's new and exciting happening at Porter. Her typical week involves everything from sending out news releases, to arranging media trips, and checking out what people are saying about the airline on both traditional and social media.
When she's not arranging travel for others, Amanda is planning her own trips — from a recent Mexico escape to planning a trip to Madagascar this summer — she's a serious jet-setter. We totally impressed with her airplane style (we want those Yosi Mara fold-up flats!) and are definitely considering adding Aveda's Stress-Fix Concentrate to our beauty bag. Read on to find out more about how Amanda must-haves, favourite hotel, and one of the reasons she's so excited to be heading to Madagascar.
What city do you find yourself landing in the most often?
I have family in Montreal, so I'll often hop over there on a Friday for a night or two. Otherwise, I'd say New York is my most frequent stop.
What's your carry-on?
My favourite carry-on bag EVER is a huge (I could probably fit inside it) Lululemon bag, designed for a yoga mat and gear. It's so practical, because you can cram it full or zip it to half-size if you're just going overnight. It's also totally soft, so you can jam it in any sized overhead cabin, even if it's almost full! I don't like to use wheeled suitcases if I can help it, and this way I just fling it over my shoulder — and off I go!
What are the top 3 essential pieces you put in your carry-on?
I love Aveda's Stress-Fix line — they have a great portable rollerball that's perfect for carry-on and a good way to stay calm during big line-ups or delays. I always carry a sample-size kit of my face-care routine products in case I'm stranded overnight without my luggage, or need a pick-me up during the day. I use Ole Henriksen, and they have a great travel-size kit of my top three favourites. And an extra sweater or big, cozy scarf to use as a pillow or blanket if I get sleepy or chilly.
Travel accessory you can't leave home without?
If I don't have my Kobo and my iPod, I'd probably miss my flight to go back home and get them. For long haul flights, ear plugs are indispensable.
How do you kill time waiting for your flight?
Thankfully most of my recent flights are out of Billy Bishop Toronto City Airport, which has amazing lounges with free snacks, drinks, WiFi, and most recently, Want Passport locations which feature some amazing lines and products from around the world. So now I can spend my time shopping while I'm waiting to jet out!
Favourite hotel?
Last year I stayed at the InterContinental in Bora Bora, and it was gorgeous – the rooms are all over-the-water bungalows with great decks to swim off, and the location and scenery were by far the most beautiful I've ever seen. We even had a sting ray that used to come visit us most mornings.
Current travel reading material?
I always fill up my Kobo before I travel –- right now I'm flipping back and forth between The Night Circus by Erin Morgenstern and The Sisters Brothers by Patrick deWitt. One of the great things about travelling is how much time it gives you to get caught up on the latest books or news.
Favourite travel-friendly beauty product?
I'm a bit in love with Caudalie's Organic Grape Water, which is great to stick in your carry on to keep your skin hydrated during a long flight. It's not heavily fragranced, which means you won't get any stern looks from your seat-mate.
Window or aisle?
Window, mostly. I love to see where I'm landing, and check out different topographies from a bird's eye view — mountains, deserts, oceans, etc.  It also gives you something to lean against if you want to have a nap!
Tell us what your airplane style is.
If I'm travelling for leisure, I'll usually wear my Seven Roxanne skinny jeans, with an oversized cashmere sweater (Duffy makes a great one) over a tank (Enza Costa tanks are super comfy), and my Grisal scarf, which comes with me everywhere.  Layers all the way! Yosi Mara fold up flats are great, since you can slip them on and off and they're easy to store in your bag if you need to change into heels or sandals when you land. For business, I'll usually opt for black skinnies (Seven for all mankind makes a great casual/business-y pair) and a long shirt or blouse, with flats. Jimmy Choo has a pair of Whirl Cork Ballerina Flats that go with just about everything. No statement jewellery, or anything that will make alarm bells go off when I walk through security.
Where was your last vacation and who did you travel with?
I was in Mexico over Christmas. I typically go away for the holidays each year with my boyfriend, and this year we opted for an easy beach vacation.
What was the best thing you did on your last vacation?
We took a speedboat out in the Gulf of Mexico to this coral reef, pretty much in the middle of open ocean to snorkel. Diving off the boat, and seeing so much marine life was incredible — stingrays, barracudas, and schools of crazily coloured fish. It was lovely.
Dream destination?
I'm headed to Madagascar this summer, which has been on my bucket list for ever. Lemurs are one of my favourite animals, and this will get me up close and personal with the little guys!