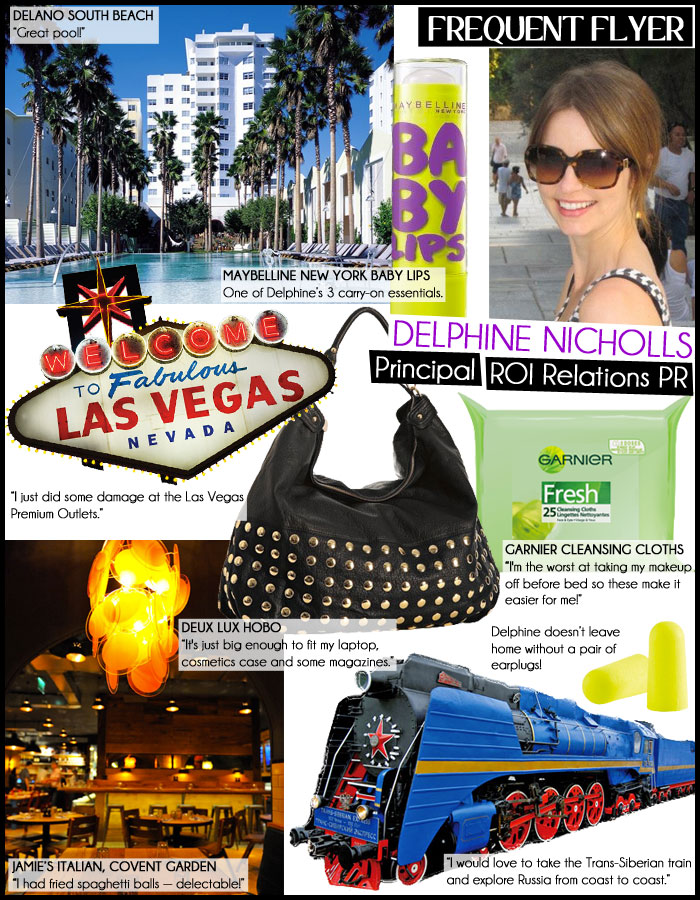 It wasn't long ago when we chatted with Delphine Nicholls' other half at ROI Relations, Samantha Diamond. Since we couldn't talk to one without the other, we had to find out about Delphine's adventures in travel and of course, her travel style. Like Samantha, Delphine also travels quite a bit for work, but still manages to sneak in time for play too. We love that she maximizes every minute she has in a city (you'll be impressed with her Berlin visit) and even offers up a couple of shopping destinations perfect for luxury lovers in search of a bargain.
Where was your last trip and what was it for?
I just got back from one week in Montreal for work and play. It included a myriad of client meetings, loafing around my friend's gorgeous, sun-filled, 2-story loft on Saint-Laurent in "The Plateau," exploring Montreal's subway system (which was surprisingly easy to navigate!) and indulging in many "Cinque à Sept's." One to try: chezvictoire.com.
What's your carry-on bag?
These days it's my Deux Lux black, sequined hobo bag, with gold hardware, that I picked up in San Juan Bautista, California. It's just big enough to fit my laptop, cosmetics case and some magazines. It also takes my outfits from day to night.
What are the 3 most important things you put in your carry-on?
Maybelline New York Baby Lips, earphones and my laptop.
How do you kill time waiting for your flight? 
More often than not, you can find me sitting at an empty gate, working on my laptop.
Travel accessory you can't leave home without?
Earplugs!
Window or aisle?
Window seat, as close to the front of the plane as possible. I love to travel but I'm not crazy about flying and something about sitting close to the pilot, makes me feel better. 🙂
Do you use travel apps? Tell us which ones you love.
Math not being my strong suit, I'm a fan of XE Currency app. It takes the guess work out of calculating exchange rates.
Favourite hotel? 
The Mondrian in Soho (the tucked away "Mister H" bar is my favorite for a late night cap!), The Delano in Miami (great pool!) and Hotel Dana in Chicago (stunning view!)
Favourite travel-friendly beauty product?
Garnier's Cleansing Cloths. (I'm the worst at taking my makeup off before bed so these make it easier for me!)
Most indulgent travel experience?
I flew to Berlin after European Fashion Week last year for 24 hours. I jam-packed a week's worth of sightseeing into a couple of hours (the Berlin Wall, museums, shops, restaurants, spa).
What is your airplane style?
My airplane style is very minimalist. Mainly because I hate stripping down in front of the security guards at the airport — I opt to pack my belts, jewellery and funky hair accessories, not wear them on the plane. I like to be comfortable and warm on the plane so I always bring a pair of comfy socks.
Favourite destination to shop. Tell us what we should check out!
I just did some damage at the Las Vegas Premium Outlets — we went a couple of hours before closing, which saved me. I could have spent the entire day there. If you're into designer outlets, then I would recommend "The Mall" near Florence, Italy. The Burberry store alone is worth the trek.
Best meal. Where did you have it and what did you eat?
Jamie's Italian (owned by Jamie Oliver) in Covent Gardens last year. I had fried spaghetti balls — delectable!
Where was your last vacation and who did you travel with?
I went to Lisbon last month with my boyfriend, again for work and play. Lisbon's beauty blew me away, I would go back in a heartbeat.
One of my favorite memories was stumbling upon an outdoor salsa bar, it was like a scene out of a movie. We watched strangers, friends and stray dogs, dance together like they had not a care in the world, for hours on end.
Where are you heading next?
New York early 2013 for more work + play.
Dream destination if you had an unlimited budget.
Russia Anna Karenina style! I would love to take the Trans-Siberian train and explore Russia from coast to coast.