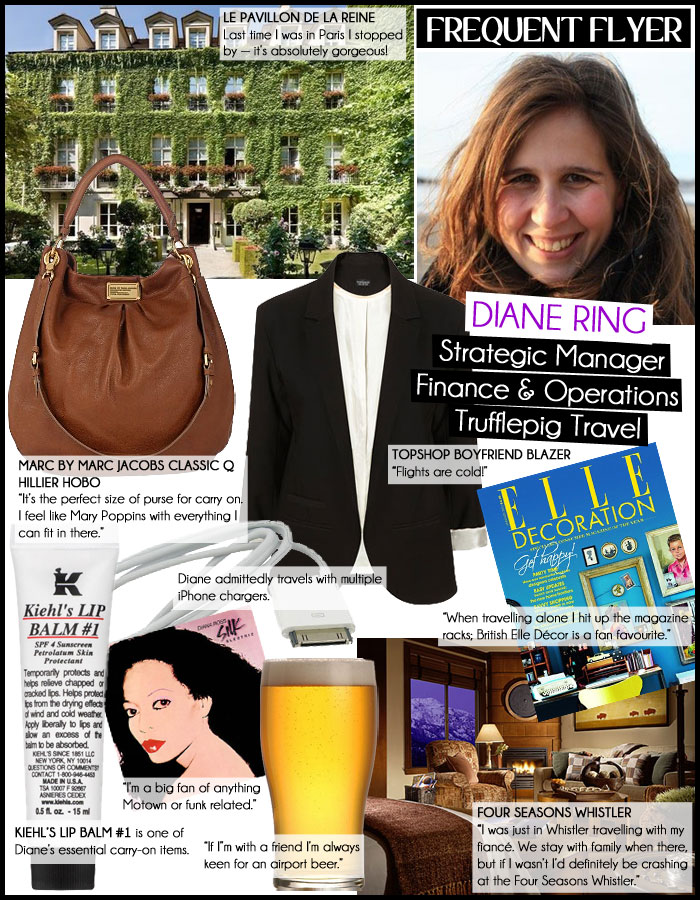 As the Strategic Manager of Finance and Operations for Trufflepig Travel, Diane Ring gets to dabble in a little bit of everything — from marketing to balancing the books — not to mention jetting to and from Paris on a regular basis (they have an office there). For those of you who aren't familiar, Trufflepig Travel is a luxury trip planning company who specializes in designing custom trips for clients around the globe. Unlike other trip planning services, Trufflepig only services a select number of countries (currently it's 31) of places they know — and know well. Plus they also rely on experts on the ground in various locations to keep them up-to-snuff on what's new in that destination.
Diane (who's also recently engaged to a pilot, none-the-less), may be saying "I do" close to home, but is currently planning two honeymoons. One right after the wedding and a second later in the year, either in South Africa or Brazil. We would too especially having the best information right at her fingertips! We recently chatted to Diane about her travel must-haves and latest adventures (she just hit the slopes in Whistler), so read on to get the scoop!
What city do you find yourself landing in the most often?
It's a toss up between Paris (we have a small office located there) and New York. But isn't that how it should be?
What's your carry-on bag?
I have an amazing satchel bag Marc by Marc Jacobs that I carry with me everywhere.  It's a tan leather colour so it works across all seasons and goes with everything.  And it's the perfect size of purse for carry on. I feel like Mary Poppins with everything I can fit in there.
What are your top 3 essential pieces you put in your carry-on?
Kiehl's lip balm # 1. My passport. Extra socks  — I always find flights to be cold!
Travel accessory you can't leave home without?
Multiple iPhone chargers.  I'm completely addicted to my iPhone and have it on me at all times.
How do you kill time waiting for your flight?
If I'm with a friend I'm always keen for an airport beer (preferably something simple & classic like a Keiths). When travelling alone I hit up the magazine racks; British Elle Décor is a fan favourite.
Favourite hotel?
Last time I was in Paris I stopped by Pavillon de la Reine – it's absolutely gorgeous! And when in NYC I love the Crosby Street Hotel.
Best meal on your last trip.
Hmmm, it would have to be the water lily greens at a Chinese dive restaurant in the Marais, Paris.  Completely random meal choice for a visit to Paris, but they were delicious! And exactly what I needed after gorging on cheese for a week.
Current travel reading material?
The Sounder, of course.  But otherwise AFAR magazine & Departures.
Travel music playlist?
I've been awful about discovering music lately. But I'm a big fan of anything Motown or funk related. I've been spying on my wedding DJ lately to make sure he stay's up to snuff!
Favourite travel-friendly beauty product? 
I'm a pretty low maintenance gal, but with all the dehydrating effects of plane travel a good moisturizer can solve your problems.
Window or aisle?
Window for sure.
Tell us what your airplane style is.
I'm classic and dark, generally. I'm most likely wearing my black jeans, with a boat neck blue & white striped ¾ length sleeved top, a loose grey drapey sweater, black blazer (as I said, flights are cold!), and then ballet flats and a colourful silk scarf.
Where was your last vacation and who did you travel with?
I was just in Whistler visiting friends and family. Travelling with my fiancé. We stay with family when there, but if I wasn't I'd definitely be crashing at The Four Seasons Whistler.
What was the best thing you did on your last vacation?
It's a toss up between private ski lesson or celebrating my 30th birthday at various après spots: Dusty's was definitely the favourite this visit.
Dream destination?
It's so tough! My work is constantly coming up with dream trips all over the world. Even though Rudston came back raving about the Splendido in Portofino, I'd rather tag along Anton's Brazil research trip next week. He's checking out some amazing spots & hotels (check out The Sounder for a recap!)