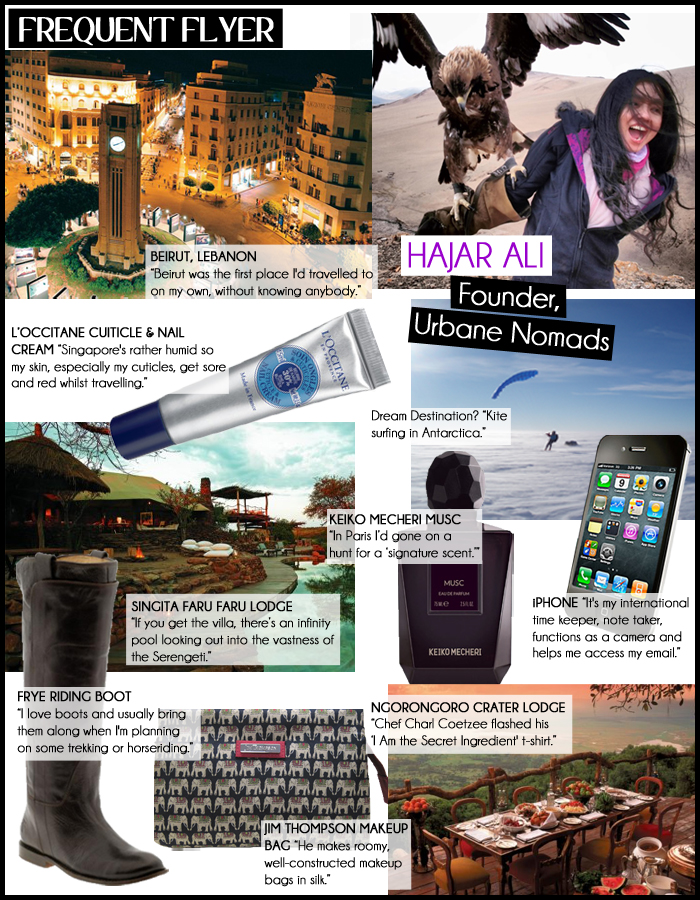 Luxury travel isn't just about five-star accommodations, butler service and sitting poolside — just ask Hajar Ali, founder of Urbane Nomads. This luxury travel company believes in going off-the-beaten track to exotic destinations and beyond the cultural surface to delve deeper into what makes that place tick. Whether it's a wild safari in the Congo or taking an expedition into the Empty Quarters, a tour with Urbane Nomads melds luxury with beyond-your-imagination adventure. With a passion for excitement and a travel log that would make any adventure-seeker envious, Hajar shares her favourite destinations, hotels and unique travel style.
What's the most exotic/unusual travel experience you've had?
Hanging out with the eagle hunters in Western Mongolia. Eagle hunting is a tradition threatened by the realities of modernity. It feels precious to be able to witness this tradition. In a world where we're so 'plugged-in' and removed from nature, it's fascinating to be amongst a people so skilled with animals and at ease with nature — the Kazakhs are brilliant horsemen. Some are eagle hunters as well and combine the two skills so gracefully and with seemingly little effort. It kind of brings to mind the Italian concept of sprezzatura.
Which country is your favourite so far and why?
It's difficult to select just one. My favourite areas are Patagonia, the Atacama and the Burmese Himalayas. East Africa is interesting for me, as well. Patagonia is where I got the inspiration to start Urbane Nomads. The Atacama similarly has stunning landscapes which are so varied — from the valleys to the geysers, the star-gazing opportunities to the beautiful treks. My favourite horse trek is the Quebrada del Diablo (Devil's Gorge). The scenery, the accompanying huaso and the collie accompanying us — it was so Wild West. The Burmese Himalayas because it's so unexpected. It's quite a schlep to get there which probably adds to the appeals and the unusual combination of lush greenery with snowy mountainscapes and the cool climes of the Himalayas.
My favourite cities are Beirut, Buenos Aires and Istanbul. Beirut was the first place I'd travelled to on my own, without knowing anybody. Buenos Aires has such a vibrance to the city. I loved the architecture, the emphasis on good design and strolling through Palermo on a Sunday. Istanbul for its soul, its poetic skyline and incomparable history. There aren't places that resurrect history in so chic a manner.
What's your carry-on bag?
I try my best not to bring a carry-on bag and I travel with cheap luggage. That way I feel safe about letting my luggage do the conveyor belt rounds while I do duty-free shopping. That's the only way I could have found the sight of my luggage being loaded on top of a bus at the bottom of a pile consisting of, amongst others, sacks of onions, cooking utensils and other metal parts I could not identify, to be fascinating. This was when I was travelling through Northern Pakistan (NWFP) and, after a few days, done away with the driver and travelled around with a chef on public buses instead.
What are your top 3 essential pieces you put in your carry-on?
Phone and camera chargers, prayer garb for travelling on the go and my makeup and toiletry bags. Jim Thompson has roomy, well-constructed makeup bags in silk with a Thai take on the toile de jouy print.
Travel accessory you can't leave home without?
A camera. But functionally — my iPhone. It's my international time keeper, note taker, functions as a camera and helps me access my email when I'm travelling.
How do you kill time waiting for your flight?
Depends on the place. There are some airports with good shopping. The airport in Bangkok is huge and always good to shop in. And then there's the spa so there's never really enough time to do all you want. In larger, anonymous airports, I try to read. In smaller airports, I'll talk to other travellers. Those working in NGOs are typically interesting characters with good stories.
Favourite hotel?
I like Anna Trzebinski's Lemarti's Camp in Laikipia, Kenya. Sleeping to the sounds of hooves thundering past your tent and waking up to the sight of camels chewing the leaves off the tree fringing your outdoor bathroom and having a bath in the evenings almost literally in the bush are just
incredible experiences.
The Singita Faru Faru in the Serengeti is also stunning. There are all the mod cons — free international phone calls from the room, that beautiful outdoor shower and if you get the villa, an infinity pool looking out into the vastness of the Serengeti with nothing but a solitary baboon staring back at you as you enjoy your morning swim.
The Malikha Lodge in the Burmese Himalayas. Designed by Jean-Michel Gathy of Aman Resorts' fame. Most materials are sourced locally. The breakfast area overlooking the Nam Lang river as well as the heated indoors area are stunning.
Closer to home, the Four Seasons Langkawi's lower Melaleuca rooms with its outdoor garden tropical showers where I get to pretend at being a garden nymph.
Best meal on your last trip.
Rather, my most memorable meals. The Casimiro Bigua in El Calafate, Patagonia. People are divided about the town of Calafate. Loved the restaurant, however and it was the only place I'd kept returning to whilst in Calafate. The meals there were something of a highlight of the trip.
The buffet at Four Seasons Florence. From the breads to the desserts — I can't remember any other place with as good a buffet spread.
Ngorongoro Crater Lodge. Quite remote and not too close to the sea but they accommodated me when I said I am a pescetarian. Chef Charl Coetzee flashed his 'I Am the Secret Ingredient' t-shirt.
Current travel reading material?
Wilfred Thesiger's The Empty Quarters and Rory Stewart's Places in Between.
Favourite travel-friendly beauty product?
L'Occitane's cuticle cream. The best thing I'd bought at the airport. Singapore's rather humid so my skin, especially my cuticles get sore and red whilst travelling. When my skin gets too dry I use Decleor's Aromessence Rose.
What's your airplane style?
Tights, t-shirt and either brogues or knee-high boots. I know boots are a nightmare when going through airport security but I love boots and I usually bring them along when I'm planning on some trekking or horse riding. To keep warm, I bring Kuna's Gil Cape (in camel). I love the feel and sheen of Alpaca. For short haul flights , it's usually a casual dress and slippers or heels.
How do you pack when it comes to travelling?
I pack fast and last minute — usually an hour before. I am not very efficient with space though and wonder about the people who're able to travel with carry-on only.
What was the best thing you did on your last vacation?
I am not drawn to cities for vacations but Paris was a convenient place to stop over after Cannes. On the last day in Cannes and on a couple of days in Paris, I'd gone on a hunt for a 'signature scent.' The top two are quite different — Keiko Mecheri's Musc which is a very clean, barely-there scent and Kilian's Liaison Dangereuses.
Dream destination?
Kite-skiing in Antarctica. Some destinations I'm looking at for Urbane Nomads include the Congo, Southern Sudan and Ethiopia.