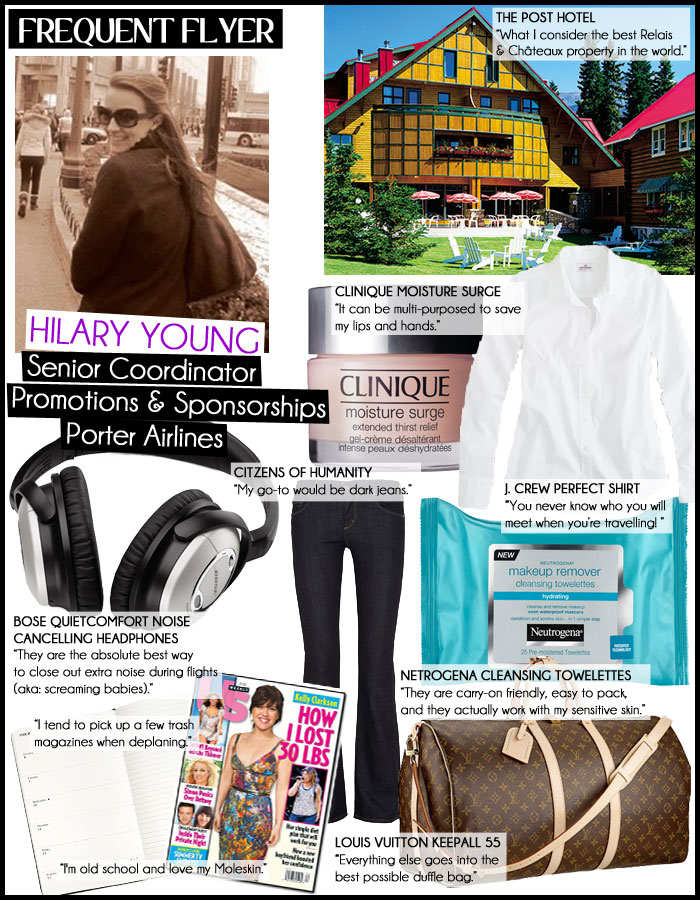 When we think of our favourite way to travel — Porter Airlines has always topped our list thanks to the convenient downtown location, fantastic service and thoughtful amenities including the comfy lounge and in-flight service — not to mention we're kind of obsessed with their cute mascot! Both stylish and well-travelled, we were thrilled to have the opportunity to chat with Hilary Young, Porter's Senior Coordinator for Promotions and Sponsorships, who definitely has logged more than a few miles in the sky. She tells us all about her travelling survival tactics from her noise cancelling headphones to her beauty essentials.
What's your carry-on bag?
I try to travel without having to check any bags, to avoid the hassle of waiting for bags (and sometimes not having them arrive!). I'll typically carry a big purse with my iPad, travel documents, and other small necessities. Everything else goes into the best possible duffle bag: my Louis Vuitton Keepall 55.
What are your top 3 essential pieces you put in your carry-on?
Some source of music: I keep my iPhone, iPad, and iPod (I know, excessive) all synched, so whatever one has the most battery will act as my stereo on the go. A mini cosmetic kit in my purse, with Clinique Moisture Surge face cream (which can be multi-purposed to save my lips and hands), a nail file, brush, dental floss, Advil, and extra contacts. A pen and my agenda. (Yes, I'm old school and love my Moleskin.)
Travel accessory you can't leave home without?
My Bose Noise Cancelling head phones. They are the absolute best way to close out extra noise during flights (aka: screaming babies).
How do you kill time waiting for your flight?
I have a bad habit of showing up very close to time of departure to avoid hanging out in the airport (unless it's the Porter lounge!) But, if I find myself with extra time, I'll usually browse the magazine stands and/or relax with a beer at one of the (overpriced!) airport bars.
Favourite hotel?
What I consider the best Relais & Châteaux property in the world: The Post Hotel in Lake Louise. My family has spent a lot of time there over the years, and it has charming feeling to it. The staff are great, the location to the mountain is amazing, and the Coupe Denmark dessert is beyond phenomenal.
Best meal on your last trip. Where and what did you have?
It wasn't on my last trip, but I still crave "my regular" meal from a local restaurant when I lived in China. It was fresh, authentic Chinese food, with delicious sweet and sour pork, noodles, fresh steamed veggies (and a few unknowns!). The table would be overflowing with food, yet it would never cost more than 75RMB (about $10CAD).
Current travel reading material?
The Steve Jobs biography. Also, while I refuse to pay for them (but love to read them), I tend to pick up a few trash magazines when deplaning — people leave so many magazines in the seat back pocket once they're finished with them. Recycling as its best!
Travel music playlist?
While it depends on my mood at the time, I tend to lean towards old reliables like The National, Arcade Fire, Matt Nathanson, Foster the People, The Wooden Sky or Adele. But, it's not surprising if Taylor Swift, MGMT or Neil Young pop up. My music tastes range significantly!
Favourite travel-friendly beauty product? 
Neutrogena cleansing wipes are great. They are carry-on friendly, easy to pack, and they actually work with my sensitive skin.
How would you describe your travel style? What are key pieces you like to travel with?
Comfortable, but put together… you never know who you will meet when you're travelling! I'd say my go-to would be dark jeans, a white J. Crew "perfect shirt," a blazer and flats. I'll also make sure I have a big cashmere scarf on hand in case the plane is cold.
Where are you planning on travelling next and what do you plan on doing?
I have a busy next few months: Montreal, Boston and Washington (for work), plus South Beach, Vegas, and Tuscany (for friend's weddings and related activities).
Where was your last vacation and who did you travel with?
My last vacation was to our family's place in Naples. It was a perfect week of R&R with my Mom. Before that, it was a last minute trip to New York to surprise a girlfriend on her birthday.
What was the best thing you did on your last vacation?
While it wasn't technically vacation as I was there for work, I was in New York last week and met Oprah Winfrey! She was absolutely charming.
Dream destination?
My cottage on Lake Rosseau in Muskoka. The Maldives and Greece are on my bucket list, though!