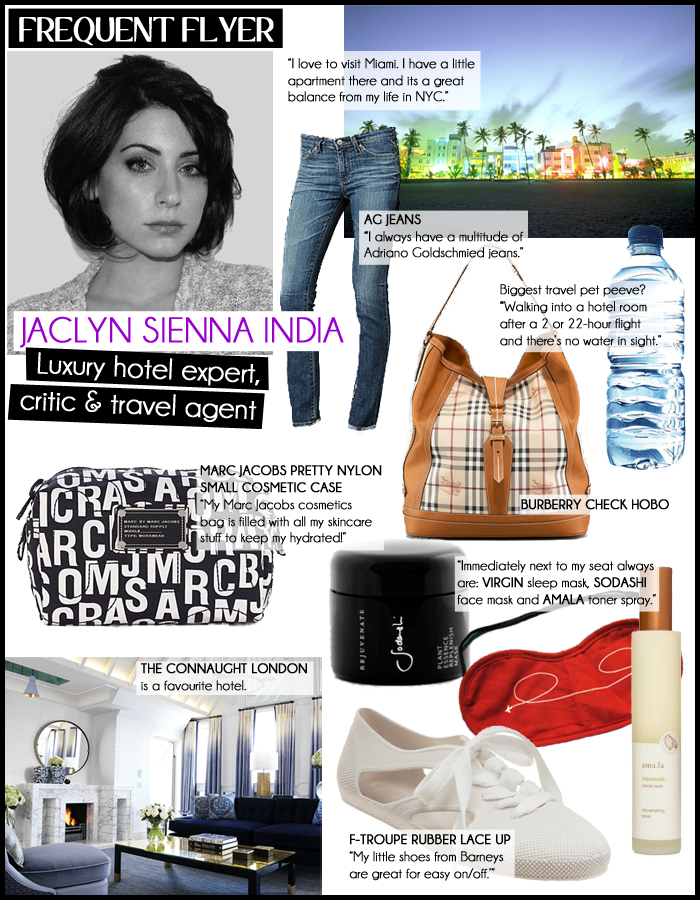 Exploring the world for your own pleasure is one thing and creating curated travel experiences for luxury-seekers is another — but for Jaclyn Sienna India, luxury hotel expert and critic, who also runs her own boutique travel agency — is an expert at both. Having been bitten by the travel bug at an early age, Jaclyn says she's made it her life's work and mission to travel every inch of the globe. A regular travel contributor to Dwell, Jaclyn has also been featured in Gotham Magazine as an A-list Travel Agent. We recently chatted to the luxury travel expert about some of her favourite hotels, beauty musts and what she likes to do when she's on vacation.
What's your favourite city to visit and why?
London, Paris — best food, love the vibe, very hip and upscale… I love getting to know each city more and more each time Ive been there and as many times that has been theres always more to discover. I also love to visit Miami. I have a little apartment there and its a great balance from my life in NYC. I ride my bike everywhere and cook and enjoy slow paced, relaxing days.
What's your carry-on bag?
I only use my Burberry carry-on and Longchamp computer bag, no matter how far I travel or for how long.
What are your top 3 items you put in your carry-on?
Immediately next to my seat always are: Virgin sleep mask, Sodashi face mask and Amala toner spray.
Travel accessory you can't leave home without?
My Marc Jacobs cosmetics bag filled with all my skincare stuff to keep me hydrated! And my little shoes from barneys that are great for easy on/off.
How do you kill time waiting for your flight?
Catching up on emails. I don't mind getting there early and starting to unwind.
Favourite hotel?
Isle de France in St Barths, Plaza Athénée in Paris or The Connaught in London.
What's the best amenity a hotel can offer?
Free water, Free Wi-Fi and good service that revolves around me, not the masses. I can't stand when mini bars, menus and spa menus are all generic versions of what they assume the public wants. I like when things are customized and thoughtful.
Biggest travel pet peeve?
Walking into a hotel room after a 2 or 22-hour flight and there's no water in sight. When did being hydrated become a luxury?
Best meal on your last trip. Where and what did you have?
The street food in Thailand was amazing. I dine in fancy restaurants all the time, and it was great to get out of my comfort zone and taste local food without pretention. After tons of Michelin starred meals it's nice to appreciate simplicity.
Current travel reading material?
An insanely large pile of magazines I've been dying to read but haven't had the time that get stuffed in my laptop bag.
Do you travel with music? And if so, what would we find on your playlist?
My husband is a musician that designs special travel music, which he designs for my clients, so I usually have a ton of them loaded on my phone to check them out before he sends them. I'm working even when I'm listening to music!
Favourite travel-friendly beauty product?
Anything Tammy Fender, Sodashi, Amala, or Tata Harper. I use a multitude of things from their lines and my toiletry bag looks like a mini apothecary.
Are you a light or heavy packer? What top three pieces of clothing (or accessories) must you always travel with?
I'm an extremely light packer. I have more shoes with me than clothes, but I always have a little sweater for the plane, a multitude of Adriano Goldschmied jeans, and my silk pj pants from Anthropologie.
What was the best thing you did on your last vacation?
Slept and did nothing. For me, when I travel it's hard to not want to go check out every hotel and on my last trip I was in such remote locations I couldn't check out hotels if I wanted to…
Dream destination?
Antarctica.