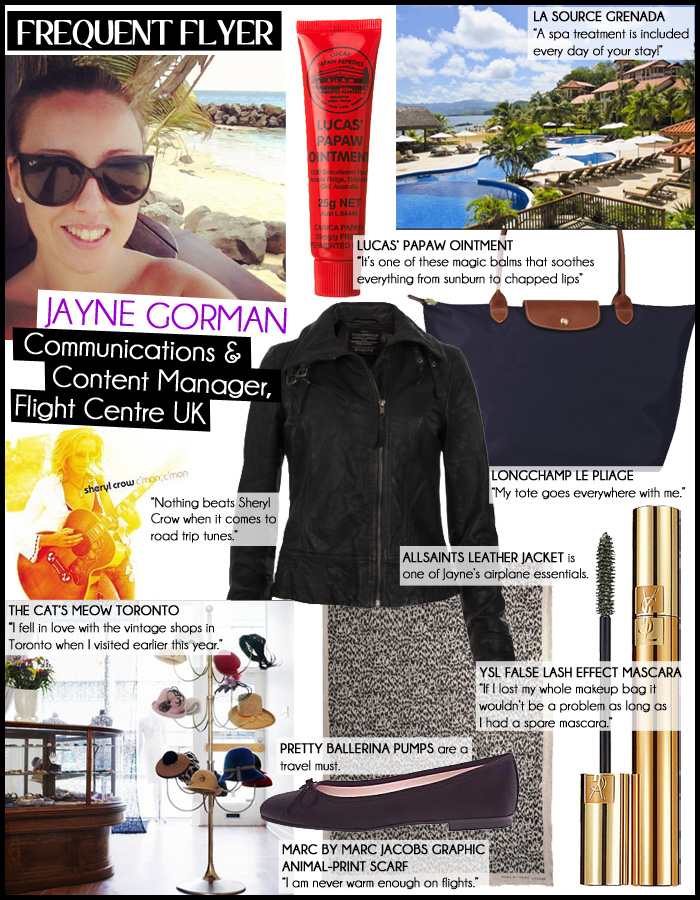 We love social media — and so does Jayne Gorman — known on Twitter as @JayneyTravels, this award-winning travel blogger has founded two websites, 40under30.com, a site which chronicles her journey to visit 40 countries before she hits the big 3-0 and TravellingShopaholic.com, where she shares her insider shopping secrets from the many destinations she's visited. Her social media expertise and love of travelling secured her a fantastic job as the Communications & Content Manager for Flight Center UK and even led her to meet her current boyfriend of two years!
We recently had the opportunity to find out just what this self-proclaimed "obsessive" traveller can't leave home without, from must-haves on the airplane to some of her favourite hotels and experiences. Where was the last place you travelled to?
It was to a charming place called El Gouna, a Red Sea resort in Egypt. It was for a mixture of work and pleasure as it was a press trip based on a holiday experience.
What's your carry-on bag?
I'm one of those travellers that swears by her Longchamp tote. I have a medium one in navy, it goes with everything and everything goes in it! From the plane to the city or the beach, my tote goes everywhere with me.
Three things you can't leave home without.
Mascara, mascara, mascara. I'm seriously addicted to YSL False Lash Effect Mascara. If I lost my whole make up bag it wouldn't be a problem as long as I had a spare mascara. I'm famous for sporting big lashes whether I'm trekking in the Amazon jungle or jumping out of a plane in New Zealand.
What are some of your carry-on essentials?
A spare pair of warm socks and a big pashmina because I am never warm enough on flights.
How do you kill time waiting for your flight?
I've started paying a little extra and booking airline lounges before I fly (unless I am lucky enough to be flying business class, which is very rare these days). The No 1 Traveller Lounges at UK airports come with heaps of free food, drinks and magazines and ooze style and relaxation. The fee is far exceeded by the feeling of boarding a flight content.
Favourite hotel?
This is a tough one. Ones that stand out for me for superb service and a memorable experience are La Source Grenada, where a spa treatment is included for every day of your stay, and the Four Seasons in Beirut. I harbour a strong desire to stay at the Delano in Miami one day.
What's an amenity/service every hotel should have?
A decent hairdryer and GHD hair straighteners. And a full-length mirror in a reasonable and well-lit place!
Best meal on your last trip (or ever). Where and what did you have?
A Goan prawn curry on the beach in Palolem, Goa. I adore curry and nowhere is it better than in Indian itself. Especially if served on a beach and costing less than $5.
Travel music playlist?
This is probably going to sound rather uncool but, for me, nothing beats Sheryl Crow when it comes to road trip tunes.
Favourite travel-friendly beauty product? 
In Australia I discovered Lucas' Papaw ointment. It is one of these magic balms that soothes everything from sunburn to chapped lips and is sold in Aussie supermarkets rather cheaply. It's perfect for combating the effects of air conditioning and long haul flights on the skin.
Has social media ever helped/hindered you in your travels? Share!
I first discovered how social media could help my travels when I was visiting Estonia for a business event and people came forward with their insider tips. But, without meaning to sound over-dramatic, social media has actually changed my whole life. I've won trips to India and Iceland on twitter, changed careers when I applied for (and secured) a travel social media job, and it has also led to me meeting my boyfriend of 2 years, who is also a travel blogger too.
Tell us what your airplane style is?
Topshop leggings because they are the most comfortable and long-lasting pants. Pretty Ballerina pumps or Tom's plimsolls depending on where I am heading. Leather jacket from AllSaints and Marc by Marc Jacobs Animal Print scarf.
Favourite destination for shopping?
Anywhere! I've just launched a new site called the TravellingShopaholic.com about my habit of shopping wherever I travel. New York, London and Paris would have to feature for their variety of outlets and picture perfect locations but I fell in love with the vintage shops in Toronto when I visited earlier this year – I had no idea there would be so many.
What has been your most luxurious travel experience?
Flying Business Class to Beirut, then being met by a chauffeur to drive us to our suite at the Four Seasons Hotel, which had personal gifts waiting for us inside. It was an amazing experience but it did make me realize what I am missing out on when I fly Economy now!
Dream destination?
The Maldives. I long to stay in one of those luxury huts perched over a turquoise lagoon. One day…