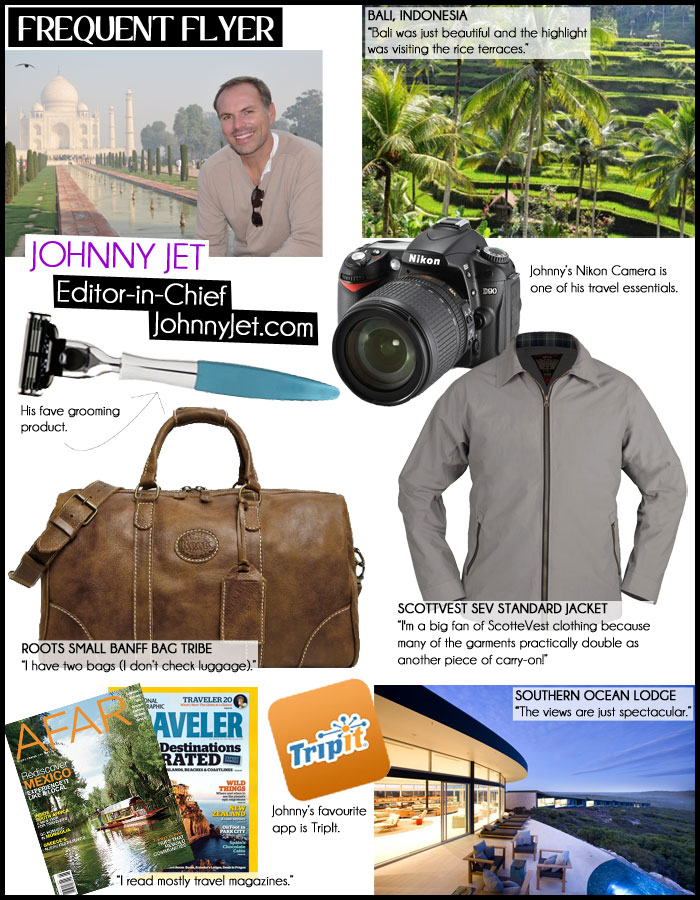 It's hard to believe before today, we haven't turned the tables and chatted with any stylish guys in our Frequent Flyer features. Well, we're changing that today with one of the most well-known travel experts in the industry — Johnny Jet. Travelling the globe non-stop (20+ countries a year), he also recently hosted the Travel Channel's Hot Spots 2012, and is regularly featured in both print and broadcast media. That being said, one of the biggest things that happened to him was getting married last year (his wife Natalie was our first Frequent Flyer!).
If you love to travel and you don't follow Johnny, we highly suggest you do. His website is a great resource where you'll find tons of travel tips, deals, news — plus you can follow his travel adventures (prepare to be jealous), which he shares in great detail with tons of great pictures too. We love his Twitter feed too because he's always on top of what's up in the travel world. Curious to know Johnny's favourite hotel and hear about one of his scariest travel moments? Read on.
Where was your last trip? Highlight?
My last big trip was to Australia and the highlight was staying at Southern Ocean Lodge on Kangaroo Island.
What is your carry-on?
I have two bags (I don't check luggage). One's a Briggs & Riley bag that I use for my work stuff (mostly electronics) and the other is a Roots tote bag for clothes and toiletries, etc.
What are the top 3 essentials in your carry-on?
My laptop, emergency meds and my Nikon camera.
You can't leave home without?
My smart phone.
Favourite tech gadget/app you travel with. 
TripIt App.
How do you kill time waiting for your flight?
Airports are a great place for people watching. I also use the time to make phone calls or catch up on some work on my laptop.
Favourite hotel?
Southern Ocean Lodge on Kangaroo Island in Australia. It's perched on top of a secluded cliff and the views are just spectacular.
Best meal. Where and what did you have?
My second cousins made me the best meal on a last-minute trip to see relatives on the island of Ischia in Italy. I was treated to their authentic bruschetta and pasta – made with love.
Scariest travel tale.
I was in Fiji and got on a small, old Sun Air plane. Everything was smooth on takeoff, but 10 minutes into the flight we started going over the mountain range. Thunderhead clouds approached, then an alarm went off. The plane dropped and it got really quiet (I think the engine stalled). But the pilot and co-pilot both grabbed something instantly, and everything was normal again. Phew! I had to pound my heart a couple of times to start that sucker back up. I have never been more scared while flying in my life. You can bet I kissed the ground (I practically made out with it) when we landed.
Current travel reading material?
I read mostly travel magazines, like Afar, National Geographic Traveler, Conde Nast Traveler and Travel + Leisure.
Travel music playlist?
Too many to list.
Favourite travel-friendly grooming product? 
My razor.
Travel & Style's Pick: eShave Travel razor, $80, eshave.com
Tell us what your airplane style is.
I dress comfortably but usually somewhat stylish so I don't look like a slob. I'm a big fan of ScotteVest clothing because many of the garments practically double as another piece of carry-on!
Where was your last vacation, who did you travel with and the best/most memorable thing you did?
My last real vacation was to South Korea and Bali for my honeymoon with my new wife. South Korea was a great stop-over point on our way to Bali and we enjoyed the local food. Bali was just beautiful and the highlight was visiting the rice terraces – they were incredible!
Where are you headed to next and what for?
I never really know but right now, my next destination is to New York to speak at the New York Times Travel Show.
Dream destination.
Vietnam. I've never been and hope to visit this year.