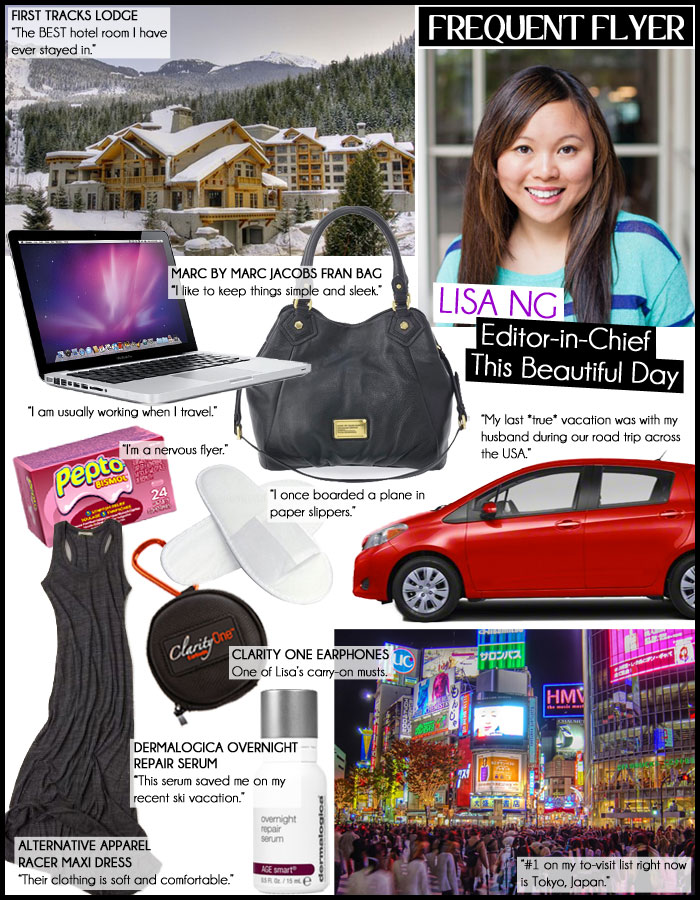 As a full-time blogger and freelance writer, Lisa Ng is always on the go. In 2010, Lisa co-founded the lifestyle blog, The Hip + Urban Girl's Guide with partner Wendy Kam Marcy, which covers everything from food to travel. HUG (as its affectionately referred to) has taken Lisa everywhere from Madrid to Aspen and most recently NYC and Calgary.
Never one to sit still, Lisa is embarking on a new chapter in her career, launching a lifestyle blog this June called This Beautiful Day, which will encompass all of the good things in life like travel, food, beauty, and style.
In between travels we had the chance to catch up with this self-proclaimed vagabond, who shared with us her travel musts, including a gate-side RMT massage service that has us hoping we have a layover in that airport!
Where was your last trip and what was it for?
My last trip was to NYC for a month in March! I was apartment sitting for my husband's aunt who spends her winters in Florida. Luckily for us, she is generous enough to let us stay in her Upper West Side digs while we take our time exploring this crazy city.
What's your carry-on bag?
My large Marc Jacobs Fran bag. It's just big enough to hold my 13″ Macbook and has a cross-strap option as well. I like to keep things simple and sleek — I always check my luggage.
What are the top 3 things you put in your carry-on?
Pepto Bismol and Gravol. I'm a very nervous flyer. The Pepto is for tummy aches and the Gravol is to knock me the hell out! Luckily, I have been flying round-trip to a different destination about twice a month now and with that practice I'm a lot calmer than I used to be. Other vital items: my ClarityOne earphones with a mini carrying case that clips onto my purse and lots of magazines!
Travel accessory you can't leave home without?
My laptop. I physically cannot travel without it. I am usually working when I travel and I can't be as efficient working off my iPhone.
Favourite hotel?
First Tracks Lodge in Whistler, B.C. We were given a two level one-bedroom suite, with heated floors, a fireplace, full kitchen and it is still to this day, the BEST hotel room I have ever stayed in.
Favourite travel-friendly beauty product?
My Dermalogica Overnight Repair Serum. It's oil-based and very hydrating when you are traveling to high altitudes or spend the day sitting on a plane. I usually wash my face as soon as I get to my hotel and slather this on. This serum saved me on my recent ski vacation from the cold, dry air at 10,000+ feet elevation.
How do you kill time waiting for your flight?
I like to browse all the airport shops, buy a few new magazines & snacks for the airplane and surf on the free WiFi or catch-up on work.
My most FAVOURITE thing though? The gate-side RMT massage services at Montreal's YUL airport. I'm literally melted into a pile of jello after a chair massage and half asleep by the time I get on the plane. The gate-side spa services at Vancouver's YVR are also a fave. I once boarded a plane in paper slippers with a fresh new pedicure. Not totally classy — I know, but it felt oh-so-efficient to get that done at the airport that I didn't care! Plus, I was going to Hawaii at that point — so I was already on cloud 9!
Favourite/least favourite thing about air travel?
I find it claustrophobic. But I practice deep breathing and try to get right into a movie — Air Canada is the best for on-demand as soon as you board. My other trick is to get engrossed in a long magazine feature article right away to distract me.
What's your airplane style?
I swear by anything made by Alternative Apparel. Their clothing is soft and comfortable that they feel like pyjamas. I wear their soft cotton leggings whenever I fly with a loose bohemian-style top and a pair of black booties (I usually take these off when on board). I usually bring a pair of fresh comfy socks to change into on the plane. In the winter I use my coat as a blanket most of the time. In the summer, I wear one of Alternative Apparel's maxi dresses. They are comfortable and casual but still makes me look great and put together. I usually bring a cardi for when it gets cold. You can order from them online and they have a shop on Abott Kinney Blvd. in L.A.
Where was your last vacation and who did you travel with?
My last *true* vacation where I actually unplugged was a ski trip I took to Aspen and Vail, Colorado with my husband during our road trip across the USA.
What was the best thing you did on your last vacation?
I didn't know how to ski and literally started on the magic carpet when we arrived in Aspen for Christmas. Luckily, the instructors there are amazing and I enrolled in 3-4 full days of lessons and built my skill and confidence up. By the time January rolled around, I was able to parallel ski! Never underestimate yourself and trust your teachers. It's never too late to learn something new and I'm so proud that I did. I also loved this vacation because we spent our time being outdoors and active — I didn't grow up skiing or on ski vacations, but I could definitely see this becoming a new tradition.
Best meal away from home.
I always seek comfort at Stash Cafe, a Polish restaurant in Old Montreal. I go to Montreal about 4-6 times a year for a client I work with. The restaurant is close to my hotel and they have the best borscht and homemade perogies. On most nights, they even have a live piano player. I was there three days before Christmas by myself for work and listened to him play Christmas carols while eating homemade perogies and staring at the twinkle lights outside. It was magical.
What was the best touristy thing you've done and would say is a must for anyone going to that city?
The City Museum in St. Louis, Missouri. We had no idea what to expect. I heard it was a children's museum, but EVERY single person from St. Louis said I absolutely could not miss this place. I am SO glad that I went — it was one of my favourite stops on my entire trip. Give it a Google — it's so hard to even explain what this place even is besides the fact that it's wonderful and inspiring. I felt like a kid again.
What has been your most adventurous travel experience?
Driving my car from Toronto to L.A. on Route 66 and then back again over three months with my husband. It was insane of us, but such a fun adventure! I blogged about it here. It's definitely a once-in-a-lifetime trip that I would recommend to anyone.
Dream destination?
Tahiti — always. But #1 on my to-visit list right now is Tokyo, Japan.