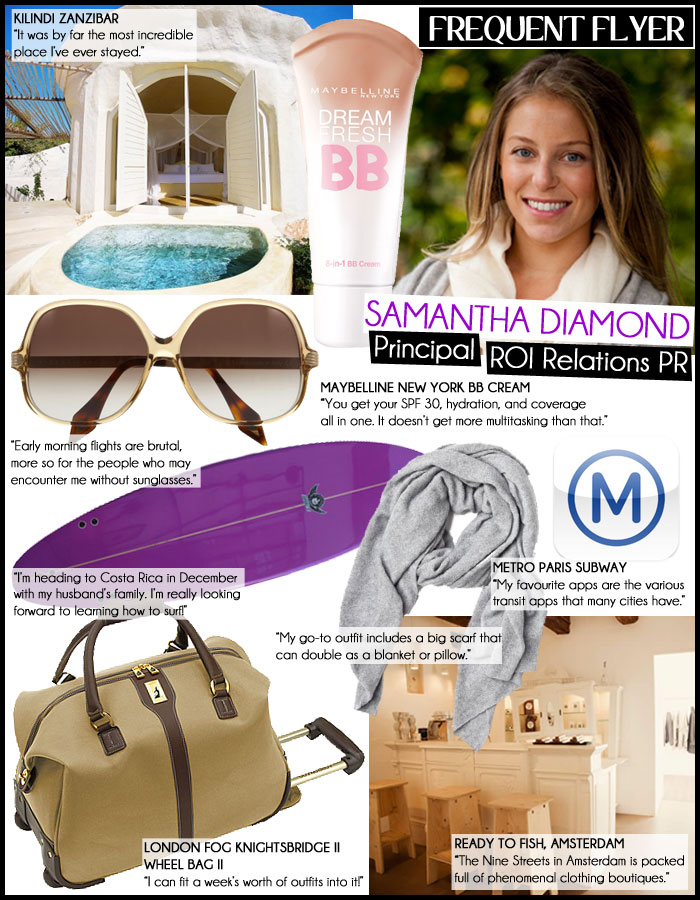 We've had the pleasure of working with PR pro Samantha Diamond over the years, first when she was Global Communications for M.A.C. Cosmetics and now as the Principal of ROI Relations, a lifestyle PR agency she co-owns with Delphine Nicholls (stay tuned for her post!).
Samantha is no stranger to style, with beauty and fashion clients including Maybelline New York, Nine West, Garnier and Biotherm. Though she tells us she's the most "un-glamorous frequent flyer," we beg to differ. The newlywed shares with us her recent honeymoon trip to Tanzania, one of her favourite places to shop, and where she's off to next.
Where was your last trip and what was it for?
Aside from my constant (sometimes weekly!) back and forth from Toronto to Montreal for business, my last big 'for fun' trip was to Tanzania for my honeymoon. It was unbelievable!
What's your carry-on bag?
I actually just bought a new carry-on for my frequent short haul flights. It's a beige and brown London Fog Knightsbridge II Wheel Club Bag II – it's the perfect size to either gate check or fit into the overhead bin, and I can fit a week's worth of outfits into it if I pack strategically! Best of all, it looks cute!
What are the 3 most important things you put in your carry-on?
Laptop, laptop charger, and hand cream (I'm all over Garnier's Shea Butter Body Intensive 7 Days Repairing Lotion right now — I fill a travel-sized bottle with it and keep it in my purse to avoid in-flight dehydration).
How do you kill time waiting for your flight?
I've begun to care a bit less about delays because it's a great excuse to get work done. I usually grab a glass of wine and bust out my laptop to catch up on emails!
Travel accessory you can't leave home without?
Sunglasses. Early morning flights are brutal, more so for the people who may encounter me without sunglasses.
Travel & Style's Pick: Victoria Beckham square-frame acetate sunglasses, net-a-porter.com
Window or aisle?
Aisle if I'm traveling alone, window if I'm with a friend or my husband.
Do you use travel apps? Tell us which ones you love.
I've just discovered Seat Guru! My favourite apps, though, are actually the various transit apps that many cities have. I can figure out how to get around locally via subway or bus, and some more 'advanced' destinations even tell you what time the next bus arrives!
Favourite hotel?
I stayed in the lap of luxury in Zanzibar. Kilindi Zanzibar (one of the Elewana Collection of hotels) was by far the most incredible place I've ever stayed. It was very private, each 'villa' had a plunge pool, open air bathroom, and a butler!
Favourite travel-friendly beauty product?
Maybelline New York BB Cream!! You get your SPF 30, hydration, and coverage all in one. It doesn't get more multitasking than that.
Most indulgent travel experience?
Anytime I visit a spa on vacation I feel a bit excessive. For me, vacation is indulgence enough, and to top it off with a massage or facial sometimes makes me feel guilty. But not guilty enough to turn down a spa visit…!
What is your airplane style?
I am the most un-glamorous frequent flyer. My go-to outfit consists of leggings, a comfy cardigan, and always a big scarf that can double as a blanket or pillow. And sunglasses. Can't forget the sunglasses.
Travel & Style's Pick: White + Warren travel wrap in taupe, eluxe.ca
Favourite destination to shop. Tell us what we should check out!
Such a tough question!! My favourite types of places to visit are the little boutiques that you can never find at home. The Nine Streets in Amsterdam is packed full of the most adorable furniture shops, antique stores and phenomenal clothing boutiques. I did some serious damage there over the summer….!
Best meal. Where did you have it and what did you eat?
Anything with cheese usually floats my boat. One of the best meals I had recently was the Mac n' Cheese at STK in Las Vegas. I also had an incredible Indian-themed dinner under the stars at the Siwandu camp in the Sealous Game Reserve while on safari in Tanzania. Pretty much every meal we ate there was one of the best meals of my life!
Where was your last vacation and who did you travel with?
I just came back from a little Las Vegas weekend jaunt with a few girlfriends. Disneyland for adults. Need I say more?!
Where are you heading next?
I'm heading to Costa Rica in December with my husband's family. We are going to be a group of about 25 people, lots of kids, lots of noise, lots of fun! I'm really looking forward to a rainforest excursion and learning how to surf!
Dream destination if you had an unlimited budget.
I would love to take a few months off and do a BIG long trip, traveling around Australia, New Zealand, Thailand, Laos, Vietnam, Philippines, Malaysia, Indonesia, Papua New Guinea… the works, really!