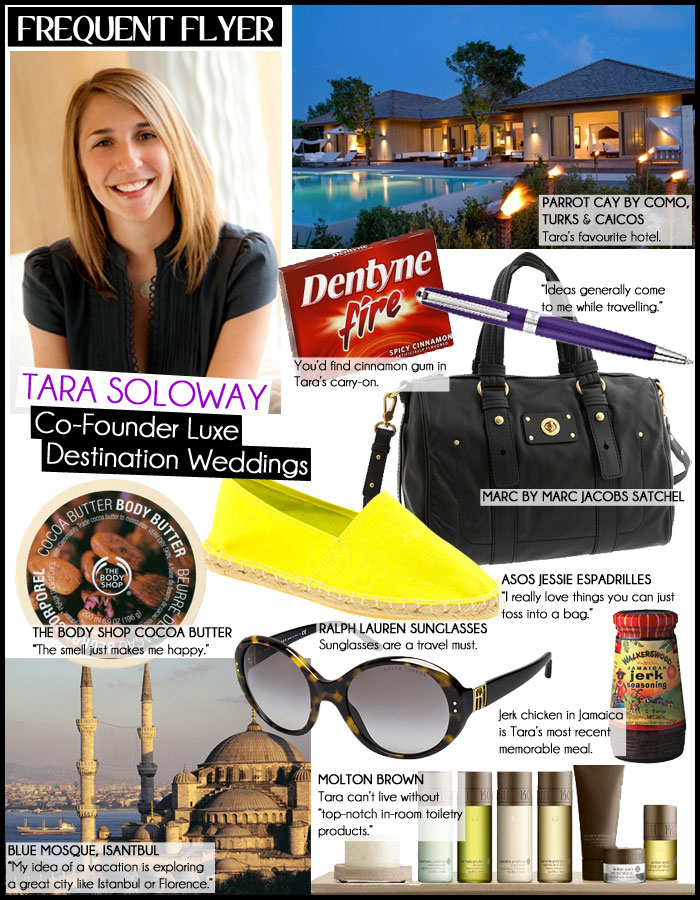 When it comes to planning a destination wedding, Tara Soloway is a bride's best friend. Having planned her own destination wedding in Jamaica and wishing there had been service that would have allowed her and her husband Matt to maintain their vision without having them be involved in every detail, the two decided to start LUXE Destination Weddings.
Based in Toronto, LUXE is a group of wedding consultants, travel planners, designers and photographers, who specialize in luxury destination weddings and honeymoons at some of the most exclusive destinations and resorts in the world.
With most couples opting for a destination wedding in a hot locale, Tara often finds herself near the beach in places like Mexico, Anguilla, Turks and Caicos and the Dominican Republic, just a handful of the countries LUXE has expertise in.
We had the chance to chat with Tara who told gave us the scoop on some of her favourite things — including her favourite hotel, most essential travel accessory and where she goes on vacation.
What city/country do you find yourself landing in the most often?
Definitely Mexico, and specifically the Riviera Maya. It's a continually growing location in the world of wedding travel. And personally I love the culture and the people.
What's your carry-on bag?
Marc by Marc Jacobs, Totally Turnlock Shifty Satchel in black.
What are the top 3 essential pieces you put in your carry-on?
A great scarf, cinnamon gum and a good pen (for filling out customs forms, crossword puzzles, and writing out ideas – which generally tend to come to me while travelling — so I'd have to add a little notebook to accompany the good pen).
Travel accessory you can't leave home without?
iPhone and charger.
How do you kill time waiting for your flight?
Enjoying some peace and quiet… There's something almost poetic about the hum in the airport just before boarding a plane … so I just enjoy the fact that I can sit there and be… and then I snap out of that momentary state of quiet and jump back to checking emails.
Favourite hotel?
Parrot Cay by COMO in Turks and Caicos.
Hotel amenity you can't live without.
Top notch in-room toiletry products like Molton Brown (found at Hotel Esencia).

Best meal on your last trip. Where and what did you have?
Jerk chicken with scotch bonnet hot sauce from a smoking grill at a local jerk hut in Jamaica.
App you love to use while travelling?
Weather app or currency converter.
Current travel reading material?
Just finished The Sisters Brothers by Patrick deWitt. Not my usual genre but I loved the writing style. I'm now going back to the classics to catch up on some books I've been "meaning to read" forever.
Favourite travel-friendly beauty product?
The Body Shop's cocoa butter. This was part of my welcome bags at my own destination wedding, and ever since, the smell just makes me happy.
You travel a lot to hot destinations for work. What would we find in your luggage?
Maxi dresses, leggings, espadrilles, Birkenstock giza jeweled sandals, sunglasses, and iPad. All clothes need to be fairly non-wrinkling and I really love things you can just toss into a bag.
Travel & Style's Pick: Asos Jessie Espadrilles, $14, asos.com
Travel & Style's Pick: Ralph Lauren RL8084, $180, sunglasshut.com
Favourite vacation spot.
Because I travel for work to warm beachy destinations (which I do love), my idea of a vacation is exploring a great city like Istanbul or Florence.
What was the best thing you did on your last vacation?
I spent quality time with my kids and family. Swimming, building sand castles and paying attention to the little things that make life amazing. There's nothing that could make me happier.
Dream destination?
It's hard to pick one … But today I would say Argentina or Brazil.