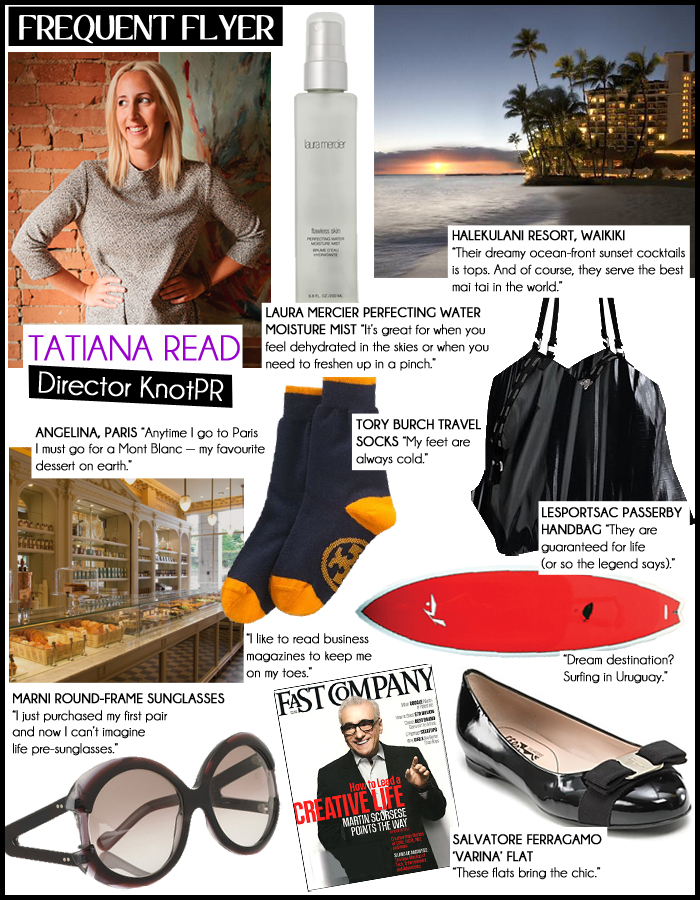 Today we'd like you to meet Tatiana Read, Director of KnotPR. More affectionately known as Tat, this social media maven (she's @tatvictoria) and entrepreneur has been spotted in publications like The Globe and Mail, FLARE and FASHION Magazine, not only for her great style and business-savvy, but her dedication to local causes. Flying the skies for both business and pleasure, whether she's enjoying a Mai Tai at her favourite hotel in Hawaii or navigating the restaurant scene in Paris solo, Tat brings along her stylish flair — and Marni shades. Read on to find out Tat's latest travel adventures and must-haves.
What city do you find yourself landing in the most often?
Lately, Honolulu. I also travel to Europe to visit my favourite cities (Paris and London).
What's your carry-on bag?
LeSportsac everything. Currently: the Passerby Handbag or Medium Travel Tote (black patent finish or laser metallic). They are guaranteed for life! (or so the legend says). I keep my passport, boarding pass and currency in a mini Prada nylon messenger.
What top 3 essential pieces do you put in your carry-on?
Paperback fiction. Moisturizer. Socks. (My feet are always cold).
Travel accessory you can't leave home without? 
Shades — believe it or not. I just purchased my first pair and now I can't imagine life pre-sunglasses. My signature pair are Marni round frames (Bob Karir is my glasses guy and also a client).
How do you kill time waiting for your flight?
I log on to Wi-Fi and into my virtual office (KnotPR works out of google apps and dropbox). I read my Twitter lists (e.g. U.S. olympians, venture capitalists and Google staff lists) — it's nice to go beyond your feed (i.e. the people you follow) and find new people to follow.
Favourite hotel?
Halekulani in Waikiki (means 'house without a key'). Their dreamy ocean-front sunset cocktails (featuring live Hawaiian music and dancing) is tops. And of course, they serve the best Mai Tai in the world.
Best meal on your last trip?
This was not from my most recent trip, but memorable nonetheless (and it's Paris!). I went to Chamonix for a girlfriend's wedding and on my way I passed through Paris solo. I had heard about Frenchie Restaurant through Twitter — a little restaurant in the 2nd arrondissement whose chef /owner had worked with Jaime Oliver, and at Gramercy Tavern in NYC. It was the first time I had pork belly. The room was charming and cozy and I felt kind of mysterious and spoiled dining so finely on my own.
Anytime I go to Paris I must go to Angelina's on Rue de Rivoli for a Mont Blanc — my favourite dessert on earth (chestnut cream, chantilly and meringue).
Current reading material?
Page-turning young adult fiction (Hunger Games, The Fault in Our Stars), coming of age tales (Jeffrey Eugenides: The Marriage Plot and Virgin Suicides) and business magazines to keep me on my toes (Forbes, Inc. Magazine, Fast Company and The Harvard Business Review).
Travel music playlist?
I don't have an ipod but if I did you would find: Led Zeppelin, Jacques Brel and The Guess Who.
Favourite travel-friendly beauty product?  
Laura Mercier's Perfecting Water Moisture Mist. It's great for when you feel dehydrated in the skies or when you need to freshen up in a pinch.
Window or aisle?
Aisle — I'm tall and I hate being boxed into a window seat. I like to walk the aisle — especially on the long flights.
What's your airplane style?
Ferragamo 'Varina' flats (they bring the chic), a cropped pant with a bit of stretch (Vince), a cotton tank (American Apparel) and my bulky grey alapaca cardigan that doubles as a blanket (which I picked up in Peru). My signature Marni sunglasses.
Where was your last vacation and who did you travel with?
We do a family vacation in Waikiki every November. I'm headed next to London to celebrate my sister's birthday at Locanda Locatelli.
Dream destination?
Italy. I've never been. Surfing in Uruguay. Brazil.