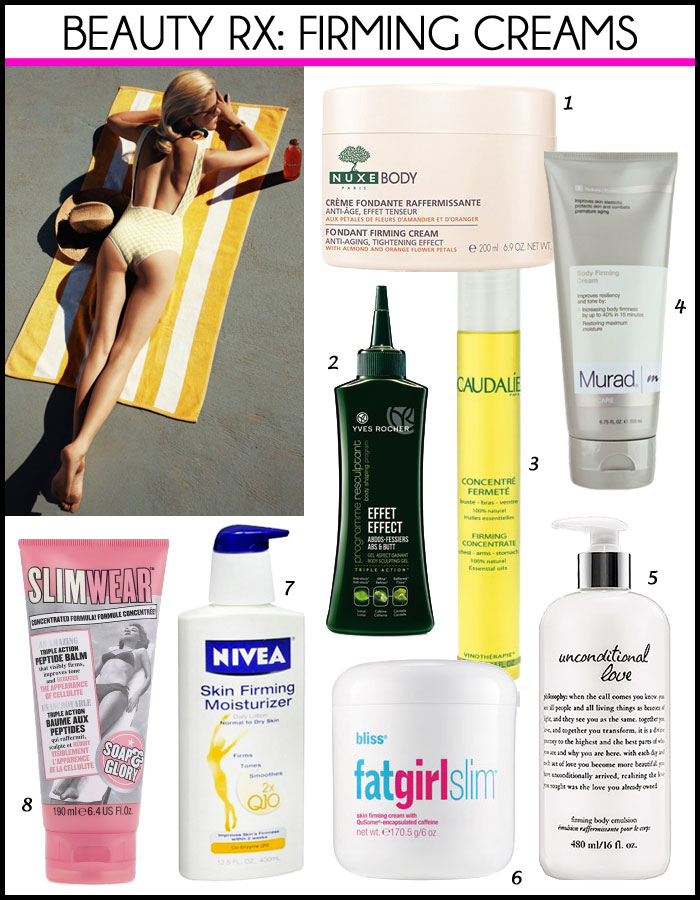 There's a lot to prepare for — beauty-wise — when you're off to a tropical destination or even your honeymoon. Between the waxing and pedicure appointments, you want to make sure you've packed tons of sunscreen and have CTSA-approved minis in your carry-on.
While we're sure you've increased your gym sessions and ditched processed foods in preparation for the beach, one little extra you can consider adding to your beauty regime pre-getaway is a firming cream. Not to be mistaken for something that will melt away fat (when you find something that does that, please let us know), a firming cream is excellent for smoothing out dimples and tightening the skin. If you're feeling a bit self-conscious about your thighs or stomach, this is an easy way to firm up.
1. Nuxe Body Fondant Firming Cream, $49, ebeauty.ca
Designed to both smooth and firm, we love that this cream is made with 85% natural ingredients and is also paraben-free. Extremely hydrating as well, it can be used on the thighs, stomach, arms and chest.
2. Yves Rocher Effects Abs & Butt, $27, yvesrocher.ca
In a gel format vs. a lotion, the absorption of it is not only quick, but isn't sticky. It contains three main ingredients that help to tone and firm skin. Lotus helps to decrease the appearance of fat, while caffeine refines the skin, and cantella firms.
3. Caudalie Firming Concentrate, $35, murale.ca
Made entirely out of plant ingredients, this oil helps with both firmness and elasticity. There are also essential oils mixed in, including sweet mint, organic oil of lemon, and grape-seed oil, which makes for a nice scent.
4. Murad Body Firming Cream, $47, muradcanada.com
For those who want to see results instantly, we suggest this cream by Murad. It promises to increase firmness by 20% in only 10 minutes. Though it's designed for firming, it's actually quite moisturizing too.
5. Philosophy Unconditional Love Firming Body Emulsion, $44, sephora.com
Is it too much to want a yummy scent when firming up? We think not. Hence our pick from Philosophy which contains firming and antioxidant properties.
6. Bliss FatGirlSlim, $36, blissworld.com
This cream is a bestseller for a reason. It's designed to visibly reduce the appearance of cellulite and contains caffeine, which not only helps with circulation, but targets the product more effectively.
7. Nivea Body Skin Firming Moisturizer Q10 Plus with Advanced Q10 Complex, $10, drugstore.com
The star ingredient in this skin firming moisturizer is Q10, an ingredient that has shown to help the skin produce more collagen. More collagen = firmer skin.
8. Soap & Glory Slimwear Triple-action Peptide Balm, $18, soapandglory.com
It's all about targeting cellulite with this balm. It's great for smoothing out those lumps and bumps, as well as firming. Apply after the shower, using circular motions from the knees to the inner thighs.