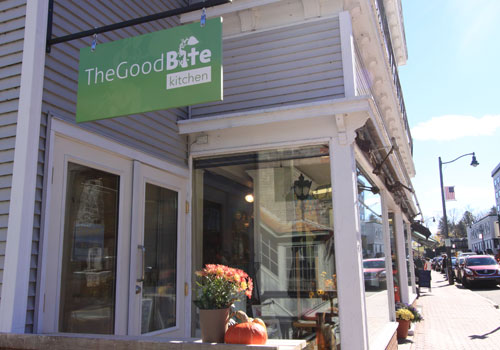 We love stumbling upon unexpected gems during our travels — be it a restaurant, clothing boutique or even a local cafe. To our surprise, we came upon this restaurant while taking a break from popping in and out of stores on main street in Lake Placid. Though we're not technically vegetarians, we love eating vegetarian, both at home and away. We were in the mood for something light and we decided to try The Good Bite Kitchen, when we saw the words "vegetarian" on the chalkboard outside.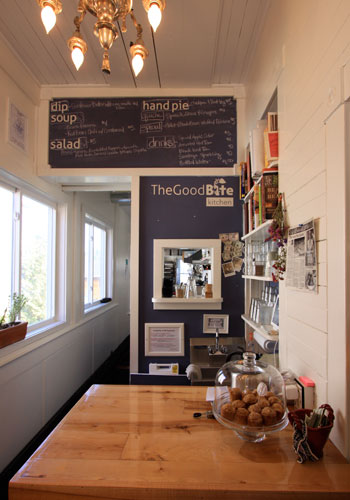 We stepped inside and we taken aback by how tiny this restaurant was — think European chic. Long and narrow, with bar seating along the left hand side of the restaurant (there were two chairs and a high-bar outside), the daily menu was posted above the register, while the kitchen was visible through a window cut-out.
It was chilly out, so we both opted to try the Red Bean Chili with Cornbread ($5), which was not only hearty and filling, but delicious! We were also tempted by the Chickpea and Roasted Veg Hand Pie ($5) and the Spinach, Onion & Gruyere Quiche ($4) that we're pretty sure just came out of the oven by the delicious smell wafting through the restaurant. On the side, we went for a tea ($2), in keeping with the fact we were cold!
While we waited for our chili, we were served a small bowl of roasted sunflower seeds as a yummy taster. Thankfully we were able to score a seat inside, as there are only a total of about 7 seats available. With round swivel chairs, they conveniently had hooks on the right hand wall where we could hang our jackets and bags on.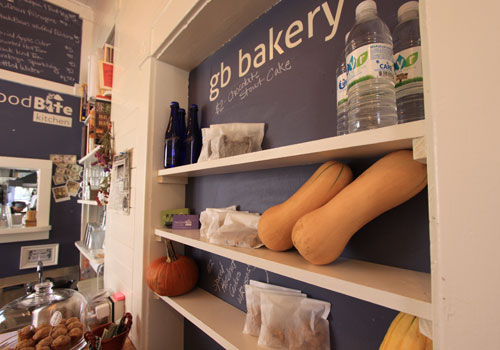 As we dug into our chili, the restaurant quickly went from semi-quiet to packed, with tons of people coming in just to do takeout. We didn't have room for dessert, but The Good Bite Kitchen also serves up baked treats too!
Before we left we had to get the scoop and learned the friendly cashier was also the owner Kayte Billerman who told us she just opened in July of 2012.
There is much to love about this tiny gem — what it lacks in size it definitely makes up for in taste and value. We were happily full with our chili and cornbread, and the portion sizes were normal (not grossly inflated or super small). For less than $10 you can get a full lunch (drink included), which is a serious deal! The only downfall is the lack of seating, which could be frustrating if you have a large group or come at a busy time, however if the weather's good, getting take out and sitting on a nearby park bench wouldn't be the worst thing.
With a new menu daily serving up all vegetarian and vegan menu items, the food is so good we promise even non-veggies won't miss the meat. Not sure what to grab for lunch next time you're in Lake Placid? We highly recommend popping into this fantastic find.
Where to Find:
The Good Bite Kitchen
2501 Main Street, Suite 1
Lake Placid, NY 12946
thegoodbitekitchen.com