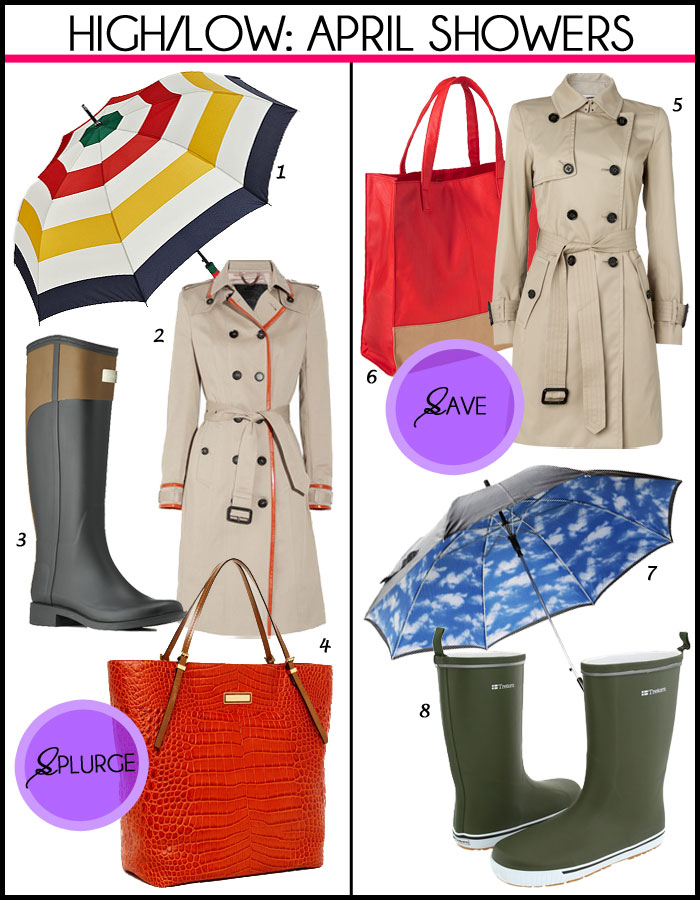 We love spring … the freshness, the the warmer temps and, yes, even April showers. Those rainy days mean it's the perfect excuse to wear a trench, our go-to wellies (they served us well this slushy winter) and tote a cute umbrella. And when you're travelling, you need to be ready for any kind of weather. If you're looking for some rainy day stylish inspiration, look no further than London, where the locals know a thing or two about looking fab in dreary weather. They make it clear — there's no reason to look shabby in the rain. And since this weekend is supposed to bring true spring showers, we decided to pick a few of our rainy-day musts that you can splurge or save on, and still look chic, no matter what city you're in.
SPLURGE
1. Hudson's Bay Company Collection golf umbrella, $45, thebay.com.
In the Bay's signature colours, this sturdy umbrella is not only functional, but the added splash of hues brightens up a rainy day. It's on our splurge side, but we think the $45 is definitely not too much to spend on a never-fail umbrella.
2. Burberry Prorsum leather-trimmed cotton-gabardine trench coat, $3,195, net-a-porter.com.
When we think trench coat, we think of this British classic by Burberry (we love the modern update with leather trim). You'll be spending on quality here (we know the over three grand price tag is huge), but remember, this investment piece will last you a lifetime.
3. Hunter CeCe wellies in black and milk chocolate, $195, hunter-boot.com.
Wellies have become so popular in the past couple of years, but the Brits have always known how comfortable, practical and stylish they can be. Where better to get the ultimate welly than from British brand Hunter (because let's face it — people in Britain definitely know about how to look stylish in the rain).
4. Michael Kors Gia large slouchy tote, $795, michaelkors.com.
Our bag of choice when it's raining? A tote that's easy to hold when your hands are full (umbrellas and other bags), and keeping it tucked under your shoulder will ensure contents inside won't get wet.  We love the slick look of this leather tote, but make sure to use leather protection before stepping out in the rain.
SAVE
5. Banana Republic classic trench, $198, bananarepublic.ca.
Our go-to place for a well-fitting, great quality trench has to be Banana Republic. This one could easily pass for a higher end name, but without the hefty price tag.
6. Old Navy color-blocked faux-leather tote, $30, oldnavy.gapcanada.ca.
This faux-leather tote comes in a great pop of colour, and at the price, if it does get a little water damaged, it's not the end of the world.
7. Forever 21 Clear Skies umbrella, $12, forever21.com.
Rainy days begone, it looks like blue skies ahead. A black umbrella is a staple, but we love the added touch of a blue sky as the underside. And at this price it's easy to see why we love this store for cheap, fun accessories.
8. Tretorn Skerry rubber rain boots, $65, zappos.com.
These less expensive wellies offer a more casual look and come in a slew of great shades. We love the cropped height so your legs don't get too warm as the temps rise during spring and summer.