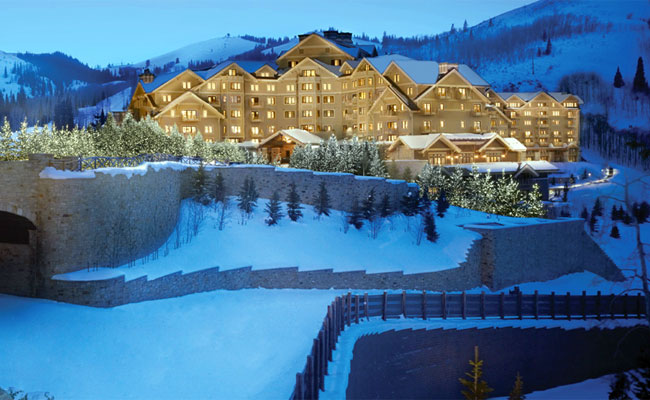 If your ideal post-ski experience includes getting cozy beside an in-room fireplace, sipping handcrafted cocktails while staring at powdery slopes, and unwinding in a spa oasis, then we can guarantee you'll instantly be taken by the Montage Deer Valley. A luxury mountain retreat, found at the base of Deer Valley Resort in Park City, Utah, it's hard for us not to gush when reminiscing about our stay at this gorgeous resort.
For those of you who aren't familiar with Park City, this ski destination has more than a few claims to fame. In addition to hosting Hollywood elite at the annual Sundance Film Festival, Park City hosted the 2002 Winter Olympics and has seen its residents strapping on skis since the early miners of the 1860s during the silver rush — plus considering the state's slogan is "The Greatest Snow on Earth," (and it really is incredibly fluffy!) — you can bet this town has good reason to call itself a world-class ski destination. 
Montage Deer Valley has a home within Deer Valley Resort, one of the three resorts in the region. It's a bit of a confusing naming convention, a "resort" essentially implies the mountains they maintain and can include multiple accommodations ranging from luxury hotels to lodges and condos. Of all of the three resorts, Deer Valley is the newest. It also is the only one of the three that is ski only (sorry snowboarders). But even if you are a boarder and want to stay at Montage, the other ski resorts are literally a 10-minute drive away, so you have plenty of slopes to choose from.
For those who do plan on swishing down the slopes, Montage Deer Valley is a ski-in/out resort, meaning you can literally click into your binding and hop onto the chairlift in minutes. The prime location at the bottom of Deer Valley, also means your bedroom views are sweet too.
The resort offers 154 deluxe guestrooms and more than 66 suites and residences. We each stayed in a King Guestroom and were delighted with not only our view of the mountain (they offer mountain and valley views), but the luxurious amenities, cool technology and gorgeous details. We both loved having a gas fireplace in the bedroom, which you could control via your TV. In fact, almost all of the technology in the room was adjustable via your TV remote, meaning you could do it all right in your bed if you wanted (and we totally did).
They really thought of every little detail at the Montage Deer Valley. Case in point — the bathroom had every extra we could have wanted and more. Decked out in gorgeous stone, there was a large soaker tub (great for post-skiing aches), a separate glass-wall shower and the icing on the cake — heated floors. Plus there are plush robes and slippers you can use — enroute to the spa, perhaps? You'll also find an LCD TV, DVD/CD player and Guest Link room connectivity. Not only that, but as a guest you get complimentary Wi-Fi. An extra we think every hotel should have.
When it comes to dining, Montage offers a huge selection of eats. Apex is the resort's signature restaurant where they serve "American grill inspired by farm-to-table ingredients." Casual in the day and more refined at night, it's the best place for breakfast to start your day and you can even book cooking classes here with Apex's Executive Chef, wine tasting with the Sommelier or artisanal cheese tasting selected by the resort's Fromagier.
We also frequented Buzz, the resort's gourmet-to-go cafe, with delicious coffee, organic teas, freshly baked goods and artisanal sandwiches (usually for a pre-ski caffeine). We even picked up a bottle of local honey here, which we took home as a souvenir.
One of our favourite après-ski destinations at Montage was the Vista Lounge & Terrace. Named because of its obstructed views of the Wasatch and Unita mountain ranges, this Great Room feels homey and cozy, even though it has 22-foot vaulted ceilings. There is tons of cozy seating here and the moment you pluck yourself into a plush lounge chair, a server is not far behind taking your order for anything from a glass of wine, to a handcrafted cocktail or even a small bite off their Asian-inspired menu. We also enjoyed the live music, which is a nightly affair.
We also hovered around mid-day when we heard they were offering fresh hot chocolate and s'mores, which you could roast out on the patio. Although we were the only adults doing it — we didn't really care. It was too much fun!
When we arrived there was probably about 2 feet of fresh snow on the terrace, so while we didn't get to enjoy the afternoon sun, we probably would have hung out here watching the slopes with our hot chocolate.
R&R is a key part to any ski getaway and the Montage is quite aware of this. Spa Montage is the resort's 35,000-square foot holistic-focused retreat, where you can indulge in a wide range of spa treatments to get you feeling relaxed, rejuvenated and pampered. You'll find everything from facials, to massages, cleansing Vichy-showers, and alpine-inspired treatments. They also offer manicures, pedicures and cut, colouring and blow-drys at the Kim Vo Salon.
Here you can also gain access to the indoor and outdoor pool, men and women's-only sauna, whirlpool, and steam room found in the locker rooms, and a spacious fitness center, which offers wellness classes such as yoga.
For those with families, Daly's Pub and Rec is the place to hang out. The vibe is energetic, with brick-oven pizzas and local brews being the highlights of the menu. The kids don't have a second to get bored thanks to the billards tables, bowling alley, vintage arcade games, and darts, all in the same area.
If you haven't got the picture, the Montage really has it all — and more. Besides the luxurious accommodations, gorgeous views, and ski-friendly location, the service was pitch perfect. From ordering room service at 2am, to drinks in the Vista Lounge, we were consistently impressed with the courteous staff. In addition to the service, the Montage is all about the details. Whether it's the complimentary Wi-Fi, to the heated floors in the bathroom, they've already thought of it. Honestly, even if you're not into downhill skiing, you'll still love this resort. You could hit the spa, shop in town or even get them to arrange some winter activities like dog-sledding or ice-skating. We promise, stay here once and you'll be dying to go back.
Rates start at $261/night.
Where to Find:
Montage Deer Valley
9100 Marsac Avenue
PO Box 4680
Park City, UT 84060
1-866-601-9044
montagedeervalley.com