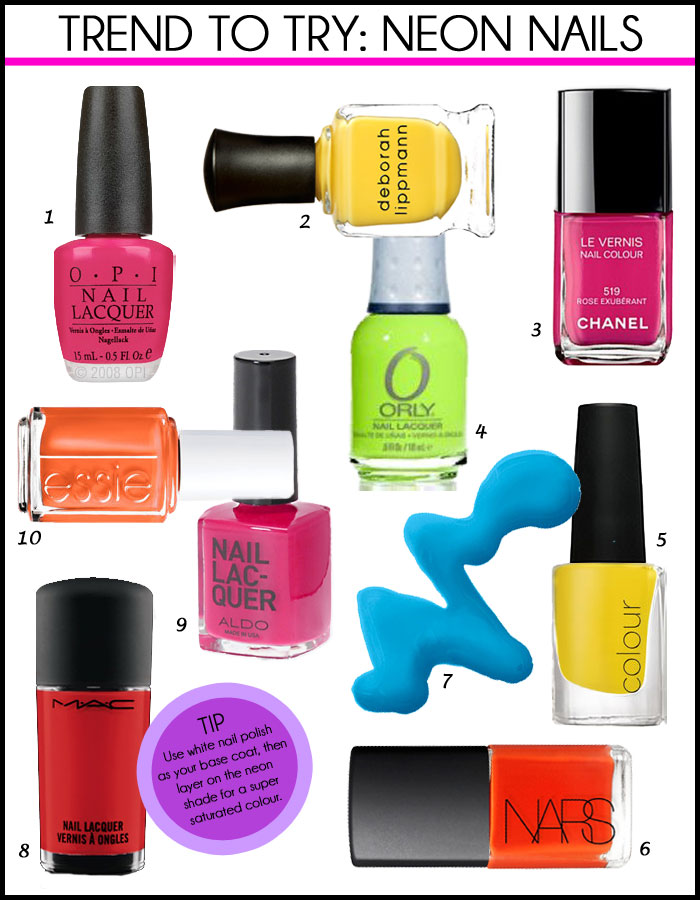 This spring and summer we're loving all the brightly hued fashion options that hit the runways. We also saw neon shades beauty-wise, but we're opting out of the high-voltage lids and lips in favour of a slick of neon on our nails. It's the best way to add a pop of colour to any wardrobe — especially with our regular travel neutrals. Here are our top picks for neon nails this season.
1. O.P.I That's Hot! Pink nail polish, $10, opi.com.
The perfect shade of hot pink that will look great on toes or fingers.
2. Deborah Lippmann Yellow Brick Road, $16, lippmanncollection.com.
Don't think you can sport cheery yellow? Think again with this sheer summery shade. Hint: add a few coats to get a deeper colour.
3. Chanel Le Vernis Rose Exubérant, $26, chanel.com.
Just like any Chanel product, this lacquer is worth every penny, and the hot shade of rose can go from a afternoon tea party to a night on the town.
4. Orly Green Apple, $6, orlydiva.com.
If you're feeling extra bold, opt for the brightest of all neons — green — for a flirty and fun take on the trend.
5. CND colour in Bicycle Yellow, $9, cnd.com.
Another great yellow shade, this sunny yellow is creamy and goes on thick.
6. Thakoon for NARS Nail Collection, $21, narsscosmetics.com.
We've recently become huge fans of orange, and the pairing of Thakoon and Nars makes this dreamy orange even brighter.
7. Topshop Marine Scene, $8, topshop.com.
Our favourite blue hue comes in this pretty and girly polish.
8. M.A.C Kid Orange, $16, maccosmetics.com.
The best mix of a red and orange … if you're not sure about testing out a bright polish, but love a good red, this is a great shade to start with.
9. ALDO Mini Bikini, $5, aldoshoes.com.
You can't go wrong with this sheer hit of bold pink that can go from light and feminine to notice-me bold with a few extra layers.
10. Essie Bazooka, $8, essie.com.
With a name like Bazooka and from a "Paparazzi" collection, this vibrant orange will get your fingers or toes notice for sure. Best to have applied in a salon to ensure a perfect mani or pedi to pull off this shade.