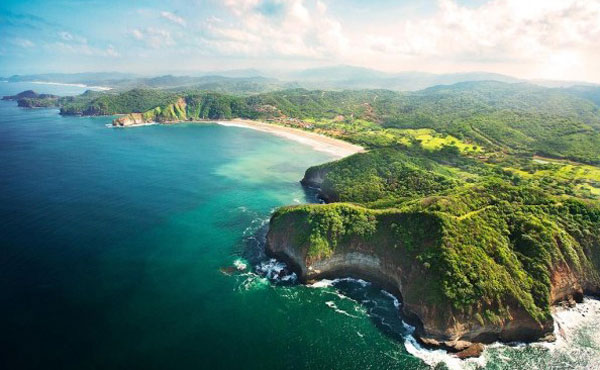 Found in the heart of Central America, visitors who flock to this naturally diverse country tend to come for adventure — be it surfing, hiking up volcanoes or zip-lining through the trees. With eco-tourism being a huge draw, Nicaragua had not been privy to any ultra-luxury accommodations — until now.
Officially opening to the public February 1, 2013, Mukul Resort and Spa can be found on the country's Emerald Coast, sitting pretty on a 6-kilometre stretch of white sand beach. The location of Mukul is a huge part of the resort's allure. The Emerald Coast is on the Pacific-side of Nicaragua and is home to pristine jungles, soaring cliffs, and untouched beaches. The 37-room boutique resort itself has more than 1,600 acres of vegetation, making you feel like you're literally in the jungle, hiding away in your own private paradise.
There are two main styles of accommodations to chose from at Mukul. For those who want to be lulled to sleep by sounds of the ocean, you should definitely book a Beach Villa located, you guessed it, right by the beach! Each of the 12 Beach Villas have a wrap-around deck, private pool, and outdoor shower. If you're travelling with kids, they also have a 2-bedroom villa option which includes a kitchen and living room.
For those who'd rather have the view than the proximity to the beach, opt to stay in a Bohio. Perched 300 feet above the ground, you'll feel as though you're sleeping in a luxe treehouse. Floor-to-ceiling windows, your own private plunge pool and a custom daybed for those lazy afternoons when all you want to do is curl up with a book.
The cream of the crop however, is Casona Don Carlos, the private residence of the Pellas family (the resort is a passion project of mogul Carlos Pellas who invested $250 million into it). It's an oceanfront compound with 20,000 square-feet indoor and outdoor living space, which includes 6 bedroom suites, a wrap-around stone terrace and large private swimming pool. A-listers need only apply.
In addition to the outstanding accommodations, Mukul offers a incredibly luxurious and unique spa experience. Unlike many spa which have one large space divided into various rooms, at Mukul there are 6 private casitas, which each house a different treatment and experience. No wait room or reception, you are personally escorted upon arrival to the area. Here you can indulge in a single treatment or plan a series of treatments, floating from one room to the next. Although the spa design might not be traditional, you'll still find traditional spa extras including lounging areas, a private pool and large treatment rooms complete with steam and tropical showers.
While you may not have the urge to leave the beach or daybed, Mukul offers a handful of experiences which they can help arrange for you. One experience we think sounds pretty incredible is their Private Flor de Caña tour, where you can tour a rum distillery found at the San Cristobal Volcano. Following breakfast you're whisked by helicopter over to the sugarcane plantation where the rum is made, enjoy onsite tastings and then have a sunset dinner prepared by a personal chef at the Pellas' plantation home in Chinandega. Pretty cool, right? Activities-wise, they can help arrange everything from snorkeling to kayaking and even surfing.
The resort is a 90-minute drive from the Sandino International Airport in Managua.
Opening rates start at $550 per double/night and include breakfast, lunch, open bar until 5 pm. and private round-trip transportation to the airport (3 nights minimum required).
Where to Find:
Mukul Resort & Spa
KM 10 Carretera Tola-Las Salinas
Rivas, Nicaragua
[email protected]
mukulresort.com
All photography courtesy Mukul Resort.