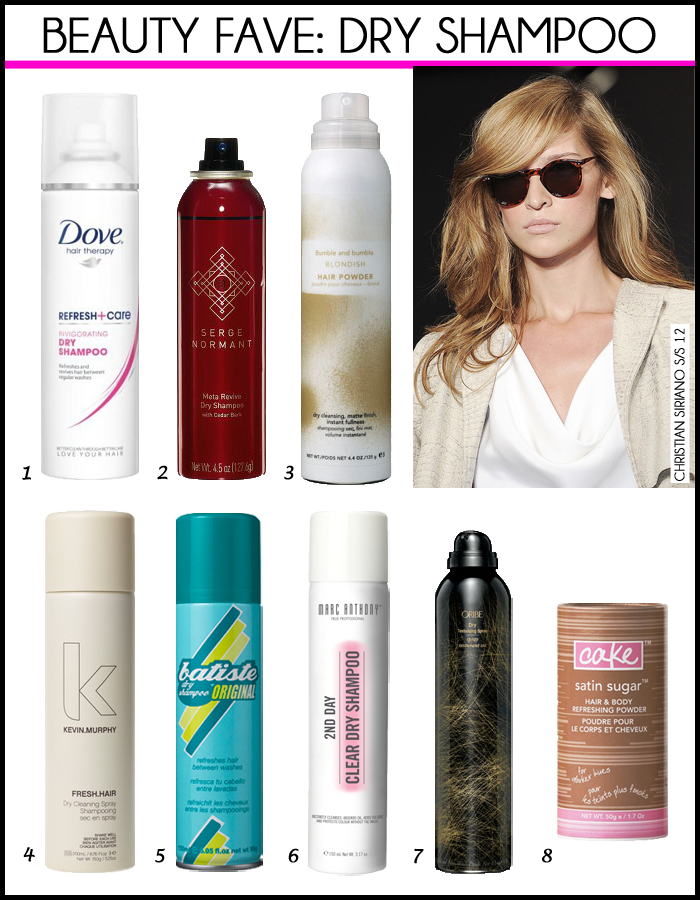 If you took a peek into our luggage one beauty item you're guaranteed to find is a dry shampoo. Why do we love it, you ask? Well, besides perking up our unwashed locks, a dry shampoo is a great freshen up after a long flight and is a great way to add texture and volume to even clean hair. We had a hard time narrowing down our faves, but these 8 are definitely ones to love.
1. Dove Refresh + Care Invigorating Dry Shampoo, $8, available at major retailers.
New on the dry shampoo scene, we fell for Dove's version quickly thanks to the fresh and light scent that doesn't overwhelm and it sprays without leaving a white residue, so there's less fussing around afterwards. A definite fave.
2. Serge Normant Meta Revive Dry Shampoo, $25, sephora.com.
Great for those who suffer from oily, limp locks, this dry shampoo is on the thicker side so it's ideal for adding texture. Scented with Cedar Bark Extract from Morocco, it leans on the side of being perfume-y versus fresh.
3. Bumble and Bumble hair powder, $35, bumbleandbumble.com.
Available in white, blondish and brown, this hair powder is not for beginner dry shampoo users. While it does absorb oil, the coloured powders can be tricky to work with, so you have to work it into your roots slowly. We suggest using a spray first and then the powder too add texture.
4. Kevin Murphy Dry Cleaning Spray, $24, shop.sprucebodylap.com.
We're huge fans of Aussie-brand Kevin Murphy, particularly his Anti Gravity volumizing creme which is found in his travel-friendly Jetpack. We've found another favourite with this spray that helps to remove odour and excess product from your hair, as well as adding volume and shine.
5. Batiste Original Dry Shampoo, $5, ebeauty.ca.
There's a reason Batiste is the best selling dry shampoo in the UK. The Original has a light and fresh scent that quickly absorbs the oil from your hair and doesn't leave a white residue either, making it great for those with dark tresses.
6. Marc Anthony 2nd Day Clear Dry Shampoo, $12, well.ca.
A great freshen up, this dry shampoo goes on clear and has a subtle fresh scent. It will not only absorb oil, but give your hair a boost too!
7. Oribe Dry Texturizing Spray, $39, bergdorfgoodman.com.
While this is a texturizing spray first, it's also great as a dry shampoo substitute. We love using it for adding gorgeous texture and volume that you can't get without a backcomb. Plus there's no white residue and it has a lovely scent.
8. Cake Satin Sugar Refreshing Body and Hair Powder, $18, cakebeauty.com.
Available in a light and dark, this sweetly scented hair powder from Cake is a treat to use. Yummy enough you'll want to eat, all you need to do is sprinkle on your hands and apply onto roots to absorb the grease. We also love that you can use on your body too!