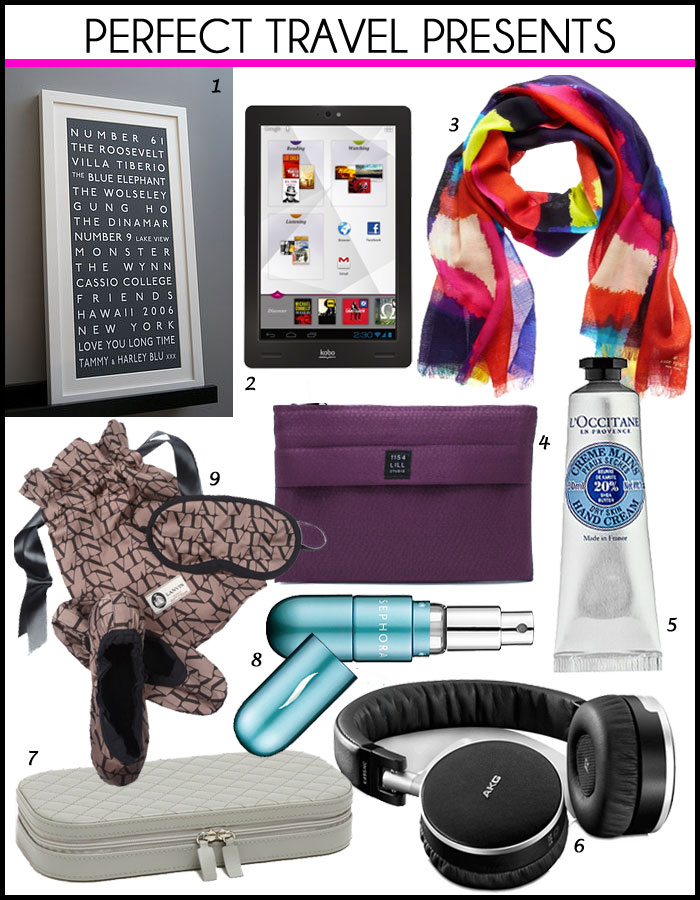 On the hunt for a present that will please even the pickiest traveller? Well, lucky for you we've searched high and low for 9 amazing gifts we think any frequent flyer would be happy to receive. Whether she's always on the road for business or loves her weekend escapes, these fantastic finds range from practical to just plain chic. Read on to find out our picks!
1.  Personalized Destination Print by Betsy Benn, $93, notonthehighstreet.com
Want a unique way to remember your favourite destinations? How about with a personalized bus blind print. Completely customized with up to 16 lines of text that can say whatever you please and can come framed or unframed.
2. Kobo Arc, 16GB, 7 LCD Reader, $200, chapters.indigo.ca
For those who don't own a tablet or eReader, we suggest considering the latest in eReading from Kobo. With a colour touchscreen, it's easy to read everything from magazines to books, meaning your travelling loved one won't have to lug a bagful of reading materials on every trip. It goes way beyond reading, including easy access to apps via Google Play, and has tons of battery life so she won't have to worry about the reader going dead en route.
3. Kate Spade Abstract Scarf, $148, katespade.com
Any woman we know who travels on an airplane complains about the draft. Give a gift that will let her stay warm and stylish, like this gorgeous multi-hued scarf. It's lightweight, so while it won't keep you warm in the snow, it will work anytime on a plane.
4. Everpurse amethyst fabric clutch, $189, everpurse.com
Whether you hate throwing every single electronic cord into your carry-on or aren't going to be able to charge your cell for a while, this ingenious invention is for you! From the outside it just looks like a mini clutch for your phone, but in fact it charges your cellphone cord-free! Compatible with the iPhone 4, 4S and 5, as well as the Samsung Galaxy III, the purse comes in a slew of stylish colours and fabrics, from leather to faux croc. The purse itself charges on a charging mat, and charges your phone as soon as you place it in the bag. Cute and functional. We love.
5. L'Occitane Shea Butter Hand Cream, $12, ebeauty.ca
You can't go wrong with a super moisturizing hand cream like this cult classic from L'Occitane. A perfect on-the-go size, it contains tons of hydrating ingredients in addition to shea butter like honey, almond and coconut oil.
6. AKG K495 NC headphones, $350, canadacomputers.com
For music to movies, a pair of noise cancelling headphones is a blessing for any frequent traveller. Besides cancelling out loud sounds including airplane engines and general loud noise, other highlights include the long battery power (up to 40 hours) and it can charge by USB. A luxe gift we expect will get many years of use.
7. Nordstrom LusterLoc Quilted Travel Jewelry Case, $50, shop.nordstrom.com
If your traveller is also a fashion fiend, then she'll surely appreciate this chic, yet practical travel jewellery case. With interior organizers including pockets, pull-tab compartments, and ring and earring organizers, she'll never have to worry about losing a precious accessory. The innovative lining is also designed to prevent tarnishing for up to 35 years.
8. Sephora Colorful Universal Atomizer, $18, sephora.com
Shopping for a fragrance junkie? Instead of trying to figure out what mini version to get her, we suggest purchasing an atomizer, which she can refill again and again with her favourite scent of the moment. Cute and spill-proof, it's the perfect carry-on size, so she can touch up as soon as she lands.
9. Lanvin Printed Silk-Satin Travel Kit, $495, net-a-porter.com
We're head over heels for this ultra-luxe, super chic travel kit from Lanvin. The drawstring pouch contains two airplane essentials — a silk slippers and a cotton-lined eyemask. Easy to tote in your handbag or carry-on, your loved one will be in travel bliss when she gets to tote these along.