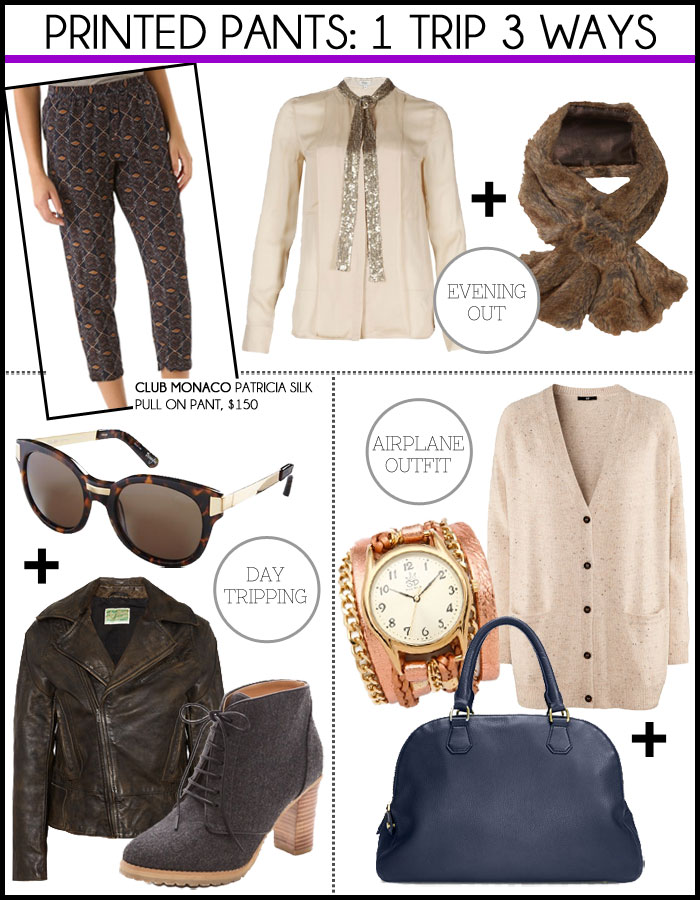 Packing can be a difficult task for fashion lovers. Trust us, we know. You want options, plus there are usually a variety of occasions you need to be ready for. You can't wear the same thing you wore on the plane to dinner out…or can you? In order to help you with your next getaway, we've come up with a new fashion feature that will help you to not only look good during your trip, but also reduce the weight of your luggage. Paying for overweight luggage is never fun and let's be honest, you need room in case you make purchases during your trip, right?
We've chosen the seemingly un-versatile printed pant and reveal just how many different ways you can wear it — and yes, that even means on the plane! Plus many of the items we picked can do double-duty in many scenarios. Sound good? Read on.
THE KEY PIECE
Club Monaco Patricia silk pull-on pant, $150, clubmonaco.com
Who says you can't have comfort and style. This piece works in so many different scenarios for a number of reasons. First, it's silk, so it instantly looks dressy when paired with the right pieces and accessories, and it's ultra-comfortable, so when you're walking around or sitting down in a plane for a few hours, you're not going to feel like you're adjusting yourself every few minutes. Plus it's an on-trend print that isn't too in your face, so it's easy to wear.
EVENING OUT
HOSS blouse with sequin tie in beige, $270, eluxe.ca
A touch of metallic is an easy way to up the glamour quotient of these pants. This silk blouse with a gold tie is the right touch of luxe that will be easy to pair with other pieces in your closet from jeans to a black pencil skirt.
Topshop faux fur tuck stole, $40, topshop.com
There's nothing like fur to turn a basic outfit into a luxurious look. The great thing is you can find gorgeous faux fur options everywhere (even animal-friendly designers like Stella McCartney, Charlotte Ronson and Ralph Lauren use it). For an option that's also easy on the budget, we suggest this faux fur stole from Topshop to complete your evening out look.
DAY TRIPPING
Elizabeth and James Biscayne sunglasses, $232, piperlime.com
When are a pair of shades not an essential? Ideal for walking around outside while browsing boutiques, hitting the farmer's market or en route to the gallery, a great pair of shades will do double-duty on the plane, in the car and wherever else your travels may take you. We love the classic shade and tortoise frames that you'll love season after season.
Levi's Vintage Clothing leather biker jacket, $985, net-a-porter.com
If you don't have a leather jacket in your closet, we suggest taking a look at this vintage biker from Levi's. With an already worn-in look it literally adds an instant cool to your look, plus it's the perfect weight for fall. While it's a great day jacket, don't think you have to leave it in your closet when you go out at night. Consider pairing it with a chic dress or sexy skinnies for a downtown look.
Marais USA Shire booties, $162, shopbop.com
Looking for an alternative to a ballet flat or smoking slipper? Consider a low-heeled bootie like this gorgeous pair we spotted on Shopbop. The felt material feels very autumn, while the lace-up adds a touch of vintage, which we always love. It also has a relatively thick heel, so you're going to be comfortable, yet still stylish while walking.
AIRPLANE OUTFIT
H&M cardigan, $35, hm.com
It's all about comfort in the plane, but no matter how much you may want to wear joggers or lululemon pants (both are a no-no), which is why we think the Club Monaco silk pants we picked are an amazing and stylish alternative. To stay warm we suggest pairing your printed pants with a cozy cardi, plus this loose-fit v-neck is easy to layer over a basic tee or long-sleeved shirt.
Sara Designs metallic leather & chain wrap watch, $203, shopbop.com
We're still loving our oversized watches, but a watch that combines the layered jewellery with a hint of menswear is very much on our radar right now. You don't want to pile on the accessories, considering you'll have to take it all off during security, this is the best of both worlds.
J. Crew Biennial satchel in blue sea, $398, jcrew.com
A roomy satchel is a travel essential no matter where your destination and thankfully this handbag fits all of our criteria. Besides being spacious enough to fit your iPad, cardigan and umbrella, it's made from an ultra-luxe textured leather that feels super supple and comes in four delicious shades.