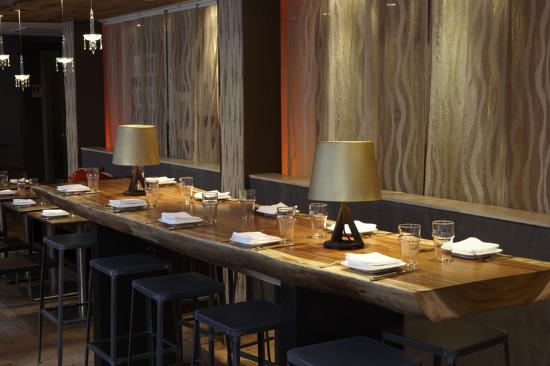 Vibe: Urban chic – upscale but not over the top. You'll love the dessert-cocktail bar, a regular cocktail bar, and one of our favourite features if dining with a group of friends — an aged, thick wooden communal table, where sharing dishes and conversation is easy.
Who Goes: Groups of friends laugh and catch up over drinks and sharable dishes (ordering a bunch of apps for family style sharing), but it also perfect for a casual date night.
Known For: Asian-inspired dishes and vegetarian
Mehtaphor offers up many different ways to indulge … serve up dishes family-style and sample a bit of everything (what we opted to do), or dig into 5, 7 or 9 course meals (all ending with dessert and some dishes not on the menu prepared specially by the chef). And added bonus? A full vegetarian menu (although we're not veggie only all the time, we love mixing in meat-free meals while travelling to get our vegetable quota in). Mumbai-born chef Jehangir Mehta (a runner up in the search for The Next Iron Chef in 2009) is known for his Asian-influenced dishes with a spicy kick and as soon as we saw a vegetarian menu we jumped at the chance to test out the meat-free dishes. Jehangir's rich cultural background means he brings in inspiration for his dishes from Ayurveda, Asian ingredients and exotic spices — and the combination is exciting, adventurous and delicious. The best way to describe the food? Bold flavours (thanks to loads of spices and herbs with a flavour punch) with an Asian influence, served up in chic fashion.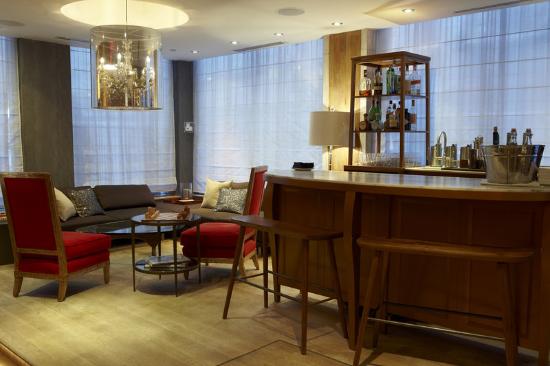 Best Drink: The Lychee Martini
Their most popular cocktail by far is the icy cool lychee martini, served with crushed ice and topped with a splash of sparkling wine. We can't say no to anything with champagne or sparkling wine, so it was our drink of choice to start with. It was cool and refreshing, and a great way to start dinner, but the wine list was calling our name and we opted for wine for the rest of the meal. One of the best things about Mehtaphor is the great service – we couldn't choose between a white blend or a straight up Pinot Grigio, so our waitress let us sample both before deciding. The decision? We went with the blend which was just a touch sweeter and would pair well with our spicy menu choices.
What We Ate:
Start With: Avocado ceviche
Creamy avocado chunks with tomato, onions and lots of seasoning that we piled onto crispy chips. One word: Yum.
Start With: Vegetable dumpling chaat
These were one of the highlights of the meal – you would have never guessed that you were eating veggie-only dumplings (they tasted so much like regular Japanese pan-fried dumplings). Super filling, but not greasy or too heavy, they also came topped with a crispy chickpea flour crumble that made it extra special. FYI, you could easily order just this dish for one and make it a meal.
Entree With: Mirin chili bok choy and grilled asparagus
Spicy bok choy (cooked tender with still a bit of crispness) and smoky grilled asparagus were the perfect combo – and a great addition to the vegetable dumplings.
Entree With: Indian street burgers, garlic fries and chipotle mayonnaise
These burgers pack a hearty and spicy punch – filled with beans, potatoes and loads of herbs they were the perfect way to indulge in a burger minus the red meat and fat.
Finish With: Orange nutmeg mandeleines
Small enough to satisfy a sweet tooth without going over the top in indulgence, these little cakes were the perfect ending to our vegetarian meal (the soft nutmeg flavor also the perfect contrast the Indian spices in our main dishes as well).
Couldn't Get Enough of: The grilled veggies and the dumplings
There was no way we missed the meat in this meal. After the vegetable dumplings and the grilled veggies we were both sold on coming back (even to just order those two dishes again).
Tip: It's a busy spot. Book in advance by calling 212-542-9440, especially for a larger group to make sure you get the communal table.
Where to Find:
Mehtaphor
130 Duane St, Tribeca (in the Duane Street Hotel)
New York, NY 10013
(212) 542-9440
mehtaphornyc.co
MORE TRAVEL & STYLE:
Why We Love the Duane Street Hotel
7 Amazing Rooftop Bars
London's Top Museums