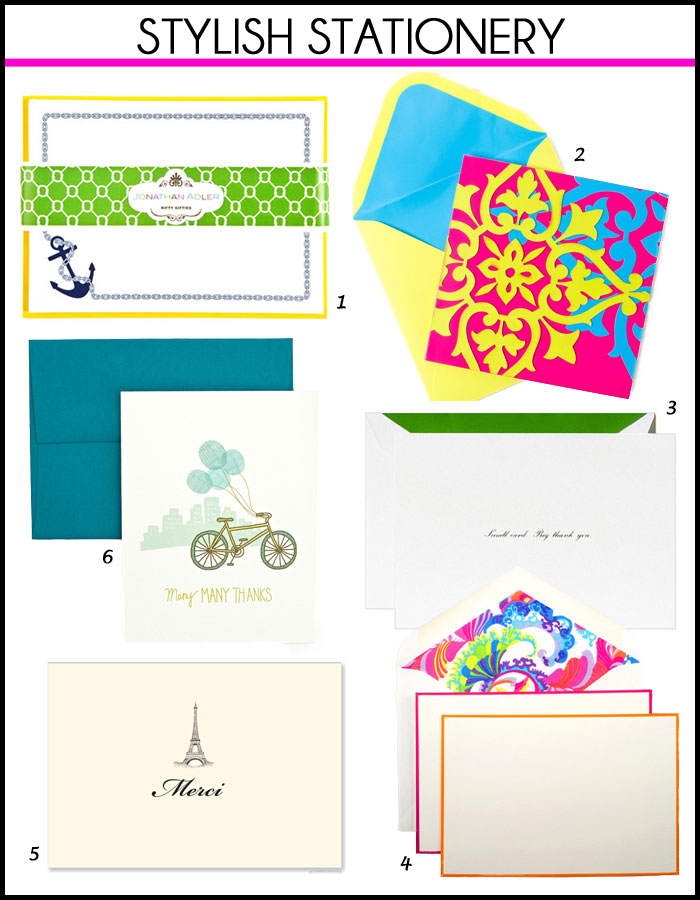 In a digital age, a hand-written note is the ultimate luxury. We can't think of a nicer way to say thank-you than writing a note on a beautiful piece of stationery. Whether you've had a lovely stay at your best friend's cottage or had hotel staff go above and beyond for a recent visit, a little thanks always goes a long way. It was hard to narrow down, but we've found 6 stylish pieces of stationery we think you'll love to send.
1. Jonathan Adler Letterpressed Note Cards in Ahoy, $18 for 6, lifeguardpress.com.
Lately we've been kind of obsessed with anchors and we think this cute and quirky print by Jonathan Adler is the perfect note paper to write on, post-summer travels. Had a wonderful time at a B&B or want to thank your boyfriend's family for hosting you at their summer cabin? We suggest pulling out these.
2. Papyrus Layered Medallion Square Note Cards, $30 for 8, papyrusonline.com.
Send some cheer with a neon hued note card. The laser-cut medallion design is anything but boring, and we're sure the recipient will be more than happy to showoff.
3. Kate Spade Small Card Big Thanks, $25 for 10 cards, katespade.com.
If you'd prefer the exterior to do the talking, then consider sending this sweet card by Kate Spade. In a classic Kate green envelope, the card simply reads "Small Card Big Thanks." Send it to someone who really went above and beyond.
4. Dempsey and Carroll Trina Turk Coachella, $60 for 10 cards, dempseyandcarroll.com.
A limited-edition set developed in collaboration with designer Trina Turk, these colourful cards have a fun paisley print on the envelope liners and note cards with hand-bordered flourescent pink and orange hues. Sophisticated and stylish, what's not to love?
5. Peter Pauper Merci Thank You Notes, $9 for 14 cards, peterpauper.com.
Why not say thank you in another language? We love these French-inspired cards complete with the Eiffel tower embossed on the front. Maybe you had a really great tour guide or a meal you'll never forget. Whatever the case, it never hurts to show a little appreciation.
6. Kate & Birdie Bicycle Thank You Notes, $12 for 8 cards, chapters.indigo.ca.
These thank you cards are just too sweet. The city backdrop, handful of balloons and vintage bike make us feel like we've just had a great urban adventure.