If there's one thing that just about everyone struggles with while travelling, it has to be keeping to your regular work out and healthy eating routine. It's hard to pass on that creamy, decadent chocolate mousse for dessert while on vacation, or to not be tempted by the flaky pastries in Paris, the rich coffees in Vienna and the fish 'n chips in London. The easiest option is to adopt the "I'll work it off when I get back attitude" — only to have an even harder time doing that once you're home.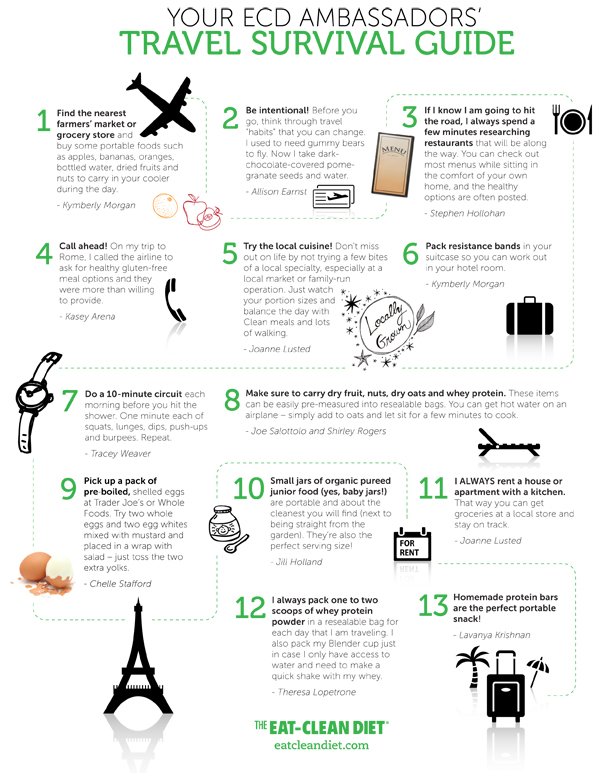 Your best bet? Follow a few simple rules to swear by while travelling that offer some exercise and healthy food choices. That doesn't mean you're skipping pasta in Italy or curries in India (how could you not have spaghetti carbonara and gelato in Amalfi?) — it just means finding balance between those indulgences and what you feel you need to do to stay on track.
We're loving this cheat sheet created by the team at Eat Clean Diet — a survival guide to staying healthy while jetting around the world (you can download the guide here). There tips are easy to accomplish, take minutes and will keep your body fit and happy. We plan to print this out and tuck it into our passport holder as a reminder, but here are a couple of tips that we've learned along the way.
Jennifer's Healthy Travel Tips
1. Water is your best friend to help with jet lag, sleep deprivation and to ward off any cold or flu bugs that are always hanging around planes. I drink loads of water on during the flight and steer clear of alcohol, sodas and juices. It's super hydrating and saves on so many calories and sugar.
2. Pack vitamin D and astragalus — they are my top two defenders against colds and the flu while travelling, and as long as I have a healthy immune system, I'm far less likely to over indulge or skip on walking and opt for cabs.
Stephanie's Healthy Travel Tips
1. Pack a snack. I avoid grabbing unhealthy snacks, by packing my own. That way if I get hungry during a shopping trip or at the airport I'll always know I have something healthy and satisfying on-hand. My go-to right now are Simply Bars. They are vegan and gluten-free and have 16g of protein, so it tides me over until I can reach the hotel or have a proper sit-down meal.
2. Walk everywhere. I always have the best intentions of hitting the hotel gym, but when you're on vacation sometimes you feel like you're wasting precious hours inside when you could be exploring a destination you've never seen. The simplest way to sneak in a calorie burn is to just walk! Just be sure to wear comfortable walking shoes so you're not cursing yourself at the end of the day.