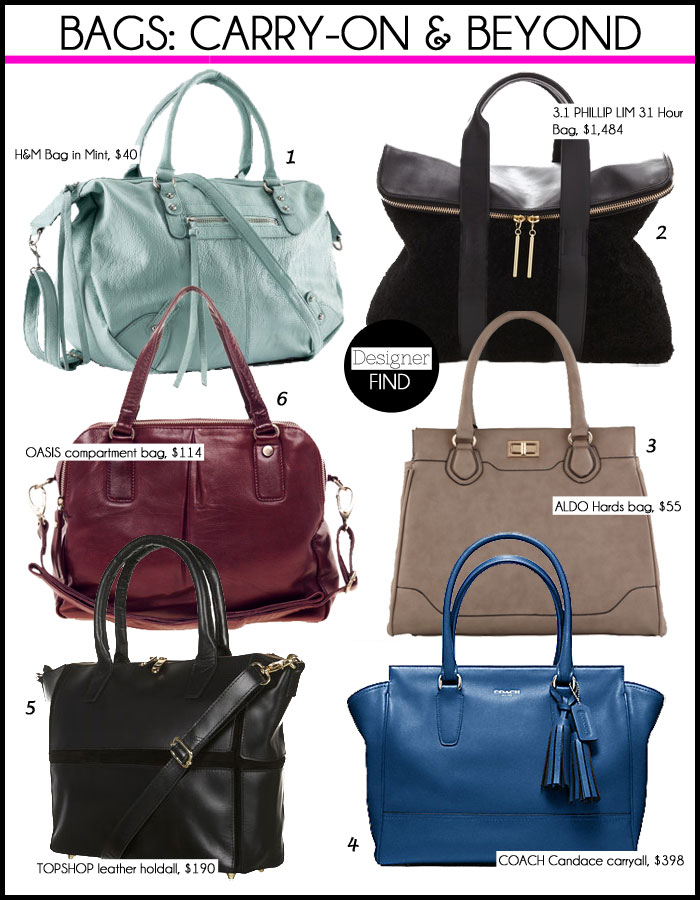 Fall just might be our favourite time to make a handbag purchase thanks to the endless array of options. Besides, we always find the most classic shapes and colours always end up debuting in the fall, and considering it's a long 7 or 8 months before spring truly arrives, you'll be able to get plenty of wear out of your bag too. When considering our next handbag, we wanted to find something that was stylish and easy to tote around town, but big enough to bring on the plane (in addition to a carry-on or checked piece of luggage). While we love our Longchamp Le Pilage and think a cross-body bag is a travel must, we're on the hunt for a new handbag. Here are 6 stunners we love. 
1. H&M Bag in mint, $40, hm.com
Anti-leather or just looking for a steal? Whatever the case, this imitation leather bag from H&M suits us just fine. With a shoulder strap and handles, there are three inner pockets, perfect for separating your beauty essentials from your tech gadgets. Available in four shades, including this pastel mint green, which will easily bring you into spring.
2. 3.1 Phillip Lim 31 Hour Bag, $1,484, shopbop.com
It's not often we fall in love with a handbag, but that's what we did when we spotted this beauty. Made of leather and shearling, it has a structured, yet soft look, thanks to the fold-over flap and double handles. Not to mention the interior is quite roomy, leaving you tons of space to fit your carry-on musts and more. Swoon!
3. Aldo Hards bag in taupe, $55, aldoshoes.com
Bring a little ladylike appeal to your on-board style with a structured handbag in a no-fail neutral hue. A perfect choice when business calls, the interior is spacious enough for even your iPad.
4. Coach Legacy leather medium Candace carryall, $398, coach.com
Coach has reintroduced some of their most iconic designs in their new Legacy Collection, taking inspiration from all facets of the brand's 70-year history. We fell for the structured Candace carryall, in a timeless shape that you'll love for years to come. Available in 6 shades including this vibrant cobalt, it will travel well.
5. Topshop leather panel tote, $190, topshop.com
A soft but structured leather handbag with a convenient adjustable shoulder strap to boot, you'll discover there is plenty of space to throw in your carry-on essentials and perfect for trotting around town.
6. Oasis leather double compartment bag, $114, asos.com
An ideal size for those who don't like toting along a massive bag, this leather handbag is in an on-trend maroon hue and features a double compartment design (keep those beauty products away from your iPhone!) and a detachable shoulder strap.