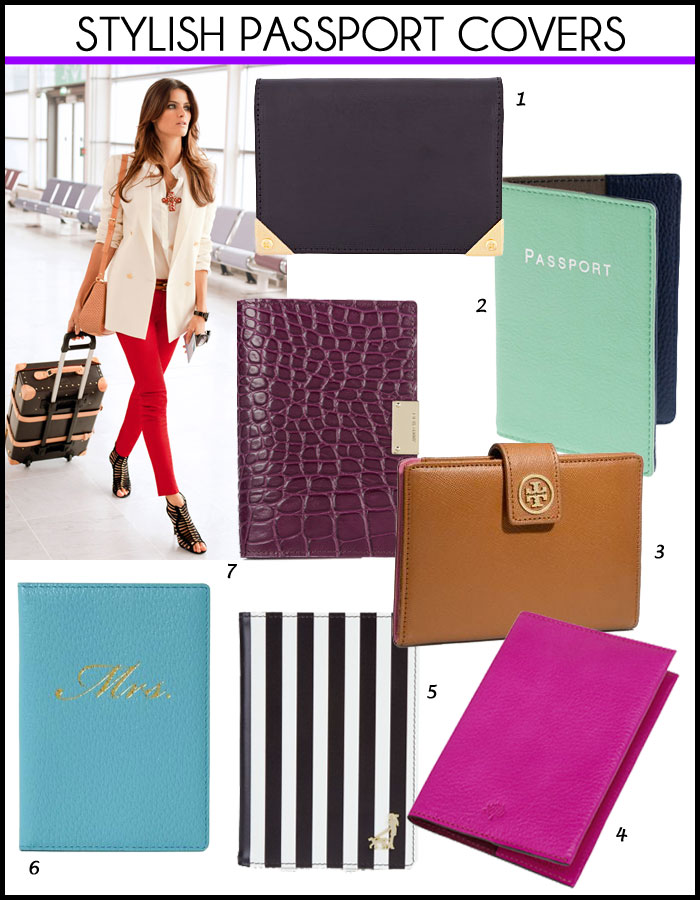 We like the idea of having a stylish cover to protect the most valuable piece of travel identification we own — our passport. As you know we're not ones to pass up something that is both stylish and practical, and this definitely fits the bill.
Not sure if you need one? Well, there are two main reasons why having a passport cover is a good idea. First, it's not as difficult to misplace when its housed in a proper holder. Ever fumbled through your bag while waiting in customs looking for that thin piece of identification or found it buried under a pile of papers at home? Exactly. A proper holder will allow your passport to stand out.
The second reason is that you may not be able to leave the country if you are carrying a damaged passport. Anything from rips, tears, to even water-stains can be cause for customs to prohibit you from entering a country — and that's a sure way to ruin a trip fast. Protecting your passport with a cover will prevent wear and tear while you tote it around, saving you the cash and hassle of having it replaced.
Another bonus of having a passport holder is that many covers and wallets are designed with extra slots and pockets where you can stash documents or credit cards, which is a great time saver when it comes time to paying those annoying baggage fees or passing through customs. Think you could use a passport holder? We've found 7 stylish ones we think you'll love as much as we do.
1. Alexander Wang Black Leather Prisma passport holder, $260, ssense.com
The perfect cover for the ultra-trendy minimalist, this Alexander Wang holder is the ultimate in style meets function. Complete with credit card slots, a zipped compartment at the back, and gorgeous gold hardware details, your passport will instantly become high fashion.
2. J.Crew leather colorblock passport case in Mint, $54, jcrew.com
Your passport will definitely pop out of your handbag in this delicious mint cover. Made of leather, you can even have your initials embossed on the front for an extra $10. Sweet.
3. Tory Burch Robinson passport holder, $135, toryburch.com
With space to fit credit cards and travel documents, in addition to your beloved passport, you'll be able to ditch all of your other travel holders for this all-on-one cover meets wallet. Plus it's available in three colours, including a classic luggage hue with a French Rose lining (pictured).
4. Mulberry passport cover in Mulberry Pink Glossy Coat, $210, mulberry.com
Really want your passport to stand out? May we suggest this bold fuchsia cover from Mulberry. Though our only wish would for it to have some slots for a credit card or two, there's no doubt it's a stunner.
5. Henri Bendel Centennial Stripe passport cover, $58, hendribendel.com
A little graphics go a long way, at least when it comes to passport covers. Made of Italian leather, we're fans of the two interior pockets and the bold pattern, which we can promise won't get lost in any bag.
6. Kate Spade Wedding Belles passport holder, $78, katespade.com
Sleek and stylish, we highly suggest this super adorable passport cover for any newlywed traveller. The embossed Mrs. is just too sweet and in two bright hues, it will make you feel happy just toting it around.
7. Jimmy Choo Reno croc-effect leather passport cover, $295, net-a-porter.com
Here's another designer find we have to admit is pretty sharp. Designed to have a croc-like texture, we love the plum hue and the luxurious gold plaque. With an interior slot on each side, there's enough room to hold your passport and any necessary documents.