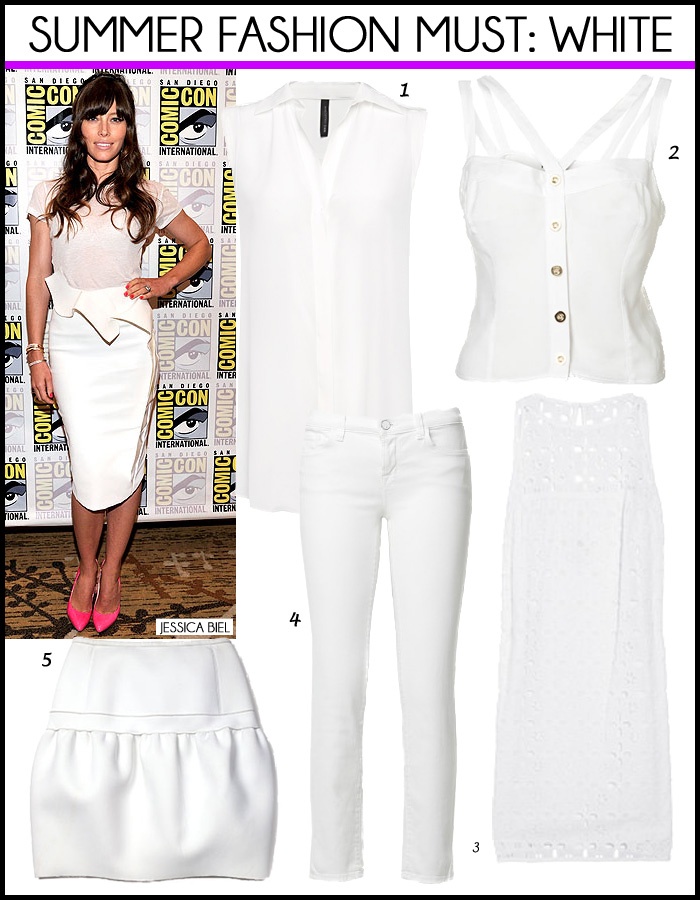 While the white after Labour Day fashion rule has long been broken, one thing that hasn't changed when it comes to wearing this shade is how it rules the summer circuit. It's no wonder it's a tennis court must, this colour nicely reflects away those hot summer rays that have us wiping our brows. Besides being functional, we love wearing white in the summer because it makes us feel chic and put together, and can easily be dressed up or down. Take a cue from Jessica Biel who rocked a white pencil skirt and simple tee while at Comic-Con earlier this week promoting her new flick Total Recall. Want to wear white this summer? We pick 5 pieces you can easily adapt to your wardrobe.
1. Mango silk top, $45, shop.mango.com
A simple sheer white sleeveless top like this one we spotted at Mango is a great piece to buy now because you can wear in well into the fall and easily keep in on reserves for next summer. Pair with a blazer or simple cardigan for the office, while you can wear it with shorts or even tucked into a pleated skirt for a great casual look.
2. Topshop Latino suntop, $40, topshop.com
Perfect for going out, considering wearing this strappy top with a maxi skirt or even a pair of skinny jeans and heels.
3. Milly eyelet cotton dress, $325, net-a-porter.com
Every woman needs a simple cotton dress in her summer wardrobe and for us, this eyelet Milly dress does the trick. Feminine without being too girly, we would pair this with flat strappy sandals and a wrist-full of bracelets.
4. J Brand Mid-rise skinny, $219, eluxe.ca
For those who say they can't rock white jeans, we beg to differ. J Brand jeans always add in just the right amount of stretch for comfort and don't lose their shape immediately. If you're not sure what to wear with white jeans, considering a black top or even a great pastel, which isn't too bold.
5. Joe Fresh tulip skirt, $39, joefresh.ca
We like to think of the tulip as a nice alternative to the peplum. A little less dramatic, but still fashion-forward, it's a great new shape to try in your white wardrobe.