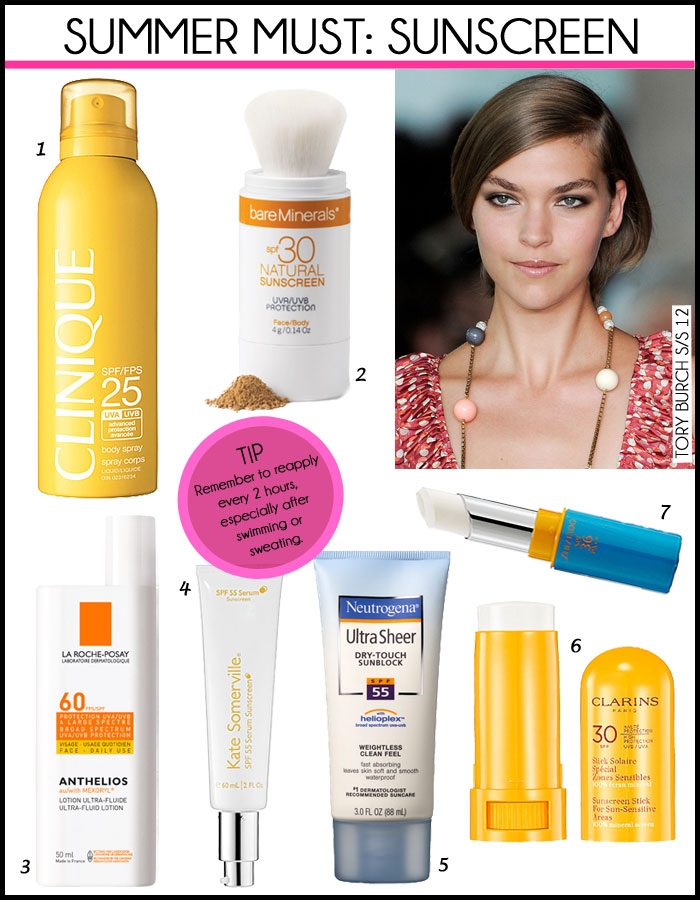 One beauty product you should never travel without is sunscreen. We don't leave the house, let alone the country, without packing (and wearing) some serious SPF. Recently we had a chance to chat with a couple dermatologists, as well as an expert from MySkinCheck.ca, a great resource for all of your sun protection FAQ's, to find out how to properly protect yourself against the sun's harmful rays. With the regulations on sunscreen currently in the process of making changes, it's easy to get confused with all of the mixed messages on the market. To keep you covered all summer long, we sourced 7 amazing sunscreens we think you'll love too. 
Not sure what sunscreen to grab off the shelf? Yeah, we understand your dilemma. And picking a high SPF is not enough. We chatted with Dr. Sandy Skotnicki, Medical Director of the Bay Dermatology Centre in Toronto and she told us you have to look for a sunscreen that has broad spectrum coverage, meaning it protects against both UVB and UVA rays. That means if your sunscreen has only SPF, you'll only be protected against UVB rays, the ones that burn you, so while you may not get red like a lobster, you'll be letting in UVA rays, which are the associated with skin aging and cancer. Dr. Skotnicki even admits there are sunscreens out there with very high SPF's that have no UVA coverage, so it's really important to read the bottle.
Another must is making sure you apply every two hours. If you've been swimming or sweating excessively, then you have to reapply right away (two hours or not), because the product starts to deteriorate. This critical info was shared to us by Anastasia Ivanova, Campaign Manager of La Roche-Posay, MySkinCheck. Ivanova also shared with us the importance of putting enough sunscreen on in the first place. The correct amount for your body is 1 ounce (picture a golf ball, egg or shot glass) and you shouldn't over-spread it. It's OK for your skin to be a bit white at first, since the product will shortly dissolve. And the last, but also very important piece of advice to remember when it comes to sunscreen is to use new sunscreen every season. If you're applying enough product in the first place, you shouldn't have left over sunscreen, but if you do don't bother using it. The plain and simple fact is sunscreen expires 6 months after it's open, says Ivanova. Do yourself one favour this season and get yourself a new bottle! Here are 7 we think are fantastic.
1. Clinique Sun SPF 25 Body Spray, $24, thebay.com.
A body spray can be a great addition to your sun protection collection, especially if you're looking for something that feels light when applying. We suggest toting this poolside and spraying in between lotion applications.
2. BareMinerals SPF 30 Natural Sunscreen, $28, bareecentials.com.
Do you apply an SPF lotion or moisturizer on in the morning under your makeup, never to reapply? You can break that rule (and save your skin) with a very portable, and easy to apply mineral sunscreen. Plus you can put it on over your makeup, so there are no more excuses.
3. La Roche-Posay Anthelios Ultra-Fluid Lotion, $26, available in pharmacies.
When it comes to the cream of the crop, Anthelios tops dermatologist's lists thanks to its incredible sunscreen technology that provides excellent UVA and UVB protection. This new lotion from La Roche-Posay is ideal for using under makeup or even during outdoor exercise, as it has a very light, un-suncreen-like texture. You'll hardly know you're wearing it.
4. Kate Somerville Protect SPF 55 Serum Sunscreen, $45, sephora.com.
Don't like lotions? Try a serum! Another great under makeup sunscreen, it absorbs quickly into the skin and isn't greasy. It's also great for oily skin and provides complete UVA/UVB protection.
5. Neutrogena Ultra Sheer Dry-Touch Sunscreen, $16, well.ca.
Stay protected while staying on budget with this broad spectrum sunscreen from Neutrogena with helioplex technology. Besides protecting against all of the damaging rays, it has a great lightweight feel.
6. Clarins Sunscreen Stick for Sun-Sensitive Areas SPF 30 High Protection UVB/UVA, $26, sephora.com.
When it comes to formulas, a wax stick can be a great addition, especially if you find yourself exercising outdoors frequently (no one wants sunscreen running into their eyes). This stick is also great for sensitive areas including around the eyes, the lips and ears, which are often forgotten areas too.
7. Shiseido Sun Protection Lip Treatment SPF 36 PA++, $21, sephora.com.
Just like you can't use only old SPF protect on your face, any old SPF lipgloss doesn't properly protect your lips either. You can try a wax stick that can do double-duty or get a targeted lip treatment like this one from Shiseido. We like that this product also provides hydration and doesn't have a filmy residue.