Park City's nightlife scene has only gotten better since 2009 when the state decided to modernize its liquor laws. Before then you needed a private club membership to enter bars (or pay a cover charge), but that has never stopped Utah's "Sin City" from having a great après ski scene. When we had the chance to visit this gorgeous city, we knew it was a celebrity hot-spot thanks to the Sundance Film Festival, but it wasn't until we experienced it for ourselves that we were blown away by the amazing hotels, quaint downtown with great shops and the fluffiest snow we'd ever seen! When you're exhausted from a day on the hills (or in the spa), the best way to enjoy the night is with a beer (or two) at one of the best bars in the area. Read on to find out our top picks in Park City.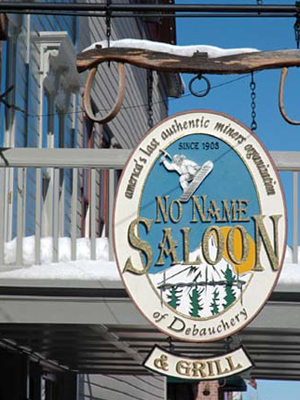 1. No Name Saloon
Take a walk down Main Street and you'll discover the No Name Saloon is always bustling. When we strolled in at about 10 p.m. it was packed. There are two floors, plus a roof top terrace that has heat lamps to keep even us warm and toasty in the middle of winter. We opted for a local brew, but if we hadn't just eaten we would have probably tried the Buffalo Burger, which we've heard is a must. A hangout for locals and skiers alike, the crowd was a mix of young and old. We loved the relaxed vibe and even though the interior is kind of kitschy, it's a fun after ski hang out.
Where to Find:
447 Main St.
nonamesaloon.net
2. Cisero's Restaurant & Nightclub
If karaoke, pool and foosball is what you look for in nightlife, then head over to Cisero's. A staple on the bar scene, the downstairs nightclub is where the action is (upstairs is the Italian restaurant). The interior is rustic and relaxed, with plenty of games and dancing space. Often you'll find live music, a packed interior and tons of locals enjoying the post-ski action.
Where to Find:
306 Main St.
ciseros.com
3. The Spur Bar and Grill
Another local favourite is another Main Street destination just a few steps away from the No Name Saloon, The Spur. Here it's all about the live music, great drinks and did we mention shot skis?? Unlike some of the other bars, there is plenty of space here, so even when it is packed, you can manage to find a place to stand without getting squished. The night we came there was a live band playing and a decent sized dance floor. We opted for another beer, but the drink menu includes tons of cocktails. Later in the night we were introduced to what's called a "shot ski" — only something those in the know tend to order. A handful of shots are placed on a ski and everyone lines up with the ski on your shoulder and with some coordination, the shot is taken. It wasn't our finest moment, but we have to say it was a fun initiation to Park City! For a lot of fun, great drinks and buzzing atmosphere, we'd suggest stopping into this local hang out.
Where to Find:
350 Main St.
thespurbarandgrill.com
4. High West Distillery
The big draw for many coming to this bar is the whiskey. They brew their own whiskey and vodka right on site. Although we can't say we're whiskey fans, we did appreciate the amazing cocktail list that caters to the crowd who prefers not to have the hard stuff served straight up, plus there is still plenty of wine and beer to on the list too. If you're going to try some of the local stuff, try their signature High West Lemonade that can be made with their rye or vodka. You'll also find plenty of other cocktails made with their liquor including the Dead Man's Boots with tequila and rye, plus a nod to the classics with cocktails including the Mint Julep. A must-visit if a local, well-made cocktail is on the agenda.
Where to Find:
703 Park Ave.
highwest.com