Is there anything better than doing brunch? We think not. There's something so relaxed, comforting and social about gathering with a group of friends and enjoying a slow Sunday breakfast, savouring a cup of freshly brewed java, fresh fruit and eggs benny (or whatever your fave brunch options are). And when we're travelling, we love hunting down chic little brunch spots to get us ready for a day of museums, sight-seeing or shopping. Here are our best spots for brunch in our favourite East Coast city — Halifax.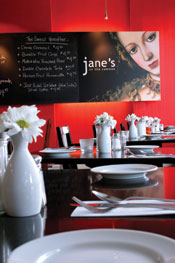 Jane's on the Common
Overlooking Halifax's main green space, The Common, this charming little restaurant/cafe has been a local haunt for years and is usually packed come brunch hours, so head there early. If you're visiting Halifax, you'll probably want to stop by every day because each item on the menu sounds tempting. Start with a traditional seafood chowder (how could you not?), then move on to Smoked Salmon, Eggs & Potato Latkes (made with Atlantic salmon), Caribbean French Toast (with sweet coconut milk), rich Ricotta Pancakes topped with a drizzle of Nova Scotia maple syrup, or Japanese Eggs (scrambled eggs with tofu, brown rice and sesame seeds). There are plenty of Gluten-free and Vegan options. The New York Times even said that "Jane's serves a killer brunch …" and we couldn't agree more.
2394 Robie Street, Halifax, janesonthecommon.com.
Your Father's Moustache
If you've ever spent a little bit of time in Halifax you'll know about Your Father's Moustache. Halifax's classic pub on Spring Garden Road is always jammed with people looking for nibbles, drinks and a general good time (thanks to the live music and festive atmosphere). You'll be hard pressed to find pub that's more welcoming and such an East Coast standard. But the Moustache is also amazing for brunch on weekends (and Spring Garden Road is a lovely walking street on a weekend morning). Ask for the Lobster Benny to be whipped up (the classic topped with incredibly fresh lobster meat), or try the Wild Berry Crepes (a soft crepe stuffed with fresh berries and yogurt).
5686 Spring Garden Road, Halifax, yourfathersmoustache.ca.
Saege Bistro
A light and fresh option is also found on the busy Spring Garden Road. Saege Bistro offers up delish brunch options to nosh on while sitting in their outdoor seating, or inside their light and airy restaurant. The spot has an unmistakably French flair. Try the Garden Omelette, stuffed with spinach, bell peppers and your choice of feta or cheddar cheese. Or opt for a sweeter brunch with the Brioche French Toast (some of the yummiest we've had) filled with apple chutney. Another can't miss option is the Bircher Muesli with grated apple, and fresh berries. Wash it all down with sips of organic coffee and we can't think of a better way to start a weekend.
5883 Spring Garden Road, Halifax, saege.ca.
The Coastal Cafe
If you're looking for the epitome of a relaxed East Coast vibe, head to Halifax's North End and get in line to dine at the Coastal Cafe. First come serve is the basis, but the staff is speedy, so have a bit of patience and you'll get your table. Even though there's counter service, don't expect the food to be sub-par, coffee shop food. Some of the best from the menu constructed by chef/owner Mark Griffin: The Elvis — waffles served with bacon, banana and peanut butter sandwich-style; The Steph (granola, yogurt and warm mixed fruit); The McCoastal (basically every breakfast goody you can think of in one big pile); and the Huevos Ultimos (a breakfast burrito deconstructed — complete with guac and duck sausage covered in poached eggs).
2731 Robie Street, Halifax, thecoastal.ca.