Whether you need to get your nails in tip top shape before heading off on vacation or you're in town and in dire need of a polish refresh (we understand), we've rounded up six of our favourite nail salons in the city where you can get a quality manicure and pedicure.
1. Tips Nail Bar
Chances are you've already seen owner Leeanne Colley's work in the pages of Fashion, Flare, Elle Canada or Glow to name just a few. A favourite destination of magazine editors (they don't just write about it, they go to see her too), their staff are friendly and ultra-talented, and can do much more than your standard polish. Interested in a half-moon mani or maybe ombre nails? They can do it all. Plus they have a fantastic selection of polishes including Essie, China Glaze, OPI, Shellac and Axxium. Trust us, you'll be beyond happy with the results.

Price: Spa Manicure ($30), Spa Pedicure ($50), Shellac Manicure ($48), Gel Manicure ($55)
Where to Find:
Tips Nail Bar
848 Danforth Ave
Toronto, ON
(416) 405-8477, tipsnailbar.ca
2. The 10 Spot
A cross between a spa and a lounge, The 10 Spot prides itself on being an "anti-spa," so don't expect any dim lighting or birds chirping through the sound system. Instead you'll find a social environment, perfect if you're bringing along a friend (or two). You'll also find free Wi-Fi, flat screen TV's throughout and cheeky spa signage adorning the walls. When it comes to the mani and pedis, they offer your standard, plus gel and most recently have included the funky Microbed Manicure ($50 for a full set). Open early until late (8 or 9 p.m.) seven days a week, it's super easy to find a time to squeeze in your appointment.
Price: Manicure ($30), Pedicure ($50), Shellac or Axxium Manicure ($50)
Where to Find: The Ten Spot has nine locations across Toronto. Visit the10spot.com to find locations or call 416-613-0254.
Read our full review here.
3. Polish'd Nail Bar
You won't pass Polish'd walking down the street, since it's actually located in Toronto's underground PATH, making it a go-to for busy professionals in-between meetings and post-work drinks. College certified nail technicians will be doing your nails, so no worries about a lack of professionalism. Not only will you find your traditional manicure and pedicures, but they can also up the style ante with artistic add-ons, Shellac, and UV Gel Nails.
Price: Manicure ($22), Pedicure ($40), Shellac (+$13), Artistic Manicure or Pedicure (+$13)
Where to Find:
Polish'd Nail Bar
Toronto PATH - Exchange Tower (Concourse Level)
130 King St. West
Toronto, ON
(647) 748-1713, polishdnailbar.com
4. Get Gelled Manicure Bar
As the name suggests, Get Gelled is known for their gel nails, currently the only salon in Toronto that carries the DGEL gel brand that has more than 300 colours. You'll still find traditional manicure and pedicures here, as well as eyelash extensions and waxing. The interior is clean and bright, and just a short walk north from Wellesley subway station. Added perk: we love that they offer complimentary tea to sip on while you get your treatment too!
Price: Basic Manicure ($24), Get Gelled Manicure ($50), Basic Pedicure ($45), Get Gelled Pedicure ($70)
Where to Find:
Get Gelled Manicure Bar
12 Irwin Avenue
Toronto, ON
(647) 748-1331, getgelled.com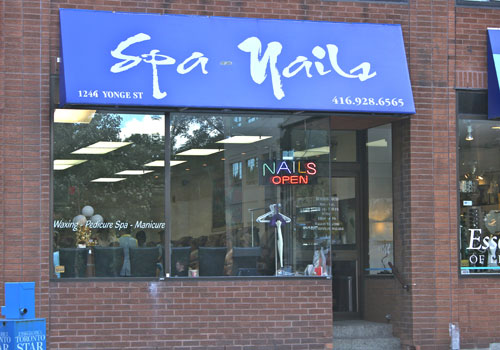 5. Spa Nails
Truth be told, sometimes all you want is a cheap (yet, clean and properly done) mani/pedi. One of our go-to places to fill this need is Spa Nails, located near Summerhill station on Yonge Street. Upon arrival they hand you a cold bottle of water and let you pick your colours from a decent selection of OPI and Essie polishes. Plus you'll get a personal box of tools, which includes a buffer and file, so you're not having to share with other customers. Need some reading material? There are plenty of mags to read while you sit in the massage chair.
Price: $35 even for a manicure and pedicure if you pay cash
Where to Find:
Spa Nails
1246 Yonge Street
Toronto, ON
(416) 928-6565
6. Urban Nails
Another Danforth find, Urban Nails is all about the details. They're sticklers about cleanliness, providing every customer with a personal care box to avoid cross-contamination, have two dry-heat sterilization stations and have fans at all nail tables to ensure no fumes lag in the salon. When it comes to selection they do it all -- from Shellac to Bio Gel and the new Brisa Gel, they're happy to do whatever look suits your style.
Price: Manicure ($15), Shellac ($35), Pedicure ($25), Manicure & Pedicure ($35)
Where to Find:
Urban Nails
179 Danforth Ave.
Toronto, ON
(416) 778-8288, urbannails.ca