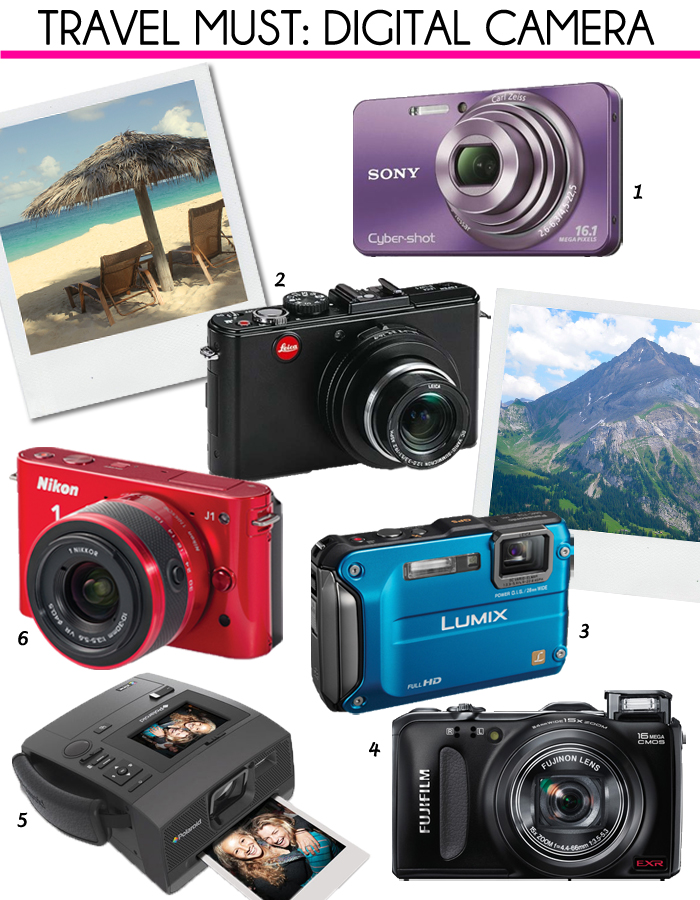 We've been talking travel musts lately, such as the ultra-versatile ballet flat to the stylish and practical printed scarf, but it's not just fashion you want to consider when packing your suitcase. One item every traveller is lost without is a digital camera. Amateur or budding photog, when it comes to capturing your vacation, your photos are the easiest way to share those memories with friends and family — plus, there's no doubt you'll want to look back and relish too. We've narrowed our list down to 6 digital cameras that suit just about every type of traveller. Read on to discover the best travel cameras.
1. Best for: Beginner photographer
Sony Cyber-shot W570, $170, bestbuy.ca.
A great point-and-shoot that is not only slim and compact, but it has all of the user-friendly features you want on a digital camera including a great zoom, a Sweep Panorama mode (for those landscape shots), an Intelligent Auto mode to self adjust in various settings and you can film HD movies too. For under $200, it's a versatile camera that will do all of the basics you could want while on the road. Plus with 16 megapixels, the final image will look great blown-up or printed.
2. Best for: Pro who wants compact
Leica D-Lux 5 Digital Compact Camera, $830, henrys.com.
Besides being über-stylish, the Leica takes fantastic photos. This particular model, though compact, has a very fast lens equivalent to a 35mm. Lightweight, with features including face detection, autofocus and scene modes, there's also a built-in flash and the option to film HD video. In addition to all of the standard features you'd want in a digital compact, the Leica is great for a pro since you can easily use the manual settings.
3. Best for: Extreme traveller
Panasonic 12.1MP Waterproof Digital Camera, $380, bestbuy.ca.
If you're the kind of traveller that finds themselves in extreme conditions, like snowshoeing in Alaska or maybe scuba diving in the Pacific, then this is the camera for you. Waterproof, shockproof and freezeproof, this digital camera will stand the elements. Plus one of its features is being able to adjust to light conditions, so your pics will turn out no matter if it's day or night.
4. Best for: Nature lover
FujiFilm FinePix F600EXR, $300, fujifilm.com.
You'll really be able to zoom in on that koala bear or little gecko that ran by with this digital camera from FujiFilm. You can zoom in 15X on streetscapes to up to 30X on tiny details with the Intelligent Digital Zoom feature. In addition to the zoom, this camera also has a wide angle lens to help you capture those breathtaking landscapes. Another feature that helps make your shooting easier? A Motion Detection that instantly recognizes 54 scene types and automatically adjusts your sensor mode.
5. Best for: Weekend Fun
Polaroid Z340 Instant Digital Camera, $300, store.polaroid.com.
Sometimes it's just about having fun taking pictures, which is why we think packing this Polaroid would be a great camera to pack for a weekend. Imagine how much fun you could have taking instant photos on a bachelorette getaway or cottage weekend?
6. Best for: Action seeker
Nikon J1 10.1MP Compact System Camera, $650, bestbuy.ca.
There is a lot to love about this digital camera from Nikon including its ability to capture action thanks to its high-speed focus. The camera also has a really cool Motion Snapshot feature that allows you to capture each second of a moment — whether it's a crashing wave or athlete in motion. Plus if you want to film you can record in full HD.