There's no better way to explore a city and really get to know its nooks and crannies than to just simply walk around. We love exploring by foot – you never know what you'll find – the best ice cream shop, a chic boutique, a tucked away café. And if you get lost, even better.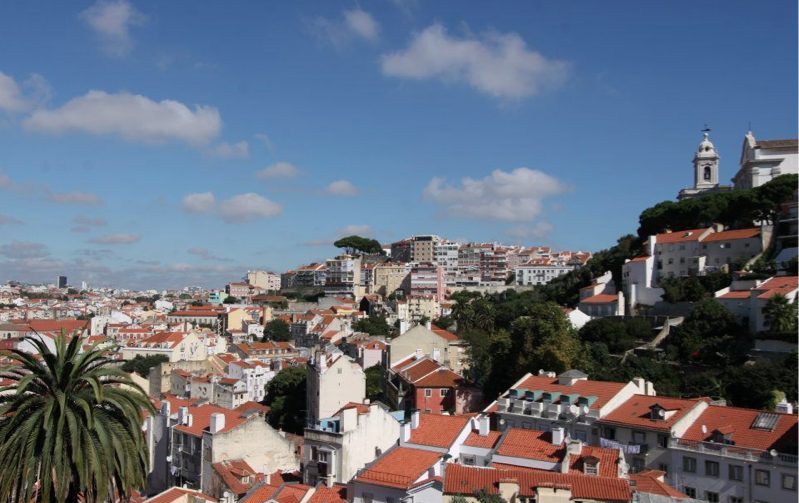 We just spent a week in Portugal – exploring the cities, villages and wine country. If Portugal isn't on your list of must-see places yet, it should be very near the top, stat. The food, wine, people, sights, gorgeous weather – it couldn't be better. We spent a few days in the heart of Portugal – Lisbon (which quickly became our new favourite European city). Normally we walk around on our own, but this time we opted for a walking tour (check out Urban Adventures for just about any kind of tour you could imagine) that showed us Lisbon by night and parts of the city we might not have discovered.
The local guides are filled to the brim with information – from Lisbon's rich and colourful history to the Portuguese way of life and hidden gems in the city streets – much more than you could read in a book. Plus, our guide, Joana, was beyond nice (she came back to find us after we were over half an hour late!) and took us on the Sunset and Fado tour. Joana filled us in on the history as we took the tram to some of the highest look out points in Lisbon (the city is built on seven hills), where we sipped drinks and soaked up the view. Then she took through one of the best parts of the city – Alfama. The section is filled with tiny, narrow, winding streets, and tucked away restaurants, cafes and bars. Even though it's one of the less affluent parts of Lisbon, its charm, character and people make up for it. You'll hear singing in the streets – beautiful Portuguese songs called Fado that originated in the bars and cafes of Alfama. They're melancholy tunes about hard times, lost loves and life in Lisbon. It's a true treat to get to hear these performers sing the songs and even though you don't know the words you can still feel the emotion. You'll find Fado in other parts of Lisbon, but the true, authentic experience has to be on the streets of Alfama.
The tour ends with tapas, sangria, wine and cheese at an outdoor restaurant while listening to Fado. It was such a great end to the night, that we had to go back to hear more Fado and explore the streets of Alfama the next night. And we might just have signed up for another Lisbon tour (we're suckers for gourmet food and wine) later in the week.
Book your tours with a local at urbanadventures.com.