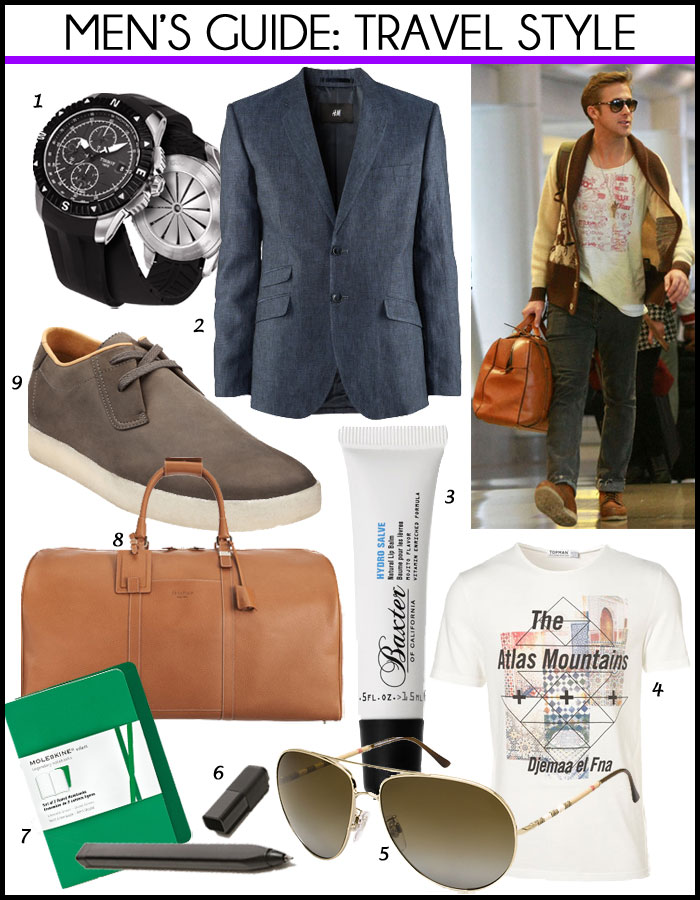 We aren't oblivious to the fact that it's not just us women who want to look put together travelling, so we thought it was time we dedicated a post to men who are in search of style inspiration. It only made sense for us to turn our attention to one of the best dressed men in Hollywood, Ryan Gosling, who always manages to look effortless whether it's on the red carpet or walking through the airport. Like Ryan, we're fans of men who can look good on the go and the reality is it's not as hard as it looks. We find 9 travel essentials for the stylish guy.
1. Tissot The T-Navigator, $1,225, tissot.ch.
Although many people opt to check time with their phone's, a watch can be a man's best accessory. This particular model by Tissot is made of scratch resistant sapphire crystal, has a stainless steel case and is water resistant up to 100 metres. In classic black, it's a luxurious piece that will last a lifetime.
2. H&M linen jacket, $80, hm.com.
A linen jacket is a must for summer travel or if you're heading to a hot destination, as it's easy to pack and will keep you cool. We're fans of this navy hue that will work well with a pair of khakis.
3. Baxter of California Hydro Salve lip balm, $8, baxterofcalifornia.com.
If you only tote one skin care product make it a lip balm. All natural, no matter what climate you're heading too, your lips will stay soft and hydrated.
4. Topman Off White Mountains t-shirt, £18, topman.com.
Be sure to pack a handful of graphic tees, which look great under a blazer or on its own with a pair of jeans. Aim for tees with cool designs, album covers or retro-prints.
5. Burberry BE3055 polarized sunglasses, $270, sunglasshut.com.
You can't go wrong with an aviator shade. We love the subtle incorporation of the Burberry check pattern on the arms and gradient lenses.
6. Moleskine Roller Ball Pen Med 07, $18, chapters.indigo.ca.
Now you can pair your Moleskine notebook with a pen that's designed to stay attached to your book. Containing a refillable ink, you can also personalize your pen with one of 24 adhesive labels that are also included. A pen will come in handy for filling out immigration documents and jotting down important info on the go.
7. Moleskine Volant Green S Ruled Notebook, $12, chapters.indigo.ca.
For the traveller who likes to take notes on the go (old-school style), we suggest carrying a classic Moleskine. There are just some things that are better written down by hand.
8. Serapian Leather Double Handle Duffel Bag, $1,000, barneys.com.
As Ryan proves walking through the airport, a sturdy leather duffel bag not only carry's well, but is practical too. This uber-luxe Italian-made bag has a suede interior, piping details and will stand the test of time.
9. Clarks Ashcott grey leather shoe, clarkscanada.com.
This clean, yet rugged grey leather shoe not only looks good, but is comfortable too. Plus it's easy to slip on and off (think airport security) and are created using premium materials so you won't have to worry about them falling apart after a few wears.