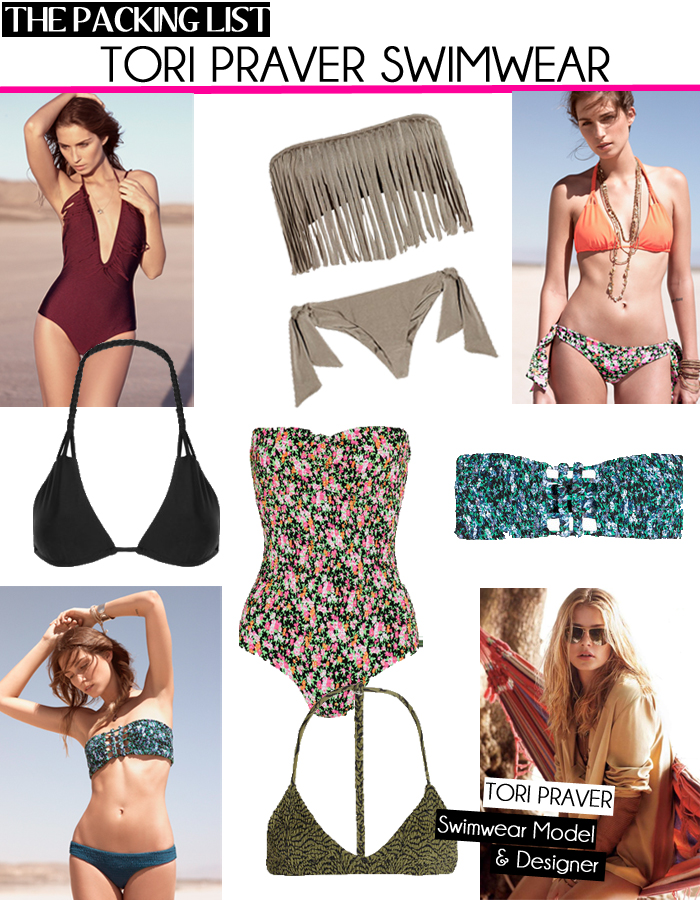 In addition to our new Frequent Flyer feature, this week we are introducing another fashion feature called The Packing List which puts the spotlight on a designer's collection you'll want to tote on your next trip. Today we're launching with a swimwear designer who knows a thing or two about bathing suits, as she started her career off as a swimwear model. Not only that, but originally heralding from Hawaii, where a wardrobe of swimsuits is a year-round affair, it's not surprising that Tori Praver knows a thing or two about stylish swimwear.
Since launching her line, her work has already been featured in the pages of Vogue, Elle, Marie Claire and Glamour, as well as seen on the likes of celebrities like Jessica Alba, Vanessa Hudgens and Marisa Miller. Admittedly inspired by her travels, Tori recently shared with Fashion Television that her Resort 2012 collection (pictured), was inspired by deserts and sunsets, specifically Africa. "I just love all the natural colours and the animal prints, so that's my theme for this year," she told them. Her design sensibilities definitely stemmed from the fact that she grew up in Maui and had modeled for so many years, appearing three times in Sports Illustrated, as well as numerous other publications. "I knew what swimsuits fit me well, so I took that and created a line that I think fits the woman's body perfectly," she continues.
We absolutely love the feminine yet fashion-forward styles of the suits and the subtle details, from the fringes to the braided straps, the pieces are fun and flirty and have a great fit too. You can find Tori Praver's swimwear at many retailers online including net-a-porter.com and shopbop.com, with tops starting at about $105 and one-piece's for about $145.
Image credits: Tori Praver image courtesy Marie Claire 2010. Swimsuits courtesy net-a-porter.com. Editorial pictures courtesy toripraverswimwear.com.